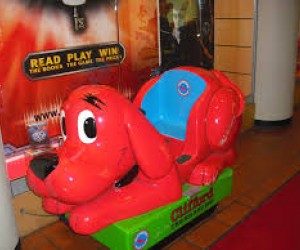 News: Scholastic Store & The Moxie Spot Closing, Beam Center & Karma Kids Yoga Moving, College Scholarships, Are Playgrounds Too Safe?
Closings & moves Let's start with the good news: Veteran Brooklyn makerspace, Beam Center—home to high-tech kids' programs and the annual Inventgenuity Festival in January—is moving from Cobble Hill to the Columbia Street Waterfront District in February. Its soon-to-open studio at 60 Sackett Street boasts twice as much space as its current Bergen Street location, which means more cool classes for kids. We're looking forward to checking out the new Beam Center once it debuts.

And another family fave is on the move: One of NYC's premiere yoga programs for children, Karma Kids Yoga, just relocated from its longtime 14th Street studio to 25 West 23rd Street in Chelsea. Though there are some changes—it's on the third floor of a walk-up and stroller parking is very limited—Karma Kids continues to offer a wide range of classes for all ages and abilities, including its popular FREE Yoga StoryTime on Wednesday mornings.

Now for the bad news: One of our favorite places to play and shop, Soho's Scholastic Store, is closing for good. (Book publisher Scholastic plans to expand and renovate the space and then rent it out to the highest bidder.) That means the Imagination Clubhouse, the Magic School Bus, the Creativity Corner, the theater and all those cool FREE Saturday events, including the annual Halloween parade with Clifford the Big Red Dog, are going the way of the dodo. Even typing it, we can hardly believe it. If you want to say goodbye and take one last ride on the coin-operated Clifford ride, you've got until Sunday, January 11, 2015.

Another major bummer: Brooklyn Heights' two-story restaurant/play space, The Moxie Spot, is shutting its doors permanently this Sunday, December 14. The owner, Nat, confesses on the website that there just wasn't enough money to keep it open. Fans can hit the spot for a big goodbye bash this Sunday featuring entertainment (including Lloyd Miller from the Deedle Deedle Dees), games, food and, probably, tears. We're always sad to see small businesses go. Speaking of...

Locally owned Forest Hills' candy shop, Emily's Sugar Rush, which opened to great fanfare in 2011, quietly shut its doors in October, also due to financial woes. Thanks to reader and Queens mom, Lisa, for emailing us about the closure.

And finally, three annual holiday favorites aren't returning this season. Two—the Grand Central Terminal Light Show and the animatronic Teddy Bear and Penguin Village in Park Avenue Plaza—aren't happening at all. Meanwhile, Chinatown's East Meets West Christmas Parade has transformed into the East Meets West Christmas Celebration, which takes place this Saturday, December 13. Even though it's stationary, we hope it will be just as much fun as the procession.
Something for nothing So what can you look forward to this holiday season? Well, the New York Public Library, the Queens Library and the Brooklyn Public Library recently announced that, come the end of the month, patrons will be able to check out FREE portable wireless Internet hubs. The tools are earmarked for visitors who don't have Internet access at home and will primarily be used for adult learning programs and English-language courses. Note: Different branches may have their own eligibility requirements and time limits.

My teen has been obsessively researching college scholarship programs since before he started high school. Even though he's just a sophomore, he's got his eye on this one for later: Ronald McDonald House Charities of the New York Tri-State Area (RMHC-NYTSA), which is currently awarding more than $726,000 in scholarships to local high-school seniors graduating in 2015. Applications are available online and the submission deadline is January 20, 2015 for four separate programs: the African-American Future Achievers Scholarship, the Hispanic-American Commitment to Educational Resources Scholarship, the Asian Student Increasing Awareness Scholarship and RMHC Scholars, which is open to students of all ethnic backgrounds.
Safety first? Okay, so I'm the mom whose middle child tells everyone that I "told him to" break his arm at the playground. (For the record, I did no such thing.) But I am leery about playgrounds becoming too safe, a.k.a. boring and useless. Take the latest move by the NYC Parks Department to modify or remove rotating metal saucers at seven NYC playgrounds citing an undisclosed number of injuries, even though kids (and many parents!) seemed to love 'em. While the value of challenging play equipment has been championed by many a childhood expert, if families keep suing every time their kids get hurt, the Parks Department has no choice but to protect itself. What do you think? Are NYC playgrounds today too safe, about right or still hazardous? Tell us in the comments.