Places to Play in Brooklyn Heights: Brooklyn Bridge Park, Pierrepont Playground & Drop-in Indoor Play Spaces for Kids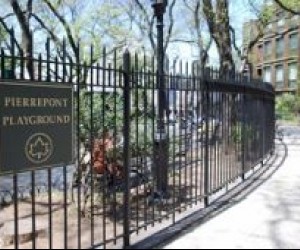 While the 85-acre, waterfront Brooklyn Bridge Park is certainly the biggest and best known green space in Brooklyn Heights, there are a handful of lovely little neighborhood playgrounds like Pierrepont, Harry Chapin and Squibb Park, which are all located on or near the Promenade. Plus there are some great indoor spots where kids can drop in and play, too, like the soon-to-be-overhauled local library and the New York Transit Museum, which has vintage buses and trains to explore.

We finish up our month-long focus on Brooklyn Heights with a roundup of our favorite places to play both indoors and out in the area.
Pier 2
In addition to its popular public Pop-Up Pool in summer, this recently opened pier includes include basketball, handball, and bocce courts, picnic tables, restrooms, fitness equipment and a seasonal roller rink.
Pier 3 & Pier 4
On Pier 3 you'll find the greenway, which is great for biking and walking plus there are lawns and Granite Terrace for awesome views. Meanwhile Pier 4 has a newly opened beach (though swimming is not allowed... but there is sand!)
Pier 5
Spacious synthetic turf sports fields, separate toddler and big kid play areas, Hibachi grills and picnic tables with sunshades, fishing and lots of room to spread out and play
Pier 6
We've written about Pier 6's awesome Destination Playground before featuring Slide Mountain, Swing Valley, the summer-only Waterlab and Sandbox Village. You'll also find several sand volleyball courts, restrooms, seasonal food concessions and the ferry to Governors Island.
Adam Yauch Park
Atlantic Avenue at Columbia Place
Formerly known as Palmetto Playground, this play spot was renamed in honor of Beastie Boy and Brooklyn Heights native Yauch. Surrounded by stately lindens, London planes and Norway maples, this leafy playground includes a play structure, a community garden and greenhouse, a basketball court and lots of room to romp.

Harry Chapin Playground
Columbia Heights at Middagh Street
Another playground named after another famous local singer-songwriter, this spot includes a play structure, sandbox, swings, game tables and benches in the shade of mature trees. Once known by the nickname "Island of Misfit Toys," Harry Chapin was an unofficial drop-off point for used playthings donated by local families. The Parks Department regularly clears away toys but you might still find a treasure or two tucked behind a tree.

Pierrepont Playground
Pierrepont Place and Pierrepont Street
Just off the Promenade you'll find this super-busy tot spot, which hosts popular annual kids' events like an Easter egg hunt and a Halloween parade, all organized by local community organization Brooklyn Heights Playgrounds. Pierrepont is fairly large and features several climbing structures, swings and lots of space to spread out.

Squibb Park
Columbia Heights at Middagh Street
Tucked away below street level and leading directly to the currently closed Squibb Park Bridge, which (when open) connects the Promenade and Brooklyn Bridge Park, this small play spot has all the Robert Moses playground essentials: swings, monkey bars, sprinklers and a basketball court. The Manhattan skyline and Brooklyn Bridge view here is not to be missed.
Indoor Play
Building Bridges Play Space – Brooklyn Heights
Congregation Mount Sinai, 250 Cadman Plaza West at Clark Street
This nonsectarian preschool offers drop-in play for ages 2 to 5 in its classroom, which is filled with manipulaties, pretend play stations, blocks, books and art supplies. A light snack is provided to all children and each session ends with storytime. The cost is $20 per session with discounts available for siblings and multi-session packs. Check the website for the complete schedule.

Brooklyn Heights Library
280 Cadman Plaza at Tillary Street
The neighborhood branch of the Brooklyn Public Library hosts special one-off readings as well as regularly scheduled kids' programming like Babies and Books and Toddler Storytime. Housed in a 50-year-old building, this branch is in the beginning stages of redevelopment but you can still bring the kids to browse its bright, and often quite busy, children's section.

New York Kids Club Brooklyn Heights Child Enrichment Center
182 Henry Street between Montague and Pierrepont Streets
While you need to commit to a class to regularly take advantage of all this early education center has to offer, including a dance studio, a spacious gym and a culinary institute for little chefs, NYKC does have a few drop-off child-care events that are open to the public, like evening Pajama Parties and Super Awesome Saturdays. Check the website for the complete schedule.

New York Transit Museum
Corner of Boerum Place and Schermerhorn Street
We have a dedicated post about this awesome underground museum, which is located in a decommissioned subway station. While it is a museum not a play space, there are lots of fun, interactive activities including the chance to "drive" a retro bus and run through vintage subway cars. Definitely a good rainy-day bet, especially since admission is only $7 for adults and $5 for children.

The Moxie Spot

Unfortunately, Moxie Spot closed in December 2014
Yes it's true, we cover this restaurant/play space a lot. But if you're looking for an inexpensive place for kids to play indoors in Brooklyn Heights, the two-level Moxie Spot is a great choice. Its large upstairs play area is open daily and costs just $2.50 per kid, $5 maximum per family. Bonus: If you spend $15 or more on food the play fee is waived. The Moxie Spot also hosts many organized family events such as sing-alongs, movie nights, bingo nights and storytime so check the website for the complete schedule as well as the hours, which can be a bit funky.

Check out all of our posts about exploring Brooklyn Heights with kids.