Eating with Kids in Brooklyn Heights: Old-school Diners, Places to Eat and Play, & Other Family-Friendly Restraurants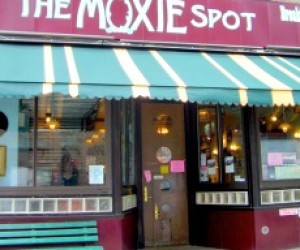 Since Brooklyn Heights is famous for being an extremely family-friendly neighborhood, it's no surprise that most of its restaurants happily accommodate children. But there are many local eateries that actually cater to families, like restaurant/play space The Moxie Spot, or longtime ma-and-pa eateries like Clark's, Teresa's and the Grand Canyon Restaurant nestled on Montague and Henry Streets. And did we mention all those delicious Middle Eastern joints on Atlantic Avenue?

Our month-long focus on Brooklyn Heights continues with a roundup of our top ten family-friendly restaurants in the area (though in truth we could have chosen twice as many). Our picks run the gamut from places to grab a quick and casual nosh before or after a stroll on the Brooklyn Promenade to more upscale sit-down dining.
The Moxie Spot
Unfortunately, Moxie Spot closed in December 2014
Looking for a place where the kids can play while you eat? Then you've come to the right place. This drop-in restaurant/play space offers two floors of food and fun. Not hungry? You can pay a moderate fee to just play. The Moxie Spot also hosts special kids' events and activities every week like game nights, sing-alongs and disco parties so check the calendar before visiting. (You'll also want to verify the hours, since the spot closes mid-afternoon on some weekdays.) The menu was recently overhauled by the new chef, but it still features all kinds of kid-pleasers like quesadillas, burgers, fries and sandwiches, plus wine and beer for grown-ups. Bonus: It's a short walk away from the awesome Pier 6 Playground in Brooklyn Bridge Park.

Yemen Cafe
176 Atlantic Avenue between Clinton and Court Street
Atlantic Avenue is known for its wide variety of Middle Eastern restaurants and businesses. While it's hard to choose just one, we particularly like this no-frills Yemeni eatery, which serves up wallet-friendly, generous portions in a super-casual atmosphere. Every meal begins with a hot whole wheat flatbread and you can easily assemble a great, sharable meal from the appetizers alone. While the menu is heavy on lamb and chicken, vegetarians will find satisfying picks, too.

Teresa's Restaurant
80 Montague Street at Hicks Street
One of my family's favorite Brooklyn Heights spots! Chow down on delicious Polish comfort food like pierogies, blintzes and hearty mushroom barley soup at this spacious and relaxed restaurant. It's open for breakfast, lunch and dinner.

Iris Cafe
20 Columbia Place between State and Joralemon Streets
A chill spot for breakfast or lunch, Iris features a pleasing red-brick interior, relaxed vibe and kid-friendly selections like biscuits, granola and yogurt, meatloaf sandwiches and BLTs. Looking for a meal to go? Stop by Iris' take-out shop, Willowtown Store #7, just a few doors down. Kids can play with the mini-kitchen play set while you wait for your yummy sandwiches and salads to come out. Afterward, eat on the benches out front (that's what my family does so we can take in pretty Columbia Place). Or head to nearby Brooklyn Bridge Park or Adam Yauch Park.

Jack the Horse Tavern
66 Hicks Street at Cranberry Street
Open for dinner and Sunday brunch, this spacious neighborhood favorite has lots of options for picky eaters like mac and cheese, and burgers and fries, as well as more sophisticated fare such as grilled Berkshire pork rib chop and braised lamb shank. This place gets busy and doesn't take reservations for brunch, so arrive early.

Grand Canyon Restaurant
141 Montague Street between Clinton and Henry Streets
A neighborhood staple since 1983, this diner-style eatery is well known for its burgers but its phone-book-size menu includes a wide variety of choices for breakfast, lunch and dinner. It's super family-friendly and no-frills. and located smack-dab in the middle of bustling Montague Street.

Noodle Pudding
38 Henry Street between Cranberry and Middagh Streets
This reasonably priced neighborhood spot is laid-back and loved by locals for its solid traditional Italian dishes like lasagna, spaghetti and meatballs, etc. Bring cash! Noodle Pudding doesn't accept credit cards.

Dellarocco's of Brooklyn
214 Hicks Street between Montague and Remsen Street
Enjoy brick-oven Neapolitan-style pizza in a bright, casual atmosphere. Take note, this isn't some corner pizza joint. Dellarocco's serves wine and beer, and is a sit-down dining experience.

Clark's Restaurant
80 Clark Street at Henry Street
Located right at the Clark Street subway stop, this diner is always packed and dishes out your standard diner fare, including breakfast all hours it's open.

Iron Chef House
92 Clark Street between Henry Street and Monroe Place
Reasonably priced but super-small, this sushi spot is known for its fresh fish and quick service. Go for an early lunch (there are several good specials) to avoid the crowds.

Read all of our posts about exploring Brooklyn Heights with kids.