Brooklyn Heights: America's First Suburb. And mine.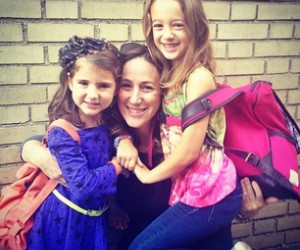 Check out our in-depth Brooklyn Heights Kids Neighborhood Guide.
A few weeks after trading my West Village bachelorette pad for a co-op in Brooklyn Heights, Nate turned to me and said, "Well, I guess we overshot a little."

While it was nice no longer to be at the corner of Christopher and Bleecker--or Mardi and Gras as I called it--there was something oddly disquieting about birds chirping out my window.

Where were my drunken drag queens? Where were my crazy homeless people? Where were my Amy Sedaris sightings? I would have settled for a decent book shop.

"America's first suburb" is not where you settle when you're single and looking for a dynamic cultural scene. I'm not sure that the Transit Museum counts. There are no galleries filled with brooding sculptors, no midnight reading of the Vagina Monologues, no unmarked underground sake joint which requires a secret password for entry. Let's just say Anthony Bourdain won't find himself filming episodes in Brooklyn Heights any time soon; although if anyone could eke a debauched night out of The Connecticut Muffin Co., surely it would be him

Aside for the mostly excellent little art house movie theater on Henry and the lone crazy guy on our subway platform, this was not the New York I was used to. This was far more stable. Suburban. Grown up. I wasn't used to feeling so relaxed. It was stressful.
Of course we acclimated.

We learned to enjoy having neighbors who actually cleaned up after their dogs. It was sort of cool in that only-in-New-York way to buy our flowers out of the 2/3 station. And hooray for Michael Towne, a wine store where they actually know their wines. We were proud to take visitors up to our roof for the best view of downtown Manhattan in the world, then walk them down the hill to Grimaldi's and the Brooklyn Ice Cream Factory to slurp butter pecan under the shadow of the Brooklyn Bridge.

Was Brooklyn Heights actually kind of cool? Well, it was getting there.

And then I realized what Nate and I had been missing all along. It wasn't a Marc Jacobs on the corner, it was kids.

Our realtor had neglected to tell us about the law in Brooklyn Heights that states you must have a child. Also a quirky dog with an ironic name. Once we got past those two hurdles, suddenly what was just a neighborhood became home.

Now we could take advantage of the wonderful playgrounds, Frisbee on the faux grass in Cadman "Park," the high chairs at Heights Café.

(By the way, I have never once referred to Brooklyn Heights as "The Heights." Do people really do that? Or just sitcom writers who have never actually been here.)

If you have children, as it turns out, there's no more pleasant place to be in all the boroughs in all the land.

We've got two wonderful little playgrounds including one named for former local, Harry Chapin. Hard not to like that, even if you do find yourself getting Cat's in the Cradle stuck in your head every time you enter the iron gates. For such a small neighborhood, it boast quite the selection of music classes, tumbling classes, playspaces, and new moms groups. Area Kids and Heights Kids both make last minute birthday gift-buying a snap, while it's just a quick walk to even more choies in DUMBO and Cobble Hill.

There are easily five desirable if packed preschools in the hood, one public school that's "on its way," and of course St. Ann's, which keeps the neighborhood awash in minor celebrity child sightings. ("See that guy with the afro? He's like totally in some band with Gabriel Byrne's kid.") If there's any reason that I want my kids to go to St. Ann's it's that not one of the girls ever seems to dress up as a slutty nurse on Halloween. That's good breeding for you.

While the grocery situation leaves much to be desired (bless you, Fresh Direct) and the Borough Hall Green Market is well-intended if paltry, the restaurant options are looking up these days. Jack the Horse Tavern has done a great job of going from "get that kid out of here" to incredibly family-friendly at Sunday brunch. Le Petit Marche is as good as any West Village boite. Noodle Pudding makes gnocchi that's far better than the restaurant's name would lead you to believe. And every anniversary or New Year's Eve spent at Henry's End compels us to remark that we really need to go there more often.

A special shout-out to Clark's, the diner whose chocolate chip pancakes got me through my second pregnancy happier if heavier.

And then there's our crown jewel, the Brooklyn promenade, which is best described to out-of-towners as, "You know every movie in history where the couple kisses by the water with the Manhattan skyline in the background…?"

One other unexpected bonus: Brooklyn Heights comes to life on Holidays like nothing else. There are carolers at Christmas, an Easter Egg hunt under the bridge, an unparalleled view of the Fourth of July fireworks, and a Halloween that compels even families from other boroughs to make the pilgrimage here for costume parties and brownstone stoops turned haunted houses. These are the times my neighbors show the world all the energy, all the creativity, all the vibrancy that make me remember what I love about New York City. Even the parts of it that require crossing a bridge or a tunnel.

Sure I'm still pining for that book shop. And I wish there were more parking spaces and fewer enthusiastic traffic cops. (Brooklyn Heights has the dubious distinction of being the second most ticketed precinct in the entire city.) But when you can let your kid tear down the block on a Kettler trike without fear that she's going to roll over a McMuffin wrapper or a used condom, it's easy to lower your shoulders to a comfortable position and breathe.

And smile.

Liz Gumbinner can be found dishing on parenting culture and life in general on Mom-101, which was called "funny some of the time" by an enthusiastic anonymous commenter. She's also the co-founder and editor of the popular shopping blog for parents, Cool Mom Picks. Several of her essays can be found in the upcoming anthology, "Sleep Is for the Weak: The Best of the Mommybloggers Including Amalah, Finslippy, Fussy, Woulda Coulda Shoulda, Mom-101, and More!" (Chicago Review Press)
Neighborhood Resources:
Brooklyn Heights Parents List-Serv: Brooklyn Heights Parents