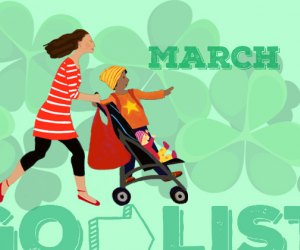 March GoList: Best Things to Do with Long Island Kids This Month
In March, we'll bid farewell to all the winter fun (and cabin fever) we've had and welcome in a new season of family fun and mischief on Long Island.
Start the month by going back in time at Planting Fields Arboretum State Historic Park for the Camellia Festival, where the flowers are in prime bloom in the greenhouse, and a magician and barbershop quartet set the mood at historic Coe Hall.
Have you already exhausted all the options on Disney+? Greenport Village Cinema is showing family-friendly films every Saturday night in March. So grab some popcorn and enjoy family movie night in style.
Little train lovers will have a blast at the Thomas & Friends interactive exhibit at the LICM, and hero worshippers can meet (and dress up as) their favorite caped crusader at Superhero Day at the Long Island Aquarium.
Faith and Begorrah, we can't forget about St. Patrick's Day! Whether you're of Irish descent or not, everyone is Irish on St. Patrick's Day. The March calendar is brimming with St. Patrick's Day celebrations to keep you in green all month long.
Start planning your spring shenanigans with our Spring Fun Guide, and be sure to check out our list of tried and true rainy day activities for keeping busy during all those showers for which spring is known.
As always, check out our events calendar for more opportunities as they emerge.
In the meantime, sign up for our FREE newsletters to get posts like this delivered to your inbox. There's so much to do in March, you just might need them.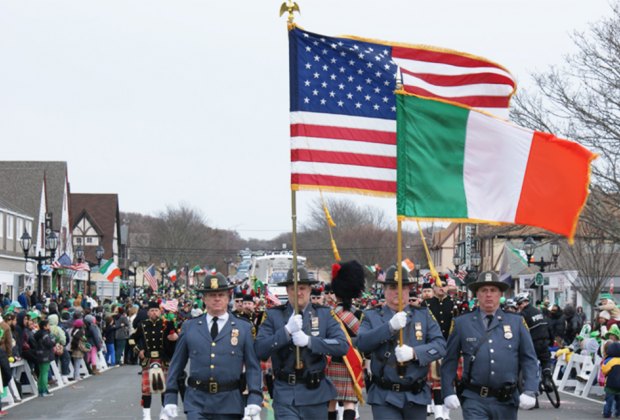 Montauk's popular parade helps to close out the St. Patrick's Day season on Long Island. Photo courtesy of Montauk Friends of Erin
All month long
Beginning with Kings Park on Saturday, March 7, and continuing through Jamesport on Saturday, March 28, Long Island celebrates its Irish heritage in grand style. Also enjoy parades in Rockville Centre, Bayport-Blue Point, Farmingdale, Hampton Bays, Patchogue, Montauk, and, of course, Huntington, one of the largest parades with more than 50,000 spectators expected. FREE.
Sunday, March 1
Stroll through Camellia House and the grounds of Coe Hall; kids will love the magic show and the music of the Quatrain Barbershop Quartet. A tea tasting is also available for tea-loving kids and adults.
Daily (except Mondays) through March 20, 2020
Young artists will learn how to turn trash into treasure at this LICM workshop. Kids attending the workshop are encouraged to bring a broken toy or object with them to incorporate into their artwork.
Saturdays March 7, 14, 21, 28
Every Saturday night through May 9, Greenport Village Cinema will be hosting The Manhattan Film Institute. The 6:30 film showing is family-focused and perfect for exposing young children to theater viewings. The March lineup includes March of the Penguins, Fantastic Mr. Fox, Moana, and Toy Story.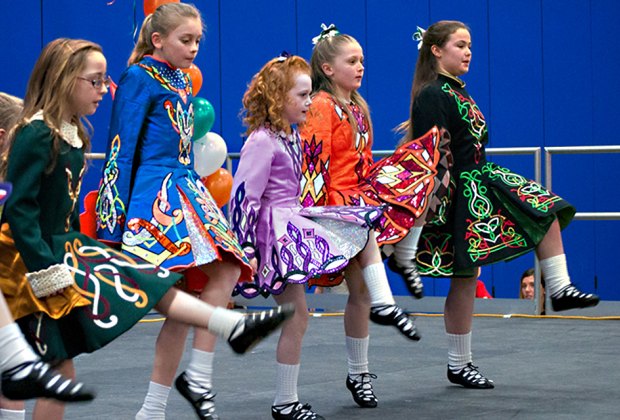 Celebrate all things Irish at the Irish Festival at Hofstra University. Photo courtesy of Hofstra University
Sunday, March 8
Celebrate Irish culture with music, food, children's games, vendors, and more.
Exhibit open daily (except Mondays) through May 10, 2020.
Step onto the Island of Sodor where visitors can climb aboard a large model of Thomas the Tank Engine, race trains along a giant track, work together to sort and load cargo and maintain engines.
Saturday, March 21
Meet Batman, Spider-Man and real-life heroes from our Long Island community, including police officers and firefighters. Kids can dress up as their favorite superhero. This event includes lunch and an ice cream bar.
Saturday, March 21
Families will learn how to create their own farm-to-table pizza by growing basil, oregano, and tomato plants that they can take home. Registration required.
Sunday, March 22
Create and decorate your own ceramic ware at this family-friendly crafting event. This workshop is held monthly, and the theme for March is Earth Day.
Sunday, March 22
Celebrate Long Island's Greek community at Greek Heritage Day in Stony Brook Village. Enjoy traditional food tastings by Mesoyious Greek-Cypriot Restaurant, baklava by Premiere Pastry, and performances by St. John's Hellenic Dancers.
Sunday, March 29
Families experience the current exhibitions through close looking, lively conversation, and hands-on gallery projects designed especially for children ages 5 through 10.