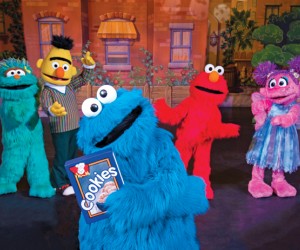 Best Events for Preschoolers in NYC This Winter
We've rounded up fifteen of the city's best winter happenings for the preschooler and toddler set from hot-ticket kid spectacles like Daniel Tiger and Sesame Street Live to a low-key Greenpoint sock puppet show, an always catchy Music for Aardvarks concert and an upcoming Mo Willems exhibit that truth be told, might be more for mom and dad.
Winter can feel mighty long when you're cooped up indoors with an antsy preschooler. So go ahead and bundle them into that winter gear to hit up these must-do January-March 2016 activities. We promise, we only picked options worth the winter gear struggle.
Even more family winter entertainment ideas can be found in our Winter Guide or our just released 2016 GoList, covering the best events all year.
For more details about an event, click through to our listing for details such as address, time and pricing. As always, the really cool kid stuff in NYC always books up quickly so reserve your tickets early.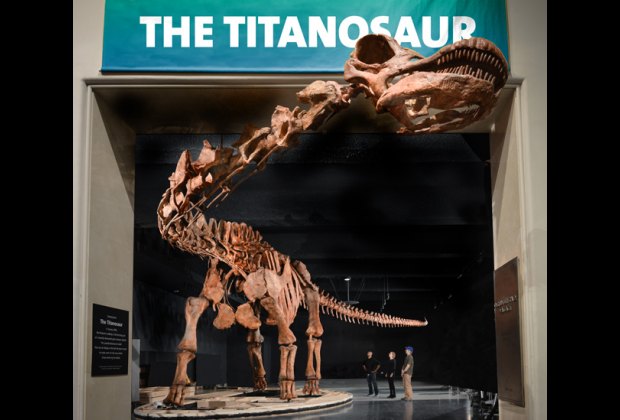 This dinosaur just arrived and is the perfect excuse to head to the American Museum of Natural History. Photo courtesy the museum.
The Titanosaur — Upper West Side
Friday, January 15 - Tuesday, January 19
Paging young dinosaur enthusiasts: a spectacularly huge cast of a 122-foot-long dinosaur, newly discovered in the Patagonian desert of Argentina, fills the American Museum of Natural History's fourth-floor Wallach Orientation Center. Weighing in at approximately 70 tons, this enormous creature dates to the late Cretaceous period and is sure to wow your preschooler.
Pinkalicious: The Musical — Upper West Side
Saturday, January 23 - Sunday, February 28
Pinkalicious fans will swoon for this musical adaptation of the bestselling series in which the main character becomes ill with "Pinkititis" after eating too many cupcakes. Performed by the Vital Theater Company at McGinn/Cazale Theater, you might want to pack a cupcake for a snack after the show.
Aaron Nigel Concert — Upper West Side
January 30
It's impossible not to dance at an Aaron Nigel show! Preschoolers will dig the reggae-inspired tunes and happy vibe as everyone in the audience rocks out at this Symphony Space show delivered by Nigel of PBS' Between the Lions fame. He's expected to preview of few new songs from his upcoming 2016 album, too!
The Very Hungry Caterpillar Show — Midtown
Saturday, January 30 - March 27
Enter the magical world of Eric Carle as 75 large-scale puppets bring his lovely classics to life at 47th Street Theater. Featuring characters and storylines from four Carle classics, including The Very Hungry Caterpillar, The Artist Who Painted a Blue Horse, Mister Seahorse and The Very Lonely Firefly, these performances are specially geared to first-time theater-goers.
Swedish Cottage Little Red Hood — Upper West Side
February 2
A trip to Central Park's famed Swedish Cottage Marionette is always an affordable sure-bet for first-time theatergoers. This modern take on Little Red Riding Hood stars a city kid glued to her smartphone who takes a trip to the country to visit Grammy. You'll enjoy the sweet old theater, intimate seating arrangement and price.
RELATED: Best Children's Theater in NYC this Winter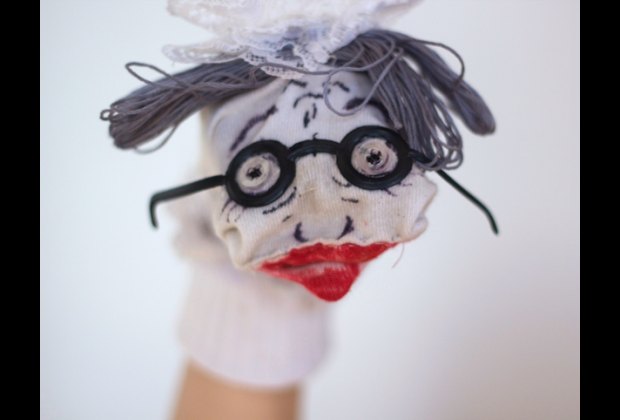 Grandma sock puppet in A Sock's Fables. Photo courtesy of Paper Canoe.
A Sock's Fables — Greenpoint
Saturday, February 6 - Sunday, March 13
Explore the homey world of sock-puppetry, and expect major preschooler giggling, at this lively show based on Aesop's fables. Created by Paper Canoe Theater Company, a team of theater professionals who recently became parents, A Sock's Fables is followed by a puppet-making workshop for audience members.
This pant-less tiger and his friends are well-known in many a tot home. Image courtesy NYU Skirball Center.
SOLD OUT as of 2/1
Daniel Tiger's Neighborhood Live! — East Village
Saturday, February 6 - Sunday, February 7
Daniel Tiger's Neighborhood of make-believe comes to life at NYU Skirball Center during this interactive musical production for preschoolers. With stories about friendship, new experiences and helping others, Daniel Tiger caries on the legacy of his predecessor, the beloved Mister Rogers.
New York International Children's Film Festival —Venues TBD
Friday, February 26 - Sunday, March 20
Featuring 100 new films for kids, this film festival is a great way to introduce future cinephiles to incredibly creative and often thoroughly entertaining films from around the world. With shorter line-ups geared specifically to the preschool set, this festival is a must-do. Tickets go on sale January 28. Mommy Poppins readers can earn $2 off each ticket with our discount code: MOPO16.
Music for Aardvarks Concert — Upper East Side
February 7
A Music for Aardvarks show is almost a rite of passage with today's preschool crowd. With hits like Taxi, (once you hear this one you'll never get it out of your head, we swear!) and Modern Art, this concert is made for NYC kids growing up in the big city. Expect lots of dancing in the aisle and interactive elements.
Sesame Street Live: Let's Dance! — Midtown
Thursday, February 11 - Sunday, February 21
Join your preschoolers' favorite Sesame Street characters on the dance floor at this interactive dance party. A few favorite cast members perform musical numbers and, best of all, watch your preschooler's face light up as Sesame Street stars like Elmo, Abby Cadabby, and Cookie Monster shimmy and shake right alongside audience members on the dance floor.
Ringling Bros. and Barnum & Bailey: Legends — Fort Greene
Thursday, February 25 - Sunday, March 6
Because no round-up of preschooler must-dos is complete without a circus (and please note: we're big fans of small troupes), here's the big kahuna of the genre, complete with majestic animals, exotic performers from faraway lands and fearless daredevils. The circus plays at Barclays Center, which means it will be massive and possibly overwhelming for the youngest of tots, so we recommend this for older preschoolers and up. Of special note: This will be the last year you will see the circus' traveling elephants; they will retire to a Florida conservation park in May.
The Gustafer Yellowgold Show — Upper West Side
Saturday, February 27
Symphony Space's Just Kidding series features a fantastic musical line-up of preschooler favorites, but Grammy Award nominee Morgan Taylor's lovable Gustafer Yellowgold captivates fans of all ages. This show features new songs and visuals from the latest release, Dark Pie Concerns.
Caps for Sale the Musical — Midtown West
Saturday, February 27 - Sunday, March 6
Monkey business at its best, this adaptation of the 75-year-old kid favorite by Esphyr Slobodkina, is filled with music, dance and the best kind of naughty-monkey theatrics. Performed by the Adventure Theatre MTC group at The New Victory Theater, this one-hour show is sure to get your preschooler grinning ear-to-ear. There's also an nbsp;additional performance for audience members with autism or sensory sensitivities.
RELATED: Drop-In Play Gyms and Play Spaces Around NYC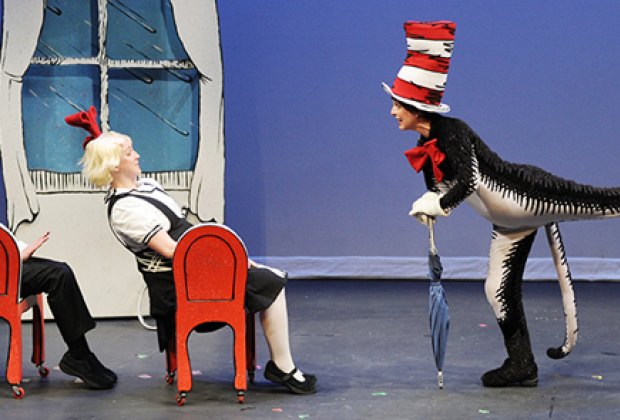 The mischievous Cat in the Hat hits the stage in Tribeca. Photo courtesy of the show.
Dr. Seuss' The Cat in The Hat — Tribeca
Saturday, March 12
Because we can never get enough of Theodor Seuss Geisel's mischievous cat and his wildly imaginative antics, bring your preschooler to this one-time performance at BMCC Tribeca Performing Arts Center. Thing One and Thing Two, Sally and her brother, and of course, that tremendous cat—they'll all be there!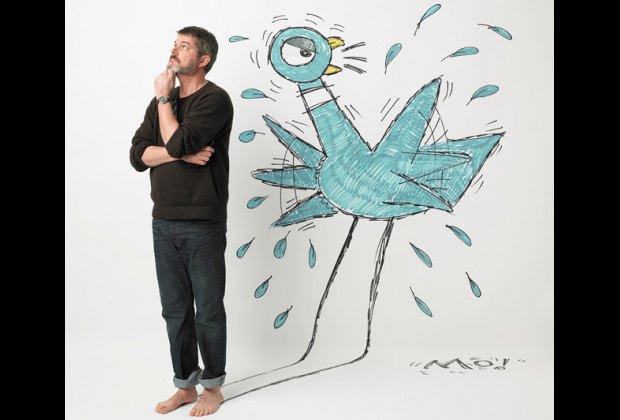 Mo Willems and his pigeon sketch. Photo by Marty Umans/courtesy of New-York Historical Society.
The Art and Whimsy of Mo Willems — Upper West Side
Friday, March 18 - Sunday, September 25
Bring your preschooler for a firsthand look into the magnificently imaginative world of prolific and beloved author and illustrator, Mo Willems. New-York Historical Society presents a journey through the Caldecott-winning author's creative career with original sketches and inspirational drawings that your preschooler will recognize from Willems' funny, animal-filled tales.
One Spring Bonus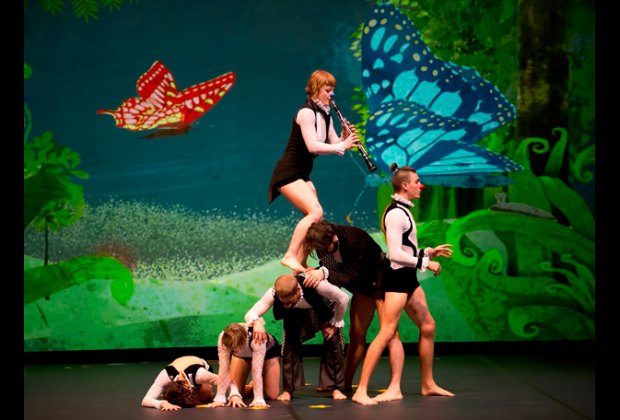 Acrobats take on animal shapes in the Carnival of the Animals at Brooklyn Academy of Music. Photo by Justin Nicolas, Atmosphere Photography/courtesy of BAM.
Carnival of the Animals — Fort Greene
Saturday, April 2 - Sunday, April 3
This sweet BAMKids performance by Circa, an Australian troupe of acrobats, is part theater, part circus. Set to the Carnival of the Animals arrangement by French composer Camille Saint-Saëns, this 45-minute-long performance will blow your little one's mind as the show's acrobats become swans, fish, elephants and countless other living creatures.
Top photo: Sesame Street Live. Photo courtesy of the show.