East Village Kids' Stores: Best Toy Shops, Children's Boutiques and Other Family Shopping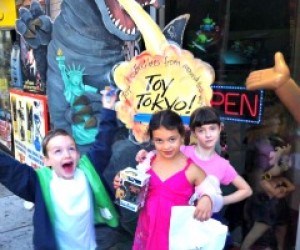 We continue our month-long focus on the East Village with a look at the best places to shop with kids in the neighborhood. While there are certainly some wonderful independent children's boutiques and toy stores in the area, including geek emporium Toy Tokyo and one of our favorite kids' consignment spots, Jane's Exchange, there are also "grown-up" shops that are fun for families to explore like punk mecca Trash and Vaudeville and gift bazaars Pink Olive and Random Accessories. Bonus: A few of our East Village kids' shopping picks feature play areas where children can romp while parents browse. Here are our top 14 places to shop with children in the East Village.
Toy Tokyo
91 Second Avenue between 5th and 6th Streets
Prepare for squeals of overwhelmed joy: Toy Tokyo is packed floor-to-ceiling with a wide array of collectibles, oddities and playthings, from Kidrobot key chains to DC and Marvel action figures, Hello Kitty backpacks to Pac-Man ice cube trays, pop star bobble heads to Godzilla wind-up toys. Kids will inevitably touch everything, and the staff is pretty cool about it since the most prized items are safely behind glass. There are entire cases devoted to pop-culture phenomena like the Smurfs, The Simpsons, Mickey Mouse and The Nightmare Before Christmas. Plus there's a vintage toy section, as well as more esoteric (and adult) wares from Hong Kong and Japan. Downstairs there's a gallery, though it's best to confirm the works on view are kid-appropriate before you go.

Dinosaur Hill
306 East 9th Street between First and Second Avenues
Opened back in 1983, this classic toy store offers a much less commercial experience. The beautifully curated selection includes lots of handmade items like cloth dolls, tutus and puppets, wooden toys, craft and science kits, kid-sized instruments, doll houses, and baby clothes and gear. Lingering is encouraged and free gift wrapping is offered. I've bought many hit birthday gifts here.

Jane's Exchange
191 East 3rd Street between Avenues A and B
One of Manhattan's too few children's consignment shops, Jane's Exchange was opened by a pair of neighborhood moms back in the '90s. Though their kids are grown, their beloved shop continues to thrive and features an ever-changing selection of good condition second-hand gear, clothing, books and toys for infants and children up to age 8, plus maternity wear. Looking to buy? You can browse while your children hit the cozy play space filled with books and toys. Looking to sell? Just bring in your stuff, no appointment necessary. You get 30% of each item sold as store credit.

Forbidden Planet
832 Broadway between 12th and 13th Streets
Named after the legendary 1956 sci-fi flick, this longtime geek favorite has moved a few times, but it only seems to get bigger and better with each iteration. Explore a mind-boggling selection of action figures, comics, graphic novels (including lots of manga), T-shirts, statues, art books, posters, games, and sci-fi and fantasy movie memorabilia. While the store is definitely aimed at the serious collector, you'll find plenty of wide-eyed kids here. Try to think of it more as a museum than a shop, as it's pretty pricey and definitely not a please-touch kind of place.

St. Mark's Comics
11 St Mark's Place between Second and Third Avenues
If you're just in the market for a new comic or a set of trading cards, this less upscale shop may be the better bet. You can find lots of decently priced nerd knickknacks like patches, pins, current magazines and issues, and tiny action figures. The super-expensive stuff (including vintage items) is in the back, so stick to the front.

Trash and Vaudeville
4 St. Mark's Place between Second and Third Avenues
Outfitting celebrity and civilian rockers, mods, punks and goths since 1975, this two-floor St. Mark's institution helped turn the block into a counterculture hotspot. And even though St. Mark's vibe, residents and clientele have completely changed, Trash and Vaudeville is still thankfully going strong. While most of the clothing is aimed at adults, tweens and up can usually fit into an adult extra small. Plus there are some actual kids' items, including baby Dr. Martens, Ramones and Blondie onesies and tees, and awesome accessories like skull-shaped pillows, studded belts and bracelets, over-the-top hats and headgear, coffin-shaped purses and other outrageous finds. Super-stylish buyer Jimmy Webb, a legend in his own right, has dressed everyone from Iggy Pop to Beyoncé, and is really great with kids!

Ibiza Kidz
830 Broadway between 12th and 13th Streets
This cavernous upscale children's shop sells swanky toys, gorgeous clothes, toys and gifts, and a slew of shoes for babies to tweens. Footwear is definitely the main focus here and the selection of brand-names is impressive: Keds, Keen, Mod8, Naturino, See Kai Run, Skechers, Uggs and Umi to name a few. The staff even knows how to measure the feet of a squirming toddler. Bonus: Many of the toys are unwrapped so kids can try them out.

Alphabets
115 Avenue A between 7th Street and St. Mark's Place
Chock-full of tchotchkes like trinkets, magnets, toys, tees, mustache accessories, whoopee cushions, greeting cards and novelty items, Alphabets is a browser's dream. You'll find all kinds of whimsical treasures in two adjacent storefronts, and since some items are definitely for adults (shot glasses, flasks), you just may find something for everyone on your gift list.

Tinkersphere
304 East 5th Street between First and Second Avenues
Robot enthusiasts, tinkerers and techies of all ages will find inspiration at this brand-new shop. The owner, a recent NYU grad with a dual degree in computers and electrical engineering, started out as an online retailer and then opened this sliver of a spot where you'll find craft and Arduino kits, robots, puzzles, tools, how-to books and other high- and low-tech DIY items. You can also play old-school video games for free on the rigged up TV.

Zibalee
244 East 13th Street between Second and Third Avenues
Owned and operated by a local dad, Zibalee caries a wide selection of casual kids' clothes and shoes for newborns to tweens, and accessories like lunch boxes, sunglasses, hats and mittens. The emphasis here is on funky independent brands like Tea Collection, Appaman and Charlie Rocket.

Village Kids Footwear
117 First Avenue between 7th Street and St. Mark's Place
For expert fitting and a wide selection (Keen, Adidas, Merrell, and Pediped to name but a few), check out this family-owned shop. Footwear ranges from 6 months to youth size 7 and skews toward everyday shoes more than special occasion.

Random Accessories
77 East 4th Street between Bowery and Second Avenue
This eclectic boutique delivers exactly what the name promises. Cramped with densely stacked shelves, Random Accessories might be a bit overwhelming for the preschool set. But school-age kids should enjoy unearthing treasures like funky jewelry, offbeat toys, colorful books, and quirky odds and ends.

Pink Olive
439 East 9th Street between First Avenue and Avenue A
Opened by a former buyer for Bloomingdale's and Barney's New York, Pink Olive has a lovingly handpicked array of baby gear and gifts, handmade greeting cards, unique jewelry, original artwork, books and even some vintage items. Definitely a worthwhile shopping destination for the discerning tween.

New York Costumes Halloween Adventure
104 Fourth Avenue at 11th Street
In need of a costume when it's not Halloween? At New York Costumes Halloween Adventure it's October 31 all year round. Find any commercial costume you can possibly imagine, including a nice kids' selection, at this giant two-floor store, plus wigs, masks, props, decor, makeup and an extensive magic section. Well organized and fun to explore even if you're not in need of a costume. Plus the window displays are awesome.


Read all of our posts about exploring the East Village with kids.