Science, Machines and Nature Museums in Fairfield County, Connecticut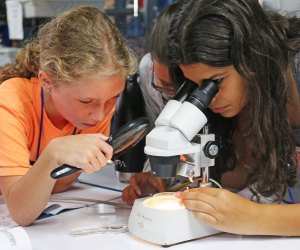 From trying on a real space suit, to jumping into a the cockpit of a full-size helicopter, to touching a shark, Fairfield County offers some top-notch museums when it comes to science, nature, and machines. Featuring authentic and original equipment, imaginative and creative displays of abstract scientific concepts, and a variety of hands-on, interactive engagement, kids are sure to love exploring these Fairfield County museums. And so will their grownups!
Looking for more STEM fun? Consult our Event Calendar and sign up for our newsletters. And we've also rounded up Science Museums in the Hartford area.
Discovery Museum and Planetarium - Bridgeport
One of the state's leading science museums, the Discovery Museum and Planetarium in Bridgeport is the place to go to for exciting, hands-on scientific explorations. The museum has both permanent and temporary exhibits that make science and space exploration exciting for kids of various ages. Colorful and creative exhibits illustrate the key concepts of energy, light and sound. Children can build and race sun-powered Legos on the mini racing track to experiment with solar energy. The museum's space exhibits invite kids to try on a real space suit, touch and examine real meteorite pieces, and play around with a moon rover. Toddlers, meanwhile, get to play in their own age-appropriate play space, Preschool Power. Finally, the museum's planetarium offers a series of shows, targeted to different age groups, to teach about space and the solar system. In the month of October, the museum hosts a special Halloween event, Trails from the Crypt, strictly for the fearless.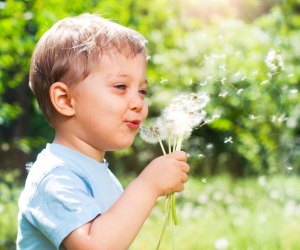 Earthplace is filled with interactive play. Photo courtesy of the venue.
Earthplace - Westport
Tucked in the backwoods of Westport, Earthplace is a hub for nature-based education and exploration. Earthplace's Museum is filled with interactive areas to explore the wonders of nature with wildlife dioramas depicting ecosystems in Connecticut. Get up close to animals at Animal Hall and the outdoor Connecticut birds of prey exhibit, and explore the 62-acre property on one of the many trails. There's also a natural playground and a wonderful children's playground available after 6pm to check out.
National Helicopter Museum - Stratford
The small museum installed in the east-bound railway station in Stratford was inspired by Fairfield County's role in the design and production of helicopters. The little museum features exhibits of photographs documenting the history and evolution of these special flying machines of complex and ingenious engineering. It also showcases a variety of model helicopters, including the carefully built model of Igor Sikorsky's—yes, from Shelton, Conn.—first helicopter. The main attraction is a full-size helicopter cockpit, the favorite of kids of all ages.
The Danbury Railway Museum - Danbury
Who doesn't love old trains, these clumsy, big, adorable iron horses? Who doesn't love little model trains swiftly chugging around in eternal loops up and down tiny mountains and through miniscule tunnels? The Danbury Railway Museum—located in the old station building and railroad yard in the heart of the city—has them both. Children and adults alike will find something exciting in its collection of "real" historic trains, tiny model trains and a rich selection of railroad memorabilia. Inside the museum station, the elaborately built Lionel model and the smaller, free-to-play-on tables attract the younger crowd. The real treat outside is the yard with its many historic engines and passenger cars, including 100-year-old steam engines and a fully renovated mail carrier train. All are invited aboard to check out the equipment of the various engines and cars or to go for a short yard ride complete with a spin on the yard's favorite turntable.
Military Museum of Southern New England - Danbury
The Military Museum of Southern New England also boasts some big, impressive vehicles. Its tiny front yard is full with historic tanks and military vehicles from various countries and wars. Usually visitors can just look at and walk around the vehicles, but once a month, the museum has an Open Turret weekend when guests can experience what it feels like to squeeze themselves into the tight bellies of these gigantic war machines.
Stamford Museum & Nature Center - Stamford
The Stamford Museum and Nature Center has it all: a beautiful historic mansion, a working farm, nature center and trails, and a one-of-a-kind playground. The Bendel mansion with its lead-framed glass windows, gargoyles, and half-timbered walls is like a somewhat ominous but exciting house from the Grimms' fairy tales. It features traditional exhibits of New England nature and wildlife, and showcases original artwork from the mansion. Kids will love visiting the North American river otters and the animals on the 10-acre Heckscher Farm. The Overbrook Nature Center is dedicated to Connecticut's nature and wildlife with scavenger hunts, simple crafts and letterboxing clues for the nature center's more than 80 acres of trails located inside. Still, the favorite attraction for kids is undoubtedly the playground, designed to show kids what the world looks like from the perspective of animals. Children can climb into and take cover in a giant bird's nest, crawl through an spider's web, peek out from a treehouse lookout, and stop by a hawk's nest.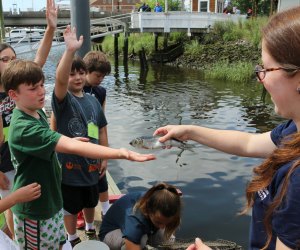 The Maritime Aquarium provides a hands-on education of our local ecosystem. Photo courtesy of the venue.
Maritime Aquarium - Norwalk
No list of Fairfield County's best nature museums is complete without the Norwalk Maritime Aquarium, this wonderful place dedicated to the flora and fauna of Long Island Sound and Connecticut's rivers and lakes. A long-time favorite for families, this museum is worth visiting in every season. In the summer, the aquarium offers family-friendly marine science cruises out of the Norwalk harbor. Check out our detailed post on visiting Fairfield County's Water Wonderland.
This originally posted in 2011 and has been updated for 2017.
Top photo courtesy of the Maritime Aquarium.