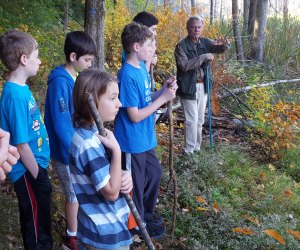 Science Museums and Nature Centers in the Hartford Area
Do your kids love animals? Are they fascinated by butterflies and don't mind the sound of crunching leaves under foot? There are many opportunities for your little science buff to discover nature, investigate planets and anything science related. Check out these great science museums and nature centers in the Hartford area. Of course, don't forget to check out our Kid Friendly CT Museum Guide for lots of other great suggestions of places to go too.
Talcott Mountain Science Center - Avon
TMSC offers fun and educational science programs for school age children through a variety of fun events, classes and activities. Many of the opportunities available here are for members, by appointment or pre-registration is required. They have Saturday programs and a K-8 program for school vacations in December, February and April.
324 Montevideo Rd. Avon, CT 06001 860-677-8571
Connecticut Science Center - Hartford
This museum has it all with 150 hands-on exhibits about physics, forensics, geology, astronomy and much more! While many of the exhibits are geared for the older child there was enough to do for my four year old such as the the water area and all things hands-on. The Center offers a sensory friendly day for children as well as February and April vacation camps.
250 Columbus Blvd. Hartford, CT 06103 860-724-3623
The Children's Museum - West Hartford
This museum offers hands-on fun with science and nature for younger children. Visitors can enjoy exhibits, demonstrations, a live animal wildlife sanctuary, and a state of the art digital planetarium with movies. They also offer a variety of exhibits that feature learning about bugs, robots, reptiles, astronomy and more. Vacation programs and special events are part of the regular programming. They partner with Roaring Brook Nature Center.
950 Trout Brook Rd. West Hartford, CT 06119 860-231-2824
Roaring Brook Nature Center - Canton
Come and learn about Connecticut's natural habitat at the RBNC. They provide many different programs such as animal demonstrations, five miles of hiking trails, and discovery programs to learn about our natural world. Special year-round events including night hikes, story times, Turkey Daze, Holiday Craft Fair and the Hobgoblin Fair.
70 Gracey Rd. Canton, CT 06109 860-693-0263
Connecticut Audobon Society - Glastonbury
They offer various programs and events all throughout the year. Located near the Connecticut River, they work to promote awareness of the River's ecosystem, the birds and habitats it supports, and to foster preservation. The center contains a discovery room with hands-on exhibits and small live animals. The surrounding grounds contain a wildlife garden, a bird-feeding station, and a picnic area.
1361 Main St. Glastonbury, CT 06033 860-633-8402
Northwest Park and Nature Center - Windsor
With 473 acres to hike, a nature center, organic teaching garden, butterfly garden, and honey-making bees, Northwest Park is a "living classroom." Come and catch frogs or see the live ducks, turkeys, donkey and cow. Play at the playground or have a picnic somewhere on-site. You can even snow-shoe in the winter. They have many regular events as well as a summer camp.
145 Land Road, Windsor, CT 06095 860-1886
Eleanor Buck Wolf Nature Center - Wethersfield
An ecology education and community center, EBW Nature Center features live animals, hands-on exhibits, and a reading/game corner. You can take a hike along wooded trails, explore their wildflower meadow, and enjoy the playground. Numerous programs are offered year round.
156 Prospect Street, Wethersfield, CT 06109 860-721-2980
Photo Credit: J. Coe
Originally published: 07/04/2013