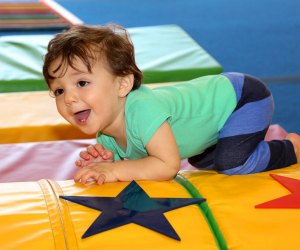 Top Indoor Play Spaces Near Fairfield County, Connecticut
Is your house bursting with pent-up energy as winter drags on? Not a problem! Pack up the kids, round up a few friends, and head to one of these colorful, safe, and exciting indoor play places in Fairfield County.
Whether you're looking for a more traditional playground environment in a clean indoor setting, or a place that invites lots of jumping, running, and tumbling, there's no need to drive far. There are many indoor play places and family fun centers offering a variety of safe and eye-pleasing settings, interesting programs, and well-trained, kid-friendly staff. For even more indoor fun check out our Connecticut Indoor Play Guide.
Fun For Kids, Stamford
This multi-level children's paradise has something for all ages. The youngest ones can crawl, climb, and toddle around through the bright, colorful twisty tubes, dipping tunnels, and zippy slides. Everything here is just the right size, angle, and twist for kids eight and younger. Older kids can head straight to the arcade featuring a wide variety of games including the eternal favorite hoop games, racing games, air hockey tables, and the more secluded pool tables for those with more sophisticated tastes. The fun center also includes a large laser tag area that is sure to please preteens with its cool obstacles and audio-visual effects.
Chelsea Piers CT, Stamford
Massive yet easily navigable, Chelsea Piers CT is all about active playtime with its two indoor ice skating rinks, an adventure center, indoor water slides, a pool, batting cages, tennis, soccer, and basketball courts. You can bring the kids to the Adventure Center where they can exhaust themselves jumping from square to square in their wall-to-wall trampoline room and then by climbing the rock climbing wall. You can then slide down the numerous slides into their indoor splash zone pool. If you still have energy, take them to the batting cages afterwards to practice their swing.
Ole , Fairfield, Monroe
The incredibly clean indoor jungle gym offered at both Ole locations is perfect for even your little toddlers to explore with a trampoline, bridges, obstacles, a climbing tower,and slides.
Rockin Jump, Trumbull
​Climb, jump and soar through the air at one of the ultimate trampoline parks in Fairfield County. Join a game of dodgeball or practice your somersaults at the indoor Trumbull facility. Rockin' Tots is held on Tuesdays and Saturdays from 8 to 10am for kids six and younger. Or, bring the whole crew to family night on Saturday nights from 8 to 10pm. Everyone will enjoy an ice cream sundae after an evening of bouncing.
Monster Mini Golf, Danbury
Your kids will light up when they enter this glow-in-the-dark, monster-themed indoor mini-golf and laser tag emporium. Join the kids and battle in the laser tag mazes, or enjoy a round on the spooky links. The arcade is just the right size, too, for not losing the little ones.
Gymnastic Spectrum, Danbury
Gymnastic Spectrum in Danbury offers structured playtime in a truly inspiring and invigorating environment built from bright gym mats, friendly, soft equipment, comfortably wide balance beams, trampolines, rings and bars, a safe, traverse climbing wall, and a giant tumbling pit filled to the brim with colorful foam blocks waiting for kids to dive in. Parents can watch from a comfortable sitting area. Kids Time action includes bounce time on inflatables, quiet movie time, snacks, and pizza.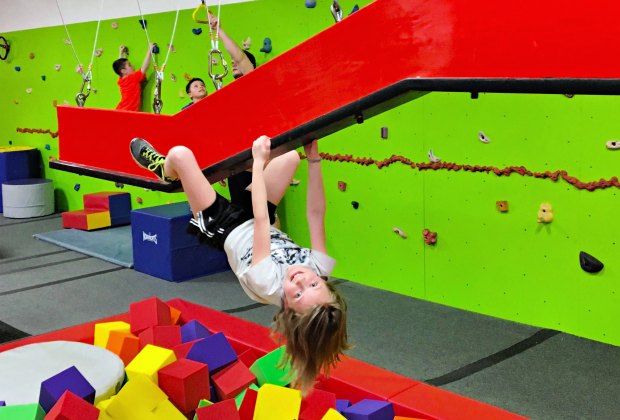 Kids climb the walls in Danbury. Photo courtesy of Gymnastic Spectrum
Pump It Up
,
Norwalk
For serious inflatables that just blow your kids away, try Pump It Up in Norwalk. Although they are primarily a party place, they offer drop-in open play times (based on registration) and slots for groups of various sizes. Pump It Up is serious about safety, providing bouncers with detailed safety instructions, a video about safe hopping around, and plenty of supervision around the attractions.
Ocean Playplace, Maritime Aquarium, Norwalk
While it is not the main attraction of the wonderful Maritime Aquarium in Norwalk, their cozy, well-cushioned little Ocean Playplace offers hours of fun for little preschoolers. This blue-and-green corner of the busy aquarium is neatly tucked away. The simple, no-fuss play area has reconfigurable cushioned panels that can be stacked and arranged for crawling, climbing, sliding or just simply huddling. Should they grow bored in their peaceful play corner, the youngsters can join older siblings and parents in exploring the many exhibits of the aquarium.
My Three Sons Family Fun Center, Norwalk
With bounce houses, laser tag, arcades and more, My Three Sons is a super-hot birthday spot. But no reservations are needed to enjoy a few hours bouncing and burning off steam. Check the website for hours and daily deals.
Tumble Jungle, Norwalk
With mats, inflatables, and plenty of space to run around, your younger kids will enjoy some time at Tumble Jungle in Norwalk. In addition to scheduled classes for which you can register, they also offer their drop-in "Monkey Time" sessions.
Sono Field House, South Norwalk
Visit Sono Field House to try your hand at rock climbing. The walls are dotted with hundreds of 'holds'; little objects of various sizes and shapes that climbers grab and step onto to scale the walls, just like spiderman. Children of all ages try and enjoy wall climbing. While some routes may be too challenging for younger children, there are plenty of appropriate wall routes. Staff members are there to advise and assist with the ropes.
Sports Center of CT, Shelton
Under one roof, you will find the world's only double-decker ice skating facility with the added bonus of an arcade, batting cages, bowling, and laser tag. For those less inclined to sports, there is a full-service arcade and an arts and crafts studio. It is literally impossible to be bored at this place. Check their website for a full description of schedules and pricing.
Jump Off!, Stratford
More than just a trampoline park, Jump Off! offers a fantastic play area that caters to preschoolers and toddlers with an expansive multi-level playscape and to older kiddos with an impressive battle beam and dodge ball, video arcade and cafe. Jump Off takes your average bounce park to the next level with foam pits, a huge three-level playground perfect for littles, extreme dodgeball, a basketball dunk and much more! Drop the teens here for teen night too.
Yanity Gymnasium, Ridgefield

Pre-schoolers are welcome at open gym time in the Yanity Gymnasium. No supervision is provided – this is an open space for parents and kids to enjoy together. Call ahead as they will occasionally be closed for a birthday party or other private event. The gym is part of the town of Ridgefield's recreation department, though you do not need to be a Ridgefield resident to use it.
Grand Prix New York, Mount Kisco, NY
Have seen and done enough slides, inflatables and web crawls? Are you ready for some extra special, super-cool, smashing fun? Grand Prix New York just across Fairfield County's Western border in Mount Kisco has the inflatables, the arcade games, the pool tables and two exciting indoor go-kart race courses to speed through in kid-sized cars, dressed in full racing gear. After the thrill of the race, younger ones can head for the giant bouncy castle, while the older kids can hang out at the arcade, shoot some pool, or play a round of laser tag. A cozy and hip restaurant area around the race courses invites parents for a short, relaxing break.
​Originally published 8/9/11.