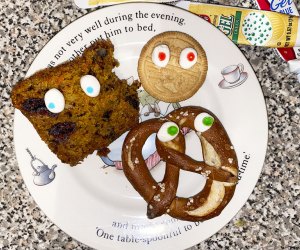 13 April Fools' Day Food Pranks To Play on Your Kids
April Fools' Day is around the corner, and if you're like me, you relish the opportunity to play a fun April Fools' prank on your kids. Food pranks are a great choice because kids can be so fickle with their food, and these pranks offer a great opportunity to break out of habits or try something a bit more playful in an area where they may feel stress or hesitation. So get your grocery list together, set aside about the same amount of prep time as you would for a simple recipe, and let's food prank your kids!
Want more silly and super easy April Fools' Day jokes to play on kids? We've got 17 truly simple prank ideas that will leave little ones laughing (and check out these favorite kid jokes that will keep them giggling all day long).

That's one perfectly fried egg! Or is it?
April Fools' Jokes for Kids of All Ages
1. Eggs and Fries Made from Peaches, Apples, and Yogurt
This food prank on Reddit looked like fun to try to recreate, so I did! A few apples may be lost in multiple attempts to develop the skill to cut the apple chunks into believable fries, but it's a small price to pay for the laughs that this prank gets when you get it right. To further nail the point, a little jam (or ketchup if you're truly looking for level 10 prankery) seriously seals this deal.
2. Fake Cake
This food prank requires a round craft mold, some icing, and sprinkles. You basically decorate the craft mold to look like a beautiful, delicious cake and stick it in the fridge, just ho humming around until someone decides to try to "cut a slice" and then laugh at them while they struggle with this impossible cake. If you don't want to purchase a craft mold for this gag, you can also use a cake pan, just turned upside down.
3. Frozen Cereal
This is a cold trick, literally. Freeze a bowl of cereal with milk, then add a loose layer of cereal on top of it and a splash of fresh milk. Then sit back and yuk it up while your victim doesn't understand what in the world could be going on with their normally cooperative bowl of cereal!

Ewwwww! Bloody fingers are on the menu for April Fools' Day!
4. Turn Hot Dogs into Fingers
Did you know that with a tiny bit of knife-based handiwork shaving off some "skin" here and there, a hot dog can become a very realistic-looking severed finger? And several hotdogs can become several severed fingers? It's funny because it's gross, something most kids seem to be able to get behind! In this version, someone made fake fingernails out of onions for quality comic effect. (You can also just put fake nails on the hot dog if you don't trust your artistic ability.)
5. Put Fake Eyeballs on Everything (Using Mini Marshmallows)
This is a fun, easy trick for people who don't have time to do some of the more complicated pranks. Take a pair of miniature marshmallows, cut the ends off and dot them with a food pen, a drop of dye, a cupcake decorating tube, or a tiny dollop of a condiment, and voila! You have tiny eyeballs. Stick them to the side of an apple, a slice of toast—literally any kind of food—and let the hilarity ensue. The humor of this one is in the quantity. Put eyes on everything all day long until either the joke is no longer funny or bedtime; whichever comes first.
6. Put It in Jello
Select one of your child's favorite fun, small toys. Characters like Little People, Legos or Lego people, trains, small dolls, a car—really anything small will work perfectly. Just make Jello as you normally would and stick the toy in the middle of the liquid as it cools in the fridge. When you take the Jello out later, the character will be submerged in the middle and your kids will have a laugh figuring out how to free that toy. I tried this with small pre-made jello cups and it worked pretty well if you want a quick shortcut.

Make your own Legos, or buy candy bricks, and shock your kids by eating their toys.
7. Eat the Legos
Instead of sinking Legos in Jello, you can make Legos out of Jello (or tinted white chocolate) using these Lego molds. Little eyes will go wide when you mix some in with the real Legos and just start picking them out and eating them! (You can also purchase candy Legos, as seen above, for this trick.)
8. Black Bean Brownies
This is a mean trick for any true brownie lover. Black bean brownies are a low sugar version of brownies that, while still delicious in their own way, are a) made of beans and b) not true brownies in any sense of the word. Make a big dish of them and watch while your family members confusedly wonder what is going on with this dish of imposter brownies.
9. Dye the Milk
How about a nice, tall cup of … red magic happy drink? I first heard of the trick of dyeing the milk on St. Patrick's Day, when my babysitter at the time did it for me and my little sisters, and we loved it. But whatever color you choose to dye the milk is up to you. Blue? Yellow? Purple? You can even give your colorful beverage a funny made-up name. Warning: Green milk stains nice carpets. We found that out the hard way.
10. Themed Bento Box
Bento boxes are ripe for hilarity with their many spaces and spots, leaving them wide open to themes. I drew inspiration from the Halloween-themed spooky bento box examples you can find online to make ones that are less spooky, and more fake-out. This one, which incorporated using fake bugs in each compartment is my favorite. Casually serving up a lunch with spiders in the fruit and a caterpillar in the celery will make kids pay more attention to what they're eating!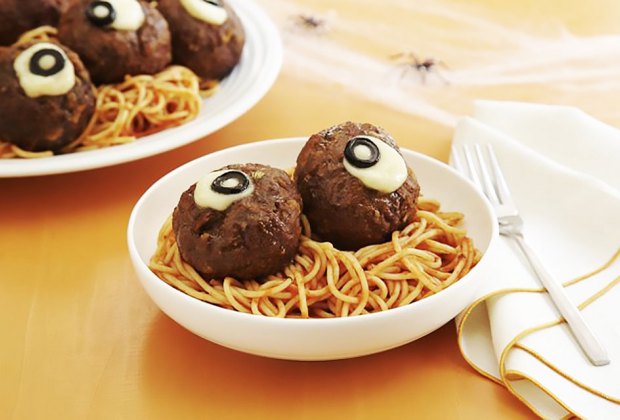 Meatball Eyeballs stare up to watch kids clean their plates. Photo courtesy Kraft Canada
April Fools' Pranks for Bigger Kids
11. If You're a Baller Prankster, Make Your Own Eyeballs
If you're the kind of person who goes all out with a prank, you can try these more advanced fake eyeballs via this tutorial by baker Shawna McGreevy. They're pretty intense. If this is a little too over the top for you, make eyeballs out of anything that is already round. Meatball eyes can be added to spaghetti, melon eyeballs can be made using a melon baller and added to a cup of yogurt, you could even make eyeball cake pops. This prank really pushes the theme that mom knows all and sees all!
12. The Ol' Where'd the Egg Go? Trick
If you are extra serious about your pranks, you can give this hardcore prank a try. It requires a bottle of water and an egg, as well as at least 15 minutes of clean-up time, including a bath for one or both of the people in this prank.
The way it works: Take a raw whole egg and place it on top of an uncapped plastic water bottle. Make some abracadabra motions with your hand, then time palming the egg to conceal it in one hand, with a hard slap on the top of the bottle with the other hand. The viewer will be perplexed that the egg seemed to disappear into the water bottle and will take a closer look. When they do, squeeze the water bottle and water will splash up into their face. Then, while they're reeling from the water attack, splat the raw egg on top of their head. This is a serious prank! Recommended for older kids who will get the intensity of this prank, or help an older kid play it on another adult. See what happened when Gordon Ramsay's daughter pulled this on her dad...
13. Ahhhhhhh, My Hand!
Beet juice, cherry juice, and blueberry juice all do a pretty good job of resembling blood. To pull this prank off, simply dip a few fingers into a can of beets or a bag of frozen blueberries and then run the blender or garbage disposal. Scream, holding your "bleeding hand" up into the air, and see what happens. This is a better prank for older kids, who won't get scared!
Unless noted, photos by the author