Harlem Parks and Playgrounds: A Photo Tour of Six Uptown Green Spaces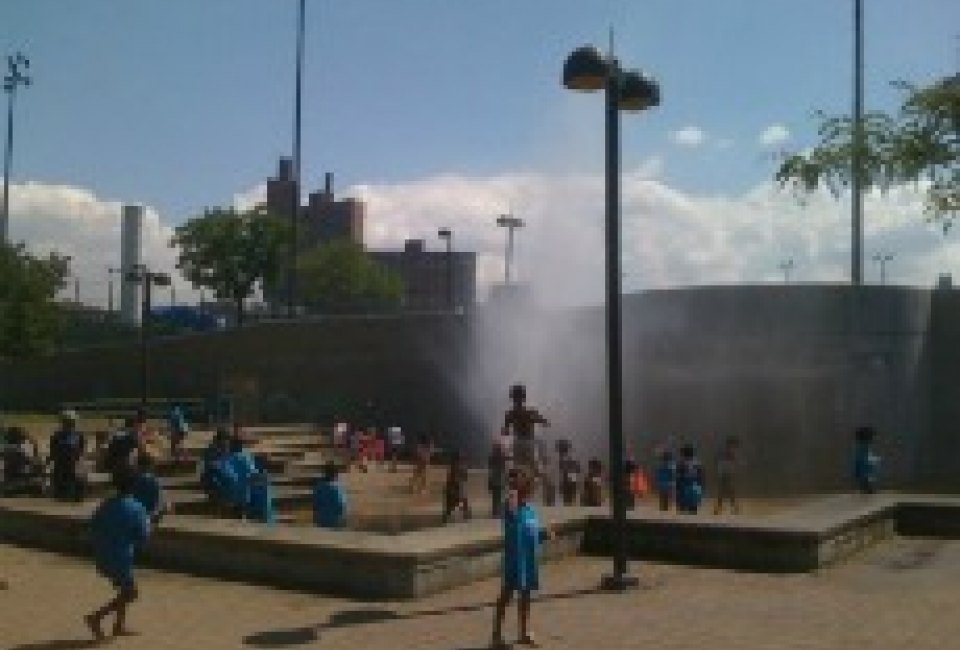 3/21/12
- By
Sonia Gonzalez
So far during our month-long focus on Harlem, we've shared our favorite things to do, places to shop and spots to eat with kids in the neighborhood. Now we come to one of Harlem's biggest attractions: its stunning public parks.

There are six major parks in Harlem, including Riverbank State Park, the northern end of Central Park, and the historic St. Nicholas and Morningside Parks. These aren't piddly little spaces. Together, their amenities include one carousel, one historic house, two lakes, two ice-skating rinks, three amphitheaters, five swimming pools, and a slew of ball courts, playgrounds and sprawling green fields dotted with trees. Come with us on a photo tour of these six urban oases.
Riverbank State Park
137th to 145th Streets along the Hudson River
We're such big fans of this elevated waterfront park, we posted an in-depth review of it last summer. Riverbank really has it all: tennis, basketball and handball courts, an Olympic-size indoor pool and a smaller outdoor pool, a covered rink for ice-skating in winter and roller-skating in summer, playgrounds, a fitness center, an amphitheater, lots of picnic tables and an awesome kid-designed carousel. Since Riverbank is built on a sewage treatment plant, as you approach you'll see some pretty ugly industrial-looking structures. But once you arrive you'll forget all about them thanks to the gorgeous views of the Hudson River and the George Washington Bridge. The one downside to the park? No one ever answers the phone. So if you want to register for any of its inexpensive classes or camps, find out about its arts and culture programming, or buy a membership to the fitness center, you're best off visiting in person. (Even then, good luck tracking someone down.) The pools, rink and other facilities have minimal fees. In warm weather, you can easily spend the entire day here.

Northern Central Park
One of the first posts we ever published was a tour of the northern section of Central Park. 110th Street (recently re-branded as Central Park North) marks the southern border of Harlem, and there are many attractions right inside the Lenox Avenue entrance.

Harlem Meer
Inside Central Park between 106th and 110th Streets and Lenox and Fifth Avenues
The Meer, Dutch for lake, is one of the most peaceful and beautiful places in all of Central Park. As you walk around the man-made body of water, you'll spy turtles, fish, and ducks and geese. During the warmer months you'll also see all kinds of wild flowers. If the kids want to play, they can climb the challenging rocks on the west side of the Meer, or head to one of the two nearby playgrounds, including a brand-new one across from the Dana Discovery Center. If you walk west to Frederick Douglass Boulevard, you'll find the West 110th Street Playground, which was recently rebuilt and features state-of-the-art equipment.

Charles A. Dana Discovery Center
Enter Central Park at 110th Street between Fifth and Lenox Avenues
Located right on the Meer, this center offers free activities for kids all year round. Annual highlights include the free Harlem Meer summer concert series, catch-and-release fishing, the awesome Halloween parade and pumpkin flotilla, and a holiday celebration, which includes an appearance by Santa and the illumination of the building and a floating Christmas tree. The center also hosts craft and storytelling sessions, and nature exhibits.

Lasker Rink and Pool
Enter Central Park at 110th Street and Lenox Avenue
Situated on the southwest side of the Meer, Lasker is an outdoor ice-skating rink in winter, and an Olympic-size pool in summer. Ice-skating season runs late October to March, and there are admission fees and charges for skate and locker rentals. In additional to public hours, the rink also hosts ice-hockey games, and offers ice-skating and hockey lessons for kids, and birthday party packages. The pool is open from late June to Labor Day, and entry is free. The pool also hosts free summer swimming lessons for kids. There's even a free summer lunch program through the Department of Education, where children under 19 can get free breakfast and lunch on weekdays.

St. Nicholas Park
St. Nicholas Avenue to St. Nicholas Terrace between 128th and 141st Streets
Since this park is built on a steep incline, it features scenic hills, manicured lawns and wide walkways lined with benches. Other amenities include two basketball courts (one with bleachers), handball courts, picnic areas, chess tables, a large dog run and three standard playgrounds. In the past, the nonprofit community organization Friends of St. Nicholas Park has produced a number of fun family gatherings, like the holiday tree lighting, an Easter egg hunt and a fall festival, but it's unclear whether these annual events will continue this year.

St. Nicholas Park's biggest attraction is Hamilton Grange, the home of Founding Father Alexander Hamilton. The building was relocated to the park in 2008 and serves as a museum dedicated to Hamilton's life, career and contributions to our nation. The lower level can be explored year-round free of charge. The Grange's other floors are only accessible during daily guided tours. Visit the website for hours of operation and a list of upcoming special events.

Morningside Park
Morningside Avenue to Morningside Drive between 110th and 123rd Streets
Like St. Nicholas Park, Morningside spans 13 blocks on a very steep hill, and historically served as a divider between Morningside Heights and Harlem. These days that separation is happily almost nonexistent, as families from both sides of the park frolic in its playgrounds and revamped ball fields. The tree-lined paths are great for bike riding, jogging or walking your dog, and tackling the stairs and hills is a great workout. The playgrounds, while serviceable, could use some love. In fact, the one on 123rd Street is slated to be rebuilt this year. Morningside is very picturesque, with a lovely pond, cascading waterfall, various monuments and open grassy fields, perfect for a picnic or a game of catch. The community organization Friends of Morningside Park continues to spearhead improvements to the park, and also hosts lots of popular events, including an annual spring festival, the monthly Sundae Sermon family gatherings in summer, and a weekly farmers market.

Jackie Robinson Park
Bradhurst Avenue to Edgecombe Avenue between 145th and 155th Streets
While amenities include two playgrounds, two baseball fields and an outdoor basketball court, the main attraction is the Jackie Robinson Recreation Center, located at 85 Bradhurst Avenue and 146th Street. The center features an indoor basketball court, computer resource center, fitness room, the Rachel Robinson Lending Library and an outdoor pool, which is open during the summer. Membership to the rec center is free for kids, and just $100 for adults. The park also features a recently renovated band shell, which hosts SummerStage performances. In front of the band shell, there's an open plaza lined with trees and benches, great for young kids to ride their bikes or roller skate when it's not filled with an audience. The nonprofit Jackie Robinson Park Conservancy hosts several annual community events, including the Light of Hope holiday ceremony, Harlemween and a birthday party for its baseball great namesake.

Marcus Garvey Park
Madison Avenue to Mount Morris Park West between 120th and 124th Streets
Straddling East and West Harlem, this park has tons of great stuff including two playgrounds, a baseball field, an amphitheater and an outdoor pool. There's lots of open space to play or picnic, winding trails that are great for biking and hiking, and a really cool historic fire watch tower. Like Jackie Robinson, Marcus Garvey has the Pelham Fritz Recreation Center, which offers a variety of classes from computer skills to karate, yoga to kickboxing. This June, the park will host the first-ever Harlem Arts Festival at the recently renovated Richard Rodgers Amphitheater. Established annual events include Halloween and holiday celebrations hosted by the Mount Morris Park Community Improvement Association, the Harlem Skyscraper Cycling Classic and informal Saturday night drum circles in the summer.

Read all of our posts about things to do and places to go in Harlem.