Best Family-Friendly Restaurants in Harlem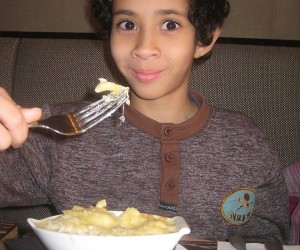 Over the past few years, Harlem has become a real foodie destination, with celebrity restauranteurs like Cedric Lecendre and Marcus Samuelsson opening up much buzzed about eateries. And even though Cedric Bistro and Red Rooster are better for date night than brunch with the kids, many Harlem restaurants do cater to families.

So we continue our month-long focus on Harlem with a roundup of the best kid-friendly restaurants in Harlem, all endorsed by local families. From old-school standards like soul food stalwarts Sylvia's and Miss Maude's to popular newbies like Lido and 5 and Diamond, here are our top 13 places to eat with kids in Harlem.
5 and Diamond
2072 Frederick Douglass Boulevard between 112th and 113th Streets
My family and I recently ate at this cozy restaurant. It has high-chairs for babies and padded booths where preschoolers can bounce around. There are children's menus for brunch and dinner, but we opted to order yummy sides like mac 'n' cheese and turkey bacon for the kids instead. The staff really goes out of their way to make patrons happy. When my oldest son was disappointed by the tiny size of his cinnamon roll, the waiter promptly brought him a second one—at no extra charge.

Tonalli Cafe Bar
3628 Broadway at 150th Street
This Italian restaurant in Hamilton Heights is for adults at night with a bar scene and live jazz. But it's a good bet for brunch or an early dinner, with a relaxed, family-friendly atmosphere and a menu full of kid pleasers like homemade pasta, panninis, soup and desserts.

Miss Maude's Spoonbread Too
547 Lenox Avenue near 138th Street
The down-home Southern cooking and old-fashioned atmosphere make this uptown mini-chain a neighborhood favorite. (The other outpost, Miss Mamie's, is located in Morningside Heights.) Owner and cookbook author Norma Jean Darden named Miss Maude's after her aunt, and many of the items on the menu are from old family recipes. While entrees like meatloaf, fried catfish and smothered chicken may be too big for kids, they'll be happy with sides like mac 'n' cheese, candied yams and the complimentary cornbread. For dessert, nothing beats the peach cobbler (come early though, it often sells out long before the day is over).

Covo Trattoria & Pizzeria
701 West 135th Street at Twelfth Avenue
Although upstairs is an adults-only lounge, kids are welcome in the main floor dining room. Families can choose from 20 different types of pizza (like Gorgonzola cheese, figs and pancetta for adventurous eaters, or plain for picky ones), or try the various pasta and meat dishes. Covo sweetens the deal on Mondays and Tuesdays with half-price pizza.

Amy Ruth's
113 West 116th Street between Lenox Avenue and Adam Clayton Powell Jr. Boulevard
Is your kid into waffles? Well, this Harlem soul food stalwart has a whole separate waffle menu, and all the dishes are named after famous African-Americans locals. (Chicken & waffles is the Al Sharpton, waffles with fried shrimp is Jennifer Holiday and neighborhood councilwoman Inez Dickens is the comparatively healthy five-grain waffles.) For more intrepid diners, there are exotic daily specials like savory jerk shrimp and beer-braised oxtail stew. If your kids refuse to eat "anything from a cow's butt," like mine, there's also a sandwich board and scrumptious desserts. Warning: If you opt for brunch, be prepared to wait. There is often a line out the door on weekends, filled with locals and tourists.

Bier International
2099 Frederick Douglass Boulevard at 113th Street
Harlem's first and so far only beer garden serves brunch, lunch and dinner. The menu is quite eclectic, with a large selection of sausage and pâté plus more standard fare like burgers, sandwiches and salads, and a wide variety of beer. Probably better for school-age kids than fidgety toddlers. We hear the annual Oktoberfest celebration is worth hiring a baby sitter for. Cash only.

Harlem Tavern
2153 Frederick Douglass Boulevard at 116th Street
Don't let the word "tavern" deter you. This is one of the most family-friendly restaurants in the neighborhood! In addition to having a children's menu, Harlem Tavern has toys like Etch A Sketches and Magna Doodles for kids to play with, stroller parking and a fabulous open patio space where little ones can run around. (It's allowed!) The menu is also filled with kid favorites like burgers, basic sandwiches, wings and even sliders.

Patisserie Des Ambassades
2200 Frederick Douglass Boulevard between 118th and 119th Streets
This French bakery sells incredible croissants, pain au chocolat and other tasty treats. You can buy your pastries to go and sit in nearly Morningside Park or eat in and order off the menu, which has French staples like Croque Madame and Monsieur, and quiches. It's one of the few sit-down restaurants in Harlem that serves breakfast, and there are vegetarian options. It is small and noisy though, my youngest tends to cover her ears here.

Dinosaur Bar-B-Que
700 West 125th Street at Twelfth Avenue
Lots of people consider this barbecue joint to be one of the best in NYC, which means there are always crowds. Do not come here without a reservation, unless your kids enjoy waiting for an hour or so. People do it though because the food is that good, and the dishes are pretty interesting, like BBQ beef ribs Korean style, BBQ jerk salmon and churrasco chicken steak. There are also lots of samplers and sharable plates on the menu.

Harlem Bar-B-Q
2367 Frederick Douglass Boulevard at 127th Street
If you can't get into Dinosaur, this spot serves up more traditional BBQ fare, like fried chicken, pulled pork and ribs slathered in sauce. There are also wicked frozen drinks for adults. As one local parent raved, it's better than Dallas BBQ and locally owned. Before you go, download discount coupons from the website.

Lido
2168 Frederick Douglass Boulevard at 117th Street
This sleek Italian eatery is often filled with families on weekends. Even the brunch menu skews Italian, with pasta and panini in addition to egg dishes like white polenta, mushroom ragu, parmigiano reggiano poached eggs. At night, it's more of an adult affair with wine tasting dinners, but during the day kids are welcome.

Lolita's
57 Lenox Avenue at 113th Street
While there are a ton of Mexican restaurants in East Harlem, West Harlem doesn't have many beyond the occasional hole in the wall. And Lolita's is better than many of its East side competitors. All of the Mexican staples are served, including burritos, enchiladas, fajitas, tacos, etc. and there's even a kids' menu with chicken nuggets, burgers or a mini quesadillas. But why go with that when kids would be so much happier chowing down on rice and beans, chips and salsa, and a papaya shake?

Sylvia's
328 Lenox Avenue at 127th Street
Yes, this is where all the tourists go. The restaurant even has a partnership with Aloft Harlem, the first major hotel to open in the neighborhood in decades. But Sylvia "The Queen of Soul Food" Woods' restaurant was here long before the new Harlem Renaissance, and it welcomes out-of-town visitors, celebrities and local families equally. Friends recall taking their tween daughter here for her birthday and having the staff sing to her. There's even a children's menu with choices like fried whiting, baked ham or smothered chicken. It's one of those quintessential NYC places you need to take your kids to at least once.

And for dessert...
We just had to end on a sweet note.

Make My Cake
121 St. Nicholas Avenue at 116th Street
2380 Adam Clayton Powell Jr. Boulevard at 139th Street
With two Harlem locations, this bakery makes incredible cupcakes, pies and giant cakes for every occasion, or just for every day. Flavors include sweet potato, red velvet, pineapple coconut and double chocolate, although even the simple butter cake is a winner. Make My Cake is known for its customized cakes. Just last year, one of our contributors got a "ballet cake" for her daughter's sixth birthday, an incredible pink and purple creation that served 70 people! They also do kids' characters like Elmo and Dora, and can even put your child's photo on a cake.

Tonnie's Minis
Unfortunately this venue closed in December 2013.
While you'll find cakes at this cafe, cupcakes are the main attraction. Choose from full size or minis, both available daily. Tonnie's can also customize cupcakes. We're sure the Yo Gabba Gabba! ones would go over well at your preschooler's next party. If you decide to eat there, head to the beautiful backyard, which is open in spring and summer.