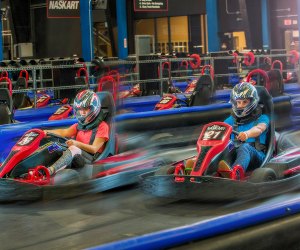 25 Fun Things To Do in Connecticut with Teens
Gone are the days of bouncy houses and playgrounds, but spending quality time with children is just as—perhaps more—precious as they navigate the teen years. Teens are notoriously hard to impress, but you'll earn major cool points by joining them in activities like escape rooms, salt caves, camping, consignment shopping, and more.
If you're searching for more ideas about what to do with teens around Connecticut, remember amusement parks and great restaurant meals are hits with all ages. Once you've scored some cool points with your teens, treat the younger kids in your life to age-appropriate fun at these indoor play spaces or awesome playgrounds.
2. Work as a team and break out of an escape room. Some of the best ones in the state include Wigwam Escape at The Institute for American Indian Studies in Washington, Trap't in Stamford, Mission Escape Games in West Hartford, and Adventure Rooms in Middletown.
3. Cheer your favorite team at a sporting event. Whether you root for the Wolfpack, Yard Goats, Huskies, or any other local athletes, there are plenty of opportunities to enjoy a ballgame together. If time allows, you can even head to the Bronx to cheer for the Yankees, or watch the Red Sox swing for the Green Monster at Fenway.
4. Have fun at Foxwoods. While underage gambling is illegal, the Tree House Arcade, Highflyer Zipline, and Sugar Factory are great places to hang with your teen.
5. No license is required at Supercharged Racing in Oakdale. The Semi-Pro track welcomes drivers with less experience as long as they stand 58 inches or taller. Pro Speed requires drivers to be at least 15 years old (must provide proof of age) and be 58 inches or taller.
6. Teens are always hungry; why not treat them and yourself to a delicious meal? For an extra treat, explore foods from a culture your teen loves or perhaps not yet familiar with; check out our suggestions for family-friendly ethnic restaurants in the Hartford area, or explore your neighborhood.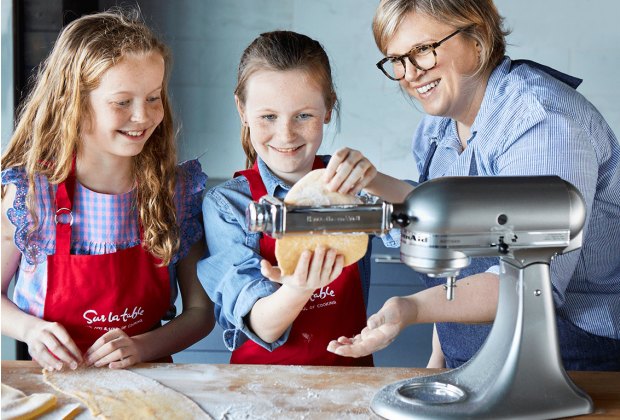 Take a cooking class and learn something together. Photo courtesy of Sur La Table
7. Get your om on together—learn yoga class at a family-friendly spot like Family Tree Yoga (Stamford) or Full of Joy Yoga (New Haven).
8. Go camping for a night (or more). Some Mad Libs, bean bag toss, and a rustic meal cooked over a campfire while stargazing will likely become a treasured memory. If tents aren't your thing, check out the tipis at Bear Creek Campground.
9. Attend a community event to reinforce teens' sense of belonging. Head to the International Festival of Arts and Ideas in New Haven, the Sunken Poetry Festival in Farmington, or the Plainville Balloon Festival.
10. Make a work of art together. You can learn pottery, or craft a canvas tote bag, wall hanging, or pillow cover at AR Workshop in Fairfield.
11. Follow the sounds of music. Teens love tunes, so whether you listen to the New Haven Symphony Orchestra (patrons under 18 are free with the purchase of an adult ticket), attend a concert at Xfinity Theatre in Hartford, check out a local karaoke night, or shop for vintage records, let your teen feel the beat.
12. Go on a photography outing and choose a double frame to display one favorite photo each: These beautiful Connecticut waterfalls are gorgeous spots for photo ops.
13. Go on a shopping spree: A consignment shop is a super destination for interesting finds that suit a teen budget.
14. Start a two-person book club. Browse the shelves at The Book Barn in Niantic, R.J. Julia Booksellers in Madison, Byrd's Books in Bethel, or another one of the state's great independent book shops. Each of you pick a read that both agree to complete, and then let the conversation flow.
15. Put on a chef's hat. Teens may be well past cookie baking and cupcake decorating, so choose a class that covers more elaborate cuisine, such as learning how to make sushi, macarons, beef Wellington, or cast iron favorites at Sur La Table (classes offered for ages 14 and up).
The It Adventure Indoor Ropes Course provides plenty of teen-friendly challenges. Photo courtesy of Jordan's Furniture
16. Push physical boundaries while conquering zip lines, suspension bridges, and climbing walls at It Adventure Ropes Ropes Course in New Haven.
17. Ready, get set, and sprint. If the idea of running makes you or your teenager cringe, commit to a 5K that allows you to train and celebrate together. Have fun with a themed race, such as a Terrain Race or Bubble Run, or run for a local or national cause.
18. Embrace each season. Have a picnic in Hartford's Elizabeth Park while roses bloom in the spring, enjoy a beach day in summer, conquer a corn maze in the fall, and go snow tubing in winter.
19. Laugh together. Catch a family-friendly show or take an improv class at Sea Tea Comedy Theater in Hartford.
20. Relax. Indulge in a spa manicure or pedicure, or relish the tranquility of the Salt Caves at Darien.
21. Embrace nostalgia at a drive-in movie theater. Only three remain in Connecticut: Pleasant Valley Drive-in, Southington Drive-in, and Mansfield Drive-in Theatre & Marketplace.
22. Wish upon a star and let the universe inspire you. Catch a Tuesday evening show at Leitner Family Observatory & Planetarium in New Haven or head to the Copernican Observatory in New Britain (all programs are free and open to the public).
23. Go cliff jumping, zip lining, rope swinging, or kayaking at Brownstone Exploration & Discovery Park in Portland. Youth groups of any size enjoy admission discounts, so if you're feeling extra adventurous, bring along a few extra teenaged friends.
24. Enjoy some friendly competition in a leisure sport! Go fishing, play miniature golf, or go bowling .
25. Blast the car radio and take a day trip. Between New York City, Boston, and Rhode Island, plenty of other fun destinations await.