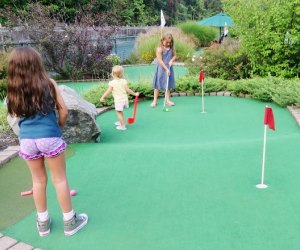 Miniature Golf Locations in the Hartford Area
When you're looking for a fun, inexpensive family outing, or even a play date, miniature golf is a great option. The activity encourages physical activity, stimulates conversation, improves hand-eye coordination, entices some friendly competition, and offers the opportunity for spending quality time with friends and family. Many courses in the Hartford area feature beautiful settings and have added features, like ice cream parlors or snacks, if you work up an appetite while playing.
Farmington Miniature Golf
Family-owned and operated since 1962, the course is located in a park-like setting and features an old-fashioned ice cream parlor offering more than 40 flavors. The pet-friendly establishment (as long as four-legged friends stay off the course) is seasonally open daily.
1048 Farmington Avenue (Route 4), Farmington 860-677-0118
Putter's Paradise Mini-Golf
Choose from two fun courses, or play both: the traditional one features a windmill, and the expert challenge course stumps players with things like rock traps. You can purchase a ticket bundle which grants you admission for one round of mini golf, one bumper boat ride, and one Go-Kart adventure. Batting cages are also located on site, making for a great family day outing. Open daily.
1801 Berlin Turnpike, Berlin 860-828-7518
Golf Quest
Start with a couple of rounds of mini golf before you take a couple of swings at the Batting Cage, and head inside the clubhouse to enjoy a cold soda. Bumper boats are also available, easily making this a destination for a family day of fun. Check the website for more information regarding schedule and seasonal hours.
125 Jude Lane, Southington 860-621-3663
Riverfront Miniature Golf
The Farmington River runs by the outer edge of the course, making for a peaceful setting. Enjoy the greens and celebrate victory (or console loss) with ice cream. The course does not have a webpage, so it's best to call ahead and confirm hours of operation.
218 River Road, Unionville 860-675-4653
Blue Fox
Enjoy a game of mini golf or purchase a bundle ticket that grants you a game of mini golf, one session of laser tag, and one game of bowling (including shoe rental). All options are available at this site, including a Snack Shack selling some of the best soft-serve ice cream in the area.
1603 Hopmeadow Street, Simsbury 860-658-4479
Safari Golf
Set on a hillside, this beautiful 18-hole course is surrounded by life-size jungle animals and waterfalls. Definitely kid-approved, this golf course is a sensory treat. An outdoor deck is available for parties and field trips.
2340 Berlin Turnpike, Berlin 860-828-9800
Matterhorn Mini Golf
Enjoy a Swiss-themed 18-hole course featuring goats (made of fiberglass) and lessons about cheese and chocolate. Those who are just walking the course as scorekeeper or spectator still need to pay a fee. Finish the game with a Swiss swirl ice cream featuring traditional flavors, and more exotic ones like pina colada, mango tango, and bubble gum.
440 Route 44, Canton 860-795-0234
Nomads Adventure Quest
If it's raining, you might think you have no option for mini-golf—but you do! Nomads Adventure Quest has an indoor mini-golf course that glows in the dark. This funky glowing trail has some scary elements that probably aren't suitable for very young or sensitive children. However, there is so much to do at this family-fun destination, you could easily find an alternative. Younger children might like the duckpin bowling and the assortment of bouncy houses, while older children opt for laser tag and climbing the rock wall. Everybody will love the arcade and collecting a prize on their way out!
100 Bidwell Rd, South Windsor, CT 06074
Sonny's Place
Although it would require a drive into Tolland County, Sonny's Place has everything you need for an entire day of fun with the kids. The well designed mini-golf course is only the beginning. The vast grounds also contain a rock climbing wall, a bouncy house, an arcade, go-karts, a zip-line and more. If you get hungry, there are two restaurants available: the first has ice cream and a variety of fast food options, and the other is a BBQ spot that offers live music on the weekends. There truly is something for everyone. 349 Main St, Somers, CT 06071
Originally published on 6/12/12.
Photo courtesy of author.