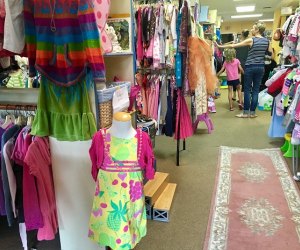 Shop for Great Bargains and Variety at Consignment Stores in the Hartford Area
Ahhh, the excitement of back-to-school shopping: notebooks, pencils, crayons...and clothes and shoes you know your child will outgrow by year's end. It's one thing to invest in quality items as an adult, but quite another to contend with growth spurts, messy dinners and art projects, or heavy playground wear and tear.
Consignment stores are enticing for a few reasons: the savings are most obvious; oftentimes, you can purchase new children's items with original price tags still attached and expensive brand names at less than half the original cost. In addition to keeping more money in your wallet, you'll also find more variety and benefit the environment when giving something used new life again.
Of course, you can also make money or earn store credit when selling your child's gently used clothing. So, whether you're looking for school uniforms, sweaters, pants, or specialty items like festive wear, dance apparel, baby equipment, toys, and books, check out the following spots in the greater Hartford area for consignment opportunities near you.
Max and Lily's Closet
Featuring upscale and affordable clothing, the specialty here is boutique items, but the store also carries a fair selection of middle of the road brands. The owners only accept items in excellent condition. In addition to clothes, toys, and books, you will find an assortment of baby gear, such as baby slings, carriers, and diaper bags, and even maternity clothes.
262 Park Road, West Hartford 860-920-5270
Don Malen Family Consignment
This consignment store carries a variety of clothing, from upscale to mid-range, and even household items. The selection is in good condition and features a generous amount of clothes, baby gear, toys and books, and household items.
220 Albany Turnpike, Building 10A, Canton 860-352-2421
Once Upon a Child
Perhaps the best known kids consignment chain in the area, Once Upon a Child stores are large and carry a significant selection of clothes, toys, and equipment. These stores operate somewhat differently from most consignment shops in that you are paid on the spot for the items you bring in that are accepted, rather than being paid a cut of what is sold at a later time. The chain accepts clothing sizes preemie to youth 20. Stores are located in Bristol, Manchester, and Wethersfield.
1055 Silas Deane Highway, Wethersfield 860-571-8773
410 Middle Turnpike West, Manchester 860-649-1577
99 Farmington Avenue, Bristol 860-584-8131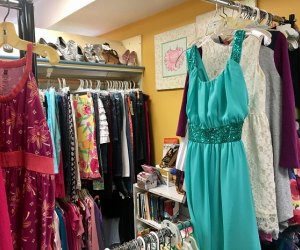 Whether you're looking for school clothes, formal wear, or toys and books, variety and savings await at consignment stores.
Top Drawer Consignment
The variety here never disappoints. If you have a junior who loves Justice or PINK, preschoolers looking for yet another puzzle, toy, or pair of overalls, or young men in search of Vineyard Vines shirts, you'll find at a great price.

15 Hartford Avenue (Route 189), Granby 860-653-5311
Uptown Consignment
Rompers, dresses, jackets, jewelry, books, and everything in between are found here. Shop for infants, petite sizes, plus size, and children's latest fashions. The store has three locations in Hartford County and a large collection of brand name clothing.

1735 Ellington Road #17, South Windsor 860-644-9090
151 Queen Street, Southington 860-620-1266
781 Cromwell Avenue, Rocky Hill 860-257-1661

Most consignment stores maintain updated Facebook pages advertising sales or newly received items. Others offer frequent shopper discounts, so be sure to inquire about them for optimal savings.
Photo Credit: Photos Courtesy of the Author
Originally published 11/12/14.