Corn Mazes in Connecticut: Fall Fun for Families
An autumn tradition, corn mazes in Connecticut are great fun for New England families. No matter what part of the state you live in, you are likely to have the opportunity for a corn maze adventure near you. And making your way through the corn maze lets you work together as a family. These farms feature not just mazes too, but extra activities like hayrides, animal petting areas, games and food. So, put your sneakers and thinking caps on, and get out to a Connecticut corn maze this fall!
For more fall events and seasonal family activities, see our Fall Bucket List for Kids, find the best spots for apple picking, or learn about all the fall festivals and fairs you can add to your calendar.
Corn Mazes in Connecticut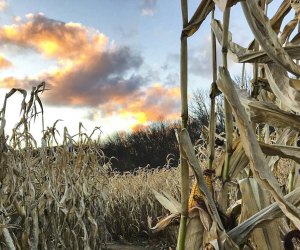 Be sure to savor the beauty of autumn from a Connecticut corn maze. Photo courtesy of Castle Hill Farm
Get ready to explore a 7-acre corn maze (1.5 hours in total) ! (Don't worry, there's a way out for those who get lost or just want a quick escape.) While there, check out the pumpkin patch, hop on a hayride, and learn about the cows that call this farm home. Corn maze open October 1 -November 7, 2022. Kids under 3 are free.
The oldest running corn maze in Fairfield County and runs every weekend from 11 a.m. - 6 p.m. until Halloween. The cornfield is 4.5 acres and the path in Plasko's maze twists and turns for about 1.5 miles, so be prepared for an active day. This maze is dense, and in case you get lost, "corn cops" will help guide you out; escape hatches are also available for any tykes freaking out about being children of the corn, or those in need of a bathroom break. Plasko's also offers ice cream, pumpkins, cider donuts, mums, tractor rides, farm animals, a country store, and a farm market.
Negotiate an intricate 5-acre, hill-top labyrinth of corn, admire autumn's glory while relaxing on a hayride, pick your own apples and pumpkins, indulge in sweet treats, let little ones feed the goats, or run free on the super-cool Hayloft Playscape. Once the maze is open, visit weekends from 11 a.m. - 5 p.m. Purchase tickets in the March Farm online store.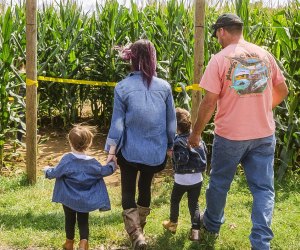 Work together as a family to navigate a corn maze. Photo courtesy of Bishop's Orchards
Bishop's corn maze, open daily from 10 a.m. - 5 p.m., is a short drive from its popular farm stand. Opening on September 10, be sure to indulge in some apple cider, and pick peaches, apples, pumpkins, and pears. This year's corn maze commemorates the 100th anniversary of the Newberry Award. Childen 2 and under get in for free.
Enjoy sprawling vistas of the Connecticut countryside and dive into the historic Lyman Orchards corn maze commemorating Benjamin Franklin. On average, Lyman's 4-acre corn maze will take 30-40 minutes to navigate throug. Make sure to stop by the Apple Barrel to grab some ice cream, fresh fruit, and the delicious apple cider doughnuts.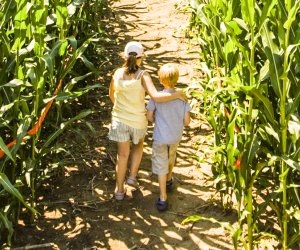 Find adventure, fun, and lasting memories in a corn maze this fall. Photo courtesy of Scott's Yankee Farmer
Enjoy horse-drawn weekend wagon rides, pick your own apples, choose the prettiest pumpkin, pluck some sunflowers, and shop for fresh produce in the farm store. The "early season" corn maze opens September 3. Open Weekdays from 11 a.m. - 5 p.m. and Saturdays and Sundays, and holidays from 10 a.m. - 5 p.m. Pre-purchasing tickets will get you a discount.
Come wander in the "Tree of Life" themed corn maze, inspired by Edward Olmsted. For a shorter challenge, choose the mini maze entitled "Root of Life." The mazes are open daily through Halloween, and the hours vary. When it gets dark, bring a flashlight! Reservations and advanced ticket purchases must be made online. The "Tree of Life" is recommended for children 8 and older.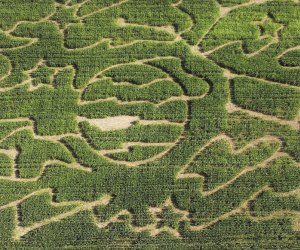 Corn mazes get more elaborate and magical every year! Photo courtesy of Ekonk Turkey Hill Farm
Ekonk Hill's farm gives you unlimited corn maze time, hayrides, and access to the barnyard animals. On special nights, you can make the adventure even more exciting by exploring the paths at night (flashlights required). Be sure to indulge in some goodies from the farm store, including fresh ice cream (try the sweet corn flavor). The corn maze is open September 17 to October 31 and children 3 and under are free.
There's so much to do at Brown's Harvest. Opening weekend for the corn maze is September 17 and 18. Children will love the Wizard's Enchanted Maze as they wander through castles, owls and a wizards hat. Before you leave grab a pumpkin (extra cost) and a delicious apple cider donut. Open daily from 10am to 5pm.
At Foster Family Farm, kids will leave with fun memories because there are two, yes two mazes! The corn mazes this year is crafted into the theme: Our Beautiful Earth...Reduce, Reuse, Recycle. During September they are open weekends only, but once October hits, the corn maze is open every day. Don't forget to stop by the farm play yard and say hello to the animals.
HIdden Acres corn maze is boasting 6-acres of fun for kids. Find the hidden objects in the maze and then play light-hearted games like tic-tac-toe, checkers, bowling and bean bag toss. for an additional cost, play paint your own pumpkin or compete in a sac race.
Is your family is up to the challenge of an intricate corn maze in Connecticut? Photo courtesy of The Farm
Fall down the rabbit hole at The Farm as you and the kids maneuver through the Alice in Wonderland themed corn maze. There is even an
instructional video
to watch in order to give you the best success at the maze. The maze is open weekends from 10-4.
It's reservations only for the 2022 season of the corn maze at Treat Farm. This is a challenging maze with a game element. Please make your reservations
here
.
Get lost in over 7-acres of corn maze at Buttonwood Farm, visit the animals and take a hayride too! Your kids will especially love the cow train and weeee!, the corn pit too.