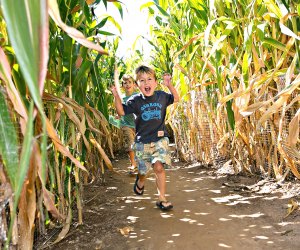 Corn Mazes in Connecticut with Fun Activities for Kids and Families
The perfect balance of fun and challenge for kids, corn mazes are a fall tradition for many Connecticut families. No matter what part of the state you live in, you likely have the opportunity for a corn-mazing adventure. These farms feature not just mazes, but extra activities like hayrides and animal petting areas. So, put your sneakers and thinking caps on, and get out there!
For more autumnal outings, see our post on Things to Do This Fall in Connecticut, including apple picking spots, fall festivals and fairs, and pumpkin patches.
2020 note: Due to COVID-19, many attractions could change their hours or policies on short notice, so be sure to check with the venue before heading out. Expect face coverings to be required at these spots per state guidelines, especially when social distancing cannot be maintained, so be sure to bring your favorite kid and grown-up face masks with you to the farm or orchard.
2020 update: The maze opens September, 26. This year, there will be no hayride. The paths have been widened to 6 feet to allow for proper social distancing. Reservations are recommended, and a limited amount of walk-ups will be available.
Get ready to explore a 7-acre corn maze! (Don't worry, there's a way out for those who get lost or just want a quick escape.) While there, check out the pumpkin patch, hop on a weekend hayride, and learn about the cows that call this farm home.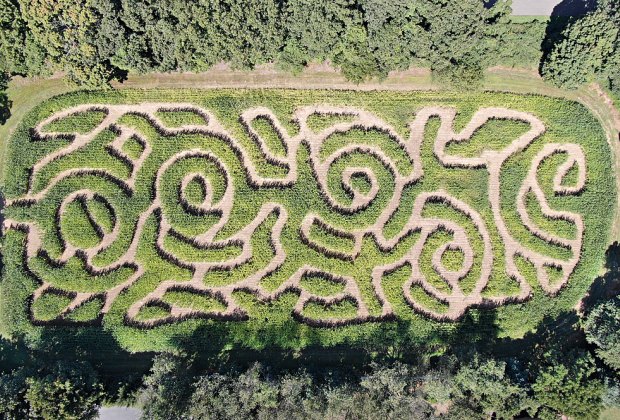 Photo courtesy of Plasko's Farm
2020 update: Plasko's maze opens September 19. Additional details are still to be determined at press time.
The oldest running corn maze in Fairfield County and runs every weekend until Halloween. The cornfield is 4.5 acres and the path in Plasko's maze twists and turns for about 1.5 miles, so be prepared for an active day. This maze is dense, and in case you get lost, "corn cops" will help guide you out; escape hatches are also available for any tykes freaking out about being children of the corn, or those in need of a bathroom break. Plasko's also offers ice cream, pumpkins, cider donuts, mums, tractor rides, farm animals, a country store, and a farm market.
2020 update: The corn maze has a dinosaur theme, and is open for the season now through November.
Apples? Check. Fresh apple cider? Check? A labyrinth of corn stalks? Of course, you'll find that here as well. Spend a day in this picturesque part of the state, indulge in pumpkin cream cheese muffins and fresh apple pie, and admire a vintage Lionel model train display.
2020 update: Corn Maze and hayrides are available this season but details were unavailable at press time. Check the farm's Facebook page for more information.
Negotiate an intricate 5-acre labyrinth of corn, admire autumn's glory while relaxing on a hayride, pick your own apples and pumpkins, indulge in sweet treats, let little ones feed the goats, or run free on the Hayloft Playscape. The sprawling vistas are beautiful, so head to the farm prepared to spend a few hours.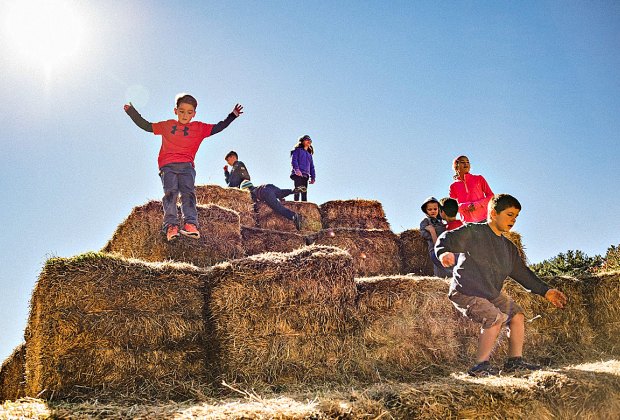 Hay bale jumping is another favorite activity at Bishop's. Photo courtesy of Bishop's Orchards
2020 update: The Corn maze opens in September (date still to be determined at press time) and will be dedicated to front line workers. Activities at the "Little Red Barn" and pumpkin patch are pending.
Bishop's corn maze is a short drive from its popular farm stand. While here, be sure to indulge in some apple cider, and pick peaches, apples, pumpkins, and pears. The Little Red Barn features farm games, a hay pyramid, and more.
2020 update: This year's corn maze is themed, "Thank you to Our Heroes," and open now.
Enjoy sprawling vistas of the Connecticut countryside of the historic Lyman Orchards. On average, Lyman's 4 acre corn maze will take 30-40 minutes to navigate through. Make sure to stop by the Apple Barrel to grab some ice cream, fresh fruit, and the delicious apple cider donuts.
2020 update: This year's corn maze has a pollinator theme and is open now. Reservations are required on the weekend.
Enjoy horse-drawn weekend wagon rides, pick your own apples, choose the prettiest pumpkin, pluck some sunflowers, and shop for fresh produce in the farm store. Their delicious apple cinnamon doughnuts are made fresh on the farm every Saturday and Sunday throughout the season. The maze is open weekends and holidays.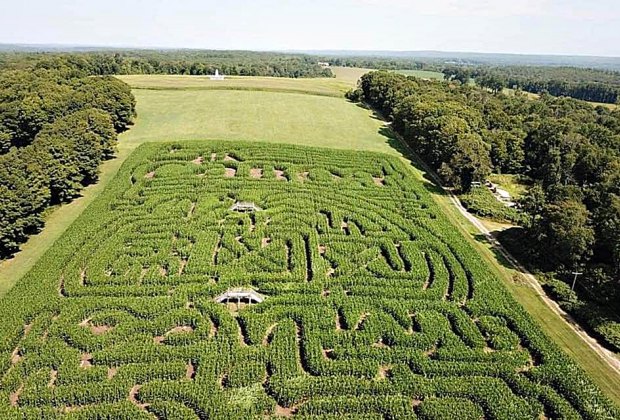 This year's maze is cheese themed. Photo courtesy of Fort Hill Farms
2020 update: This year's corn maze has a Monarch butterfly theme and is open.
Flutter through this monarch themed corn maze. The maze takes about an hour to 1.5 hours to complete, so put on your working shoes and pack a bottle of water; for a shorter challenge, choose "Bee" the mini maze. Starting in September,enjoy the corn maze at night under the stars and moon on the Flashlight Nights.
2020 update: This year's maze has a "Thank You" theme and is open September 19 to November 1.
Admission to Ekonk Hill's farm this fall gets you unlimited corn maze time, hayrides, and access to the barnyard animals. On special nights, you can make the adventure even more exciting by exploring the paths at night (flashlights required). Be sure to indulge in some goodies from the farm store, including fresh ice cream (try the sweet corn flavor, of course!)