Fall Day Trips from Connecticut: Fun Getaways for Families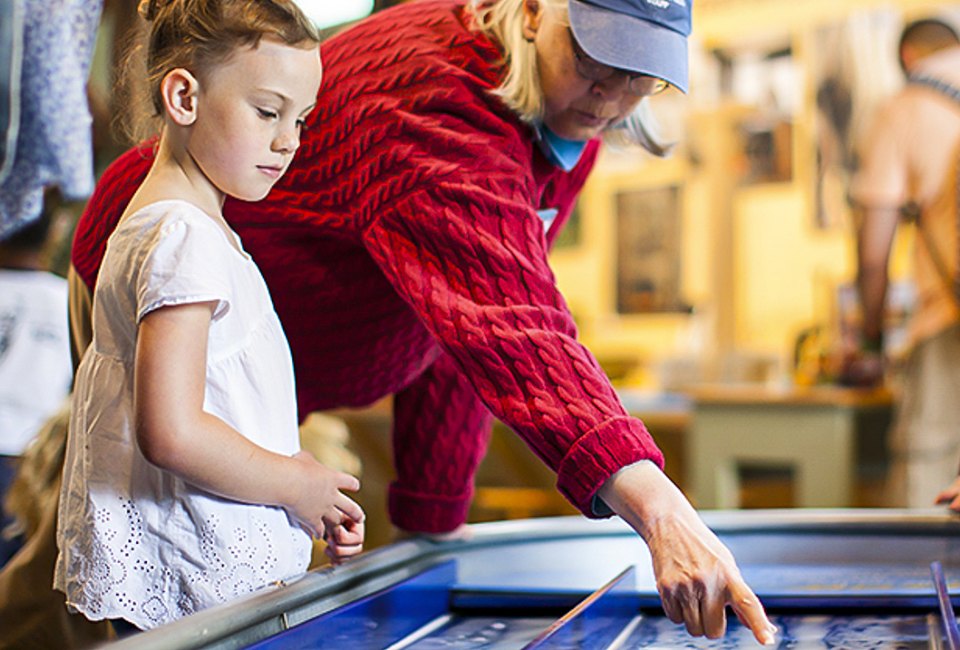 8/27/22
- By
Jennifer Coe
It's the season for fall day trips from Connecticut! One of the best things about living here is that you can venture to almost all parts of New England from our tiny state. We are centrally located for a jaunt to the beach or a rip to the city. An autumn day-trip with your clan should start early and end when the kids start to run out of steam, so find one that fits your family's style.
Want to take the kids leaf-peeping? Scenic Sunday Drives for Leaf Peeping will point you in the right direction. If you are still looking for some more family fun, take a look at our Fall Fun Guide.
Fall Day Trips in Connecticut
Head to the Northwestern corner of the state for a slower pace and a Berkshire-like feel. Start your morning at the Institute for Native American Studies. Learn about the first people that inhabited Connecticut and their impact and legacy. After that visit, head over to Kent Falls to see the amazing waterfalls and enjoy a picnic and a short hike. If you're still looking for another destination to extend your day, take a short drive to the Connecticut Antique Machinery Museum. Learn all about the history of industry in the Nutmeg State, steam engines and mining. Plan your trip right and go to the Museum during the Fall Festval.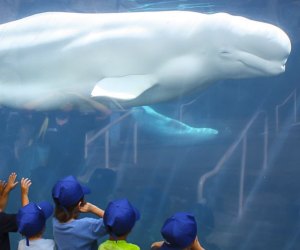 Get Beluga whales on your Connecticut fall day trip! photo courtesy of the Mystic Aquarium
So many places to go on the historic shore of Connecticut. Mystic is jam-packed with lots of seashore for families including the Mystic Seaport Museum which has been recreated in the style of a 19th century seafaring village. Learn about sailors, historic vessels and take a ride on the Charles W. Morgan, the Museum's resident whaling vessel. If you can't quite find your sea-legs, try out the world-reknowned Mystic Aquarium. Have an animal encounter, interact with the Beluga whales, see the seals and penguins or learn about their research and rescue efforts. Afterwards, stroll over to Olde Mystic Village and peruse the unique shops, grab a bite to eat (even ice cream!) and schedule your visit with one of their calendar events.
In the other corner of the state you will find more nature and history, but a lot less people. The Quiet Corner includes a few towns such as Pomfret, Danielson, Woodstock and Brooklyn which are all within a close drive to one another. If you start in Woodstock you will find Roseland Cottage. At this stunning (pink) Gothic Revival you can tour the amazing grounds or wander the interior and see the way things used to be. Nearby in Putnam, the kids would love it if you got tickets for the latest performance at Bradley Theatre. Don't forget to look and see if Putnam is having an event Downtown as they have a busy calendar. From there, scoot over to the Vanilla Bean Cafe and grab some lunch for the whole family (they have children's menus) and then grab an ice cream at We Lik-It Ice Cream.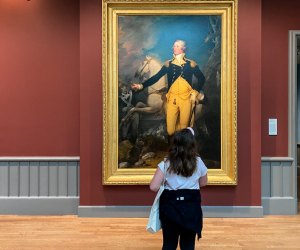 Make the Yale Art Gallery part of a fall day trip with the family. Photo by Ally Noel.
It's home to an Ivy League university, but it's also rich in culture and history. A trips to New Haven should start with a visit to a museum like the Yale Art Gallery (always FREE), Peabody Natural History Museum (currently under reconstruction) or the Knights of Columbus Museum (also FREE). If you drive North on Whitney Avenue you will arrive at the Eli Whitney Museum which honors inventor of the cotton gin, Eli Whitney and has an enjoyable antique toy display. Back down to New Haven for lunch and you have to have some true-New Haven pizza from Pepe's Pizza or Sally's on Wooster Street. Finish off your day, and poop out the kids, by hitting IT Adventures Rope Course, one of the biggest rope courses in the world.
Fall Day Trips from Connecticut - Massachusetts
Satisfy that appetite for fun! Photo courtesy of the Eric Carle Museum of Picture Book Art
Just north of Connecticut on I-91 is Springfield, MA. In this busy town there are more than a few things for families to do, you can easily fill up a whole day. Personally, I could spend a lot of my morning and into the afternoon at the Springfield Museums. In this one place, there is a science museum, art museum, children's museum and history museum. The new Dr. Suess Museum is a big family favorite and has a lot to see and do, but we love the science museum as well. Also in Springfield; especially for sports fans, is the Naismith Memorial Basketball Museum Hall of Fame where you can learn about the 400 inductees (both men and women) on exhibit. After you have had your fill of museums, take a short drive on the highway to East Longmeadow where you can enjoy a small and well-run zoo in Forest Park Zoo. Forest Park in itself is just huge and beautiful and a great place for a picnic or a quick popsicle from the refreshments stand. Also extremely close on the highway, is the Eric Carle Museum of Picture Book Art for beloved children's author Eric Carle and his adorable Hungry Caterpillar.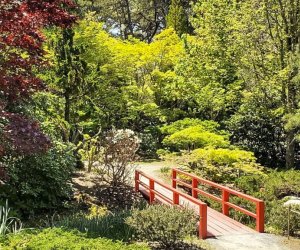 Find serenity at the Berkshire Botanical Garden. Photo courtesy of inyourstate.com
Stockbridge, MA
Like a snapshot of times past, Stockbridge is full of wholesome things for families to do together. Start with the Berkshire Botanical Garden which is home to over 3,000 species of plants. If you head up in October, see the turning leaves and attend the Harvest Festival. Then of course drive over to the Normal Rockwell Museum, which honors the iconic illustrator who made Stockbridge famous. Three miles away is Stockbridge's Main Street where you will find Williams & Sons Country Store (penny candy, anyone?) and the Elm Street Market where the whole family can find a nibble to fill their bellies. In the afternoon, kids can journey back in time at the Mission House, a colonial-era museum that tells the story of local and native peoples. The Berkshires has enough to keep a family busy for at least a whole day.
Salem, MA
Just 2.5 hours from Hartford and 3.5 from New Haven lies Salem, Mass. Known as an extra-spooky destination at Halloween time, Salem has some niche-y places that no other town has. If you visit in October especially when the Salem Haunted Happenings celebration is going on, there are so many activities for kids town-wide. During October, the Salem Witch Village and Wax Museum is hopping and packed with visitors and you can also visit the New England Pirate Museum and Witch History Museum. Maybe your child is a little young for all this witch-business? There are kid-friendly tours for kids 5 and up. They are only "slightly spooky," phew! I bet with all that creepiness, children will be looking for a good meal. Try the Ugly Mug Diner or The Derby Salem for a hot, sit-down meal.
Fall Day Trips from Connecticut - Around New England

Vermont's trails make for a great family day trip. Retreat Trail photo courtesy of trailfinder.com
Southern Vernmont is a special place, not too far from Connecticut and a great destination for a day trip. A family looking to spend time outdoors should visit Retreat Trails. Lots of manageable hiking trails, some boardwalked, easy enough for kids and educational too. Visit the animals in the Upper Pasture and play in the Forest Playground. This is also a fantastic place to see the changing fall colors if you are leaf-peeping. If you are looking for something historical, step into the world of Tasha Tudor, the author and illustrator of many adorable children's books. Brattleboro is also home to several other museums like the Brattleboro Museum and Art Center, the Estsey Organ Museum and the Brattleboro Historical Museum. After all that, you'll be hungry, so for something relaxed you might want to check out the Vermont Country Deli or Elliot Street Fish and Chips. Still looking for more? You have to go to Santa's Land in nearby Putney at least once in your life. This is a famiyl treasure.
Rhode Island is loaded with beauty and entertainment for children. Head for Newport and enjoy a seaport town with lots of history. As it's the most time consuming, starting with a tour of one of the mansions is probably best. My advice is that you keep a close eye on "junior" though, as they are filled with antique stuff (and wear baby as they don't allow strollers in the mansions). After a morning of seeing how the other half lived, perhaps you would like to take a tour of the city by trolley? Then land at Bowen's Wharf, where there is a slew of restaurants and cute little shops and definitely places for you and the kids to grab some lunch. Stroll over to Thames Street and watch your child's eyes pop at Ryan Amusements where there are lots and lots of video games, pinball, take-a-chance games and even bowling. Also on Thames Street is the Sailing Museum, a quick stop.
Fall Day Trips From Connecticut - New York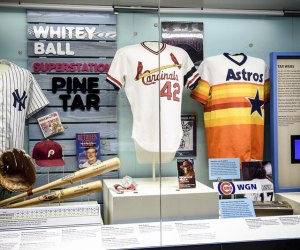 As the season winds down, make a fall day trip to Cooperstown. Photo courtesy of the Baseball Hall of Fame.
New York is a big state and there is so much to do, families will really have to choose what their kids will love the best to narrow it down. One of our favorite places is Howe's Caverns in Howe's Cave, NY just past Albany. This underground, all-natural cavern with stalactites and stalagmites will wow your kids and you'll never forget it. Drive Northwest and you will hit out other very favorite place to go, which is Herkimer Diamond Mine (which is only 3 hours from Hartford). Mine for your very own Herkimer Diamonds (bring tools) and browse their new visitor center. If you head south from there, you will hit Cooperstown where the Baseball Hall of Fame is. A beautiful area in fall, the Museum exhibits over 300 baseball greats from Hank Aaron to Cy Young. Maybe more your style and also in Cooperstown is the Farmer's Museum depicting the history of farming in the U.S., live animals, and a whole fabricated village from when the U.S. was agriculturally-based.
Sign up for the Mommy Poppins Newsletter today!
i