Scenic Sunday Drives for Leaf Peeping this Fall in Connecticut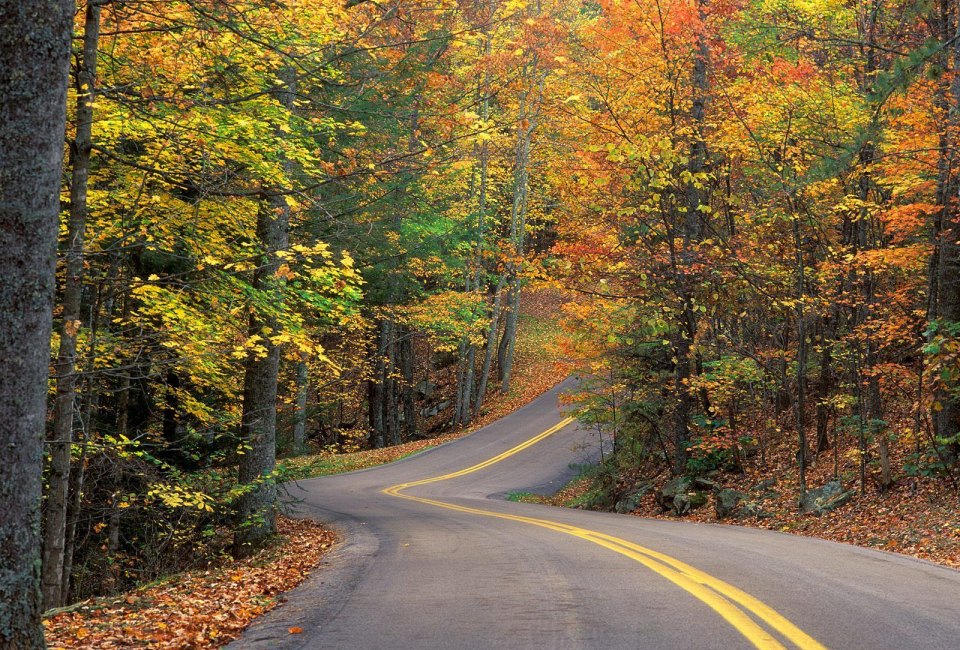 10/6/17
- By
Makayla O'Keefe
Finally. It's what we've all been waiting for. We have on our booties and flannel. We have been sipping our PSLs for days (weeks.) We are ready. And now, the season's main event has finally begun and we couldn't be more excited. It's leaf peeping season and us New Englanders, well, we live for this kind of stuff. It's just part of our DNA. (That and Pumpkin Spice) We've rounded up some of our favorite routes throughout the state with optimal leaf peeping views for your enjoyment. And, be sure to check out our CT Halloween & Fall Fun Guide for Kids.
So let's talk leaf peeping routes.
Drive #1: Lovely Litchfield Hills
Begin in Torrington and head north on Route 8 to Winsted and then northwest on Route 44 over to Canaan, or Falls Village where you will definitely feel like you have taken a trip back the mid-1800s. The steepled churches, railroad depot, roads, and homes have all of that 19th century charm that makes New England, New England. From Falls Village, turn south on Route 7 to Kent—the prized jewel of northwestern Connecticut and continually voted #1 for foliage by Yankee Magazine. Pick up some old fashioned candies and snacks at The Covered Wagon Country Store or pickup a cone at Annie Bananie Ice Cream Shop. Or, grab a cup of coffee at Kent Coffee & Chocolate Company. And, we can't mention Kent without mentioning Kent Falls State Park. You may even want to drive along the Cobble Mountain Trail, which cuts through the 2,300 acre Macedonia Brook State Park with views of the foliage stretching across Harlem Valley, the Catskills, and Taconic Mountains. Just sayin'. From Kent, head east to Cornwall, passing through Warren, where you will discover an iconic Connecticut landmark. Spanning 172 feet out over the Housatonic River, the West Cornwall Covered Bridge is listed on the National Register of Historic Places and will definitely offer plenty of grammable photo-ops.
Drive #2: Fairfield County Foliage
Let's start in Norwalk, on the Merritt and head toward Danbury. But actually let's back up. You should really stop first into Stew Leonard's on Route 1 in Norwalk, and pack a picnic. And may we suggest savory butternut soup and pumpkin crumb cake? Okay, now we're ready. We'll head north on Routes 123, 106, 33, 35, and 7 to Danbury. Here, you might want to checkout the Danbury Railway Museum, just off I-84, where the kiddos can explore vintage locomotives. Now we will make our way to New Milford. And here we will mention, if it's a Sunday, you may want to pop into the Elephant Trunk if you didn't stop in Danbury. My kids LOVE checking out all the booths loaded with vintage (and new) kid's toys and picking up baggies of hot cinnamon sugar mini donuts. From New Milford, we'll head south on Route 67 to Roxbury. There's a lovely little farm stand called Maple Bank Farm with a great selection of snacks and wool products. Head on down Route 317 to Woodbury.
Drive #3: The Quiet Corner
With its rolling hills, bucolic farmlands and panoramic views, the quiet corner is the state's best kept secret. Start on 84 at exit 67 toward Rockville and Coventry. On Sundays from 11-2 through the last weekend of October, Coventry boasts the best farmer's market in New England. Now that's saying something. Definitely worth a stop to the market on the grounds of the Nathan Hale Homestead where you'll find artisans, food vendors, live music, and plenty of kid's activities. From Coventry, pick up Route 31 and head South to the junction with Route 44 and head East toward Storrs. Try the award winning ice cream at the Uconn Dairy Barn made from the university's own cows. From Storrs, head east on Route 195 and then South on Route 6 toward Brooklyn where you can hitch a 40 minute wagon ride through a working buffalo farm at Creamery Brook Bison.
Drive #4: The Coastal Colors
Yes. The Fall is all about the rolling hills and pastoral paradise. But, let's not forget about the shoreline. Let's head to New London. Here you can checkout the waterfront where you might fuel up on coffee at Bean & Leaf Café. You'll hop on 95 for a short stint to exit 86 (on the left) toward the Thames River and head east on 184 toward Old Mystic. Mystic is everything I love about living in Connecticut. You've got the timeworn stone walls with clapboard sided farmhouses. You've got a century-old cider mill, a world famous pizza joint, and that Long Island Sound. There are so many places to stop in Mystic from Olde Mystic Village to Mystic Drawbridge Ice Cream to Mystical Toys where they have a section of classic toys under $5 each. (We even pop into the playground on the corner of Washington and Willow Streets to stretch our legs and get out some energy!) From Mystic go east on Route 1 to Route 2; north on Route 2, 184, and 49 to Route 14A to Canterbury. But, you might want to checkout Hank's Dairy Barn, a Northeastern Connecticut icon in Plainfield before heading south on Routes 169 and 2 to Norwich and back to New London.
Drive#5: Connecticut River Vistas
Journey along the picturesque and historic Connecticut River, crossing over at the nation's oldest swing bridge at East Haddam in an 80 mile scenic loop. Beginning in Middletown, take route 9 to exit 10 where you'll head south to Route 148 and then east to a ferryboat crossing. Yes, here, you'll hop on a boat. Selden III, is a ferry that crosses the Connecticut River near Gillette Castle State Park, carrying 8 to 9 cars per trip. This is sure to knock the socks off the little ones. In Haddam, head to The Cooking Company for delicious prepared foods and snacks—perfect for a roadside picnic lunch. Pick up where you left off on Route 148 and head to Route 156 through Lyme and hop back onto I-95 to exit 69 in Old Saybrook. Head north on 154 to Route 82 and recross the river at East Haddam. We would like to suggest a short detour to Devil's Hopyard State Park with its breathtaking waterfalls and hiking trails before continuing your drive east to Route 151 and north onto Cobalt and then Middletown.
Sign up for the Mommy Poppins Newsletter today!