Let's Go Apple Picking at Karabin Farms in Southington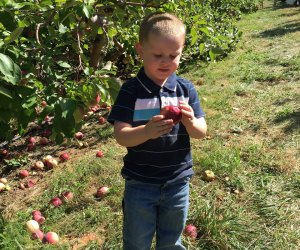 Fall is definitely my favorite time of the year! How can you not love all the perks that come with this great season? Things like cool evening breezes, beautiful leaves changing colors, hiking to enjoy the amazing New England scenery, sipping pumpkin coffee and apple cider….and of course apple picking! Going to a local orchard to pick the seasons fruit is such a fun tradition to start with your family. In New England there are so many apple orchards to choose from that it can be overwhelming. In the Hartford area, conveniently located right in Southington, is a family-owned spot called Karabin Farms. I took my daughter and we had a lovely time.
Karabin Farms is a family farm that you will enjoy bringing your little ones to. Take some time to pick out a pumpkin or take a tractor ride to carefully select your pie making apples.
Karabin offers a great range of different apple varieties. Pick-your-Own is available until late October, every weekend from 10-4 pm. This year Pick-Your-Own will be sold by the bag. A small 1 peck bag for $15.00 or a large 1/2 bushel bag for $25.00. Select from almost twenty kinds including: Honey Crisp, Macoun, Cameo, Snow Sweet, and Ginger Gold.
While you wait for your spot on the tractor-pulled wagon that leads you up to the top of the orchard, you can stay busy checking out the nearby greenhouse or visiting with the variety of animals like cows, horses, pigs, rabbits, chickens, and goats. Be sure to check out Grandma's Snack Shack which features fresh made apple cider doughnuts that are mouth-watering and pair perfectly with some steaming hot coffee or hot cocoa.
Once on the hayride, you will be taken to their abundant orchard where many of the trees have apples low enough even for your tiny children to reach. After you have filled your bag (and sampled a few apples!) head back to the front where you can roam around the country store before leaving.
The country store boasts an array of country items such as baked goods, holiday decorations, flowers, homemade food items like cheeses, jam, spreads or dips and more. They also sell farm-raised meats including nitrate and nitrite free hotdogs.
If you find yourself looking for more things to do locally with your family, check out these great places in Bristol, New Britain, and Meriden.
Originally published: 9-18-2013
Photo credit: Mazotas