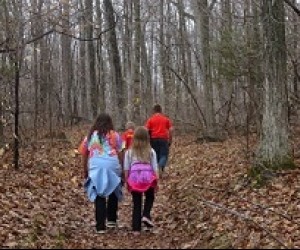 Hubbard Park in Meriden: Beautiful Through Every Season
A few days ago, my family and I visited Hubbard Park in Meriden for the first time. I am embarrassed to admit that it took almost 14 years of living in Connecticut to discover this state treasure, but, as the saying goes, better late than never. Charles Dickens observed that, "nature gives to every time and season some beauties of its own," and without a doubt, this beauty is magnified at Hubbard Park. Here's how we occupied half a day, and what you can expect when you visit this New Haven County gem.
As you enter the park, Castle Craig—standing proudly on East Peak Mountain since 1900—greets you from a distance. Quick disclosure: a paved road (open from May to October) wraps around Merimere Reservoir and leads to the stone rook where plenty of parking awaits. But, if everyone in your group is physically able, park the car, grab some water, and climb to the top.
We spent about three hours hiking, and combined the white, red, and blue trails to reach the summit. It was rocky and steep at times, but never unmanageable. The four kids in our group (ages 7-11) thought the hike was "fun and easy" and indeed, the adults often had to stop them from venturing too far ahead.
The hike might make adults breathe a little heavy, but what will really leave you breathless is the vast and stunning view from Castle Craig, which sits 1,002 feet above sea level. You'll be proud of the strong legs that carried you up the trail and the winding staircase to the top of the monument. If you packed lunch, enjoy a picnic before you descend.
Back at the bottom, you'll find a playground that is a kid's dream. It is large, looks new, and covered my daughters' wish lists: numerous slides and swings, monkey bars, balancing elements, a climbing wall, and a spider web are among the major attractions. It is also fully fenced, offers ample seating, and the ground is covered in mulch, allowing parents to rest easy.
It's sometimes challenging to get kids off a playground, but the nearby Mirror Lake and its feathery residents—swans, ducks, geese, and visiting seagulls—will prove an effective distraction. There's plenty of room to romp around the pond, and catch glimpses of a man-made waterfall or two.
An exquisite trademark of this park are the thousands, yes, thousands, of daffodils sprouting everywhere this time of year. These bursts of color provide a striking background for photography, but also a chance to admire nature up close and get lost in its beauty.
On the day we visited, preparations were underway for the annual Daffodil Festival taking place Saturday, April 25 and Sunday, April 26 featuring carnival rides, food vendors and live entertainment.
Hubbard Park also boasts a pool, available to Meriden residents only, open June through August. The annual cost for a swimming pass is $10 for adults and $3 for children. Concession stands in the warmer months sell ice cream and other refreshments.
The park attracts visitors year-round with 4th of July fireworks, a Puerto Rican festival, and a display of more than 200,000 holiday lights. The best part : it's all free.
If you forget to pack lunch, or find yourself here close to dinner, stop in at Hubbard Park Pizza, just around the bend. The thin-crust cheese pizza with meatball and bacon toppings is absolutely scrumptious, and salads or sandwiches are also available. You can dine in, or grab the box and head back to the park for more fun.