25 Things To Do with Kids on a Rainy Day in Boston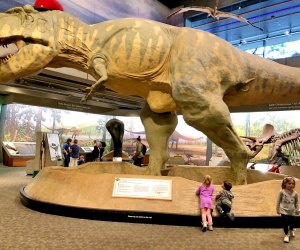 8/6/21
- By
Caitlin Dowling
Don't like the weather in Boston? Wait five minutes! That means summer days or winter days (and any day in between) could turn into a rainy day, but just because the weather calls for rain, it doesn't mean the day needs to be dreary. From free museums to indoor play spaces, here are 25 ways to keep kids active and entertained when showers put a damper on outdoor plans.
For even more great (dry) kids' activities, check out our indoor fun guide; and don't forget to keep tabs on our events calendar, which is packed with plenty of fun activities—inside and out—for every day of the week.
1. Visit a trampoline park
Jump off all the wiggles and giggles at a trampoline park. From special storybook toddler times for the littlest jumpers to glow nights and obstacle courses for the older kiddos, there's something for all ages.
2. Dine out—for free!
Don't feel like cooking? Treat the fam to a meal out and save a buck while doing it. From hibachi to pizza there are tons of places where kiddos dine for free.
3. Get wet at an indoor water park
You may not want to get wet outside, but you can still make a splash indoors at one of these awesome indoor water parks! Some are a quick drive from Boston and offer drop-in day rates, while others can be a fun night away from home.

Interactive exhibits, live animal habitats, nature trails, and more await kids at the EcoTarium.
4. Visit the EcoTarium
Hop in the car for some indoor science and nature fun at the Ecotarium.
5. Take the kids to the MFA
Don't think of the Museum of Fine Arts as a kid spot? We're here to tell you it's one of the greatest places for kids in the whole city.
6. Visit your local library
Boston has no shortage of libraries. Take your bookworms to browse the stacks and find some new books to curl up with. The public libraries all offer super fun kids' activities and many even have play spaces.
7. See the inside exhibits at the zoo
Both the Tropical Forest and Bird World at Franklin Park Zoo are indoors, so you can even head to the zoo on a rainy day.
8. Go see a movie
Grab some popcorn and catch a flick at Coolidge Corner Theatre.
Watch kids scale the rocks and gain confidence along with their new skills.
9. Climb the walls, just not at home
If you think rock climbing is only for the older kiddos, think again. You'll be amazed watching your little climbers scale the walls at Rock Spot Climbing.
10. Throw a strike
Throw the bumpers up and hit the lanes for an afternoon of bowling at Needham Bowlaway. They offer classic candlepin with smaller and lighter balls, perfect for little hands.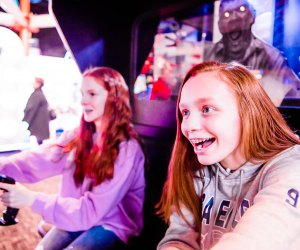 Bowling, go-kart racing, laser tag, and an arcade keep kids busy. Photo courtesy of Apex Entertainment
11. Do it all at the Apex Center
For the indecisive, head to New England's biggest entertainment center, Apex Entertainment Center, where there is something for everyone. Here you can go bowling, ride go-karts, hit an obstacle course, play laser tag.. the list goes on.
12. Get crafty with it
Or just stay home and get crafty! If you want to be awarded "Best Parent Ever" you can even make homemade slime.
13. Go to a garden ... without getting wet
You may not want to stroll through the park on a rainy day, but that shouldn't stop you from enjoying a little greenery. Visit one of these indoor gardens to enjoy beautiful flowers, visit with butterflies, and more.
14. Take a spin on blades or wheels
Many indoor ice skating rinks are open year-round or swap your ice skates in for roller skates. Roller World in Saugus has a special beginners rink for first-timers.
15. Catch a puppet show
If nothing catches your eye at the movies, grab tickets to a virtual puppet show instead. The popular Puppet Showplace Theater in Brookline offers an ever-changing lineup of shows for kids 3 and up.
16. Let little yogis channel their inner zen
Down Under School of Yoga in Newton offers yoga classes designed for kids with fun music, silly poses, and creative themes.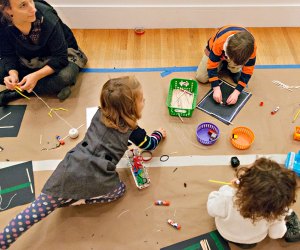 Unleash your creativity! Photo courtesy of Museum of Fine Arts, Boston
17. Take your crafty kids to a studio
Your little artists can DIY their own sign or work on an art project at a local art studio.
18. Take advantage of all the new virtual offerings
Take an online virtual class from the comfort of your warm, dry home!
19. Visit with some ocean friends at the aquarium
Rainy days at the New England Aquarium can be busy, so keep an eye on the weather and make your reservations early.
20. Try conducting some fun experiments at home with your budding scientists
The best part? You don't need to plan in advance or brave the rain for a trip to the store. These experiments can all be done with household stuff you probably already have on hand.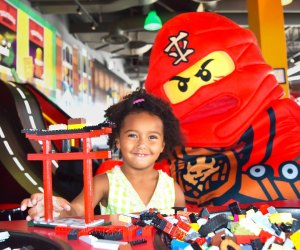 Build, play, and meet some Lego luminaries at Legoland. Photo courtesy of Legoland Discovery Center Boston
21. If Legos are your kid's passion...
A visit to Legoland is a must! There are rides, an indoor playground, a 4-D movie, and of course... tons of Legos to play with! Check Groupon before purchasing tickets, they often have discounts.
22. Try out a new indoor playground
We all have our go-to spots, but visiting a new-to-you indoor play space is sure to keep your kiddies playing for hours.
Bubble play bursting with fun at the Boston Children's Museum.
23. Visit a children's museum
Pay a visit to the Boston Children's Museum where your kids can play with bubbles, build in the construction zone, and let their imaginations run wild. If you've visited here recently, consider a trip out of the city to visit the Acton Discovery Museum or The Children's Museum of New Hampshire. (These two museums made our list of the best children's museum in each state and are well worth a visit!)
24. Visit with the dinosaurs
Meet the dinos at the Museum of Science. If you've got younger kiddos in tow, start at the Discovery Center for some interactive fun.
25. Get the wiggles out at home with some new play and games
Skip the crowded play gyms and get moving at home: Jumping jacks, "animal" races, and a round of freeze dance are the recipe for afternoon naps or guilt-free, cozy movie time.
Photos by the author unless otherwise noted