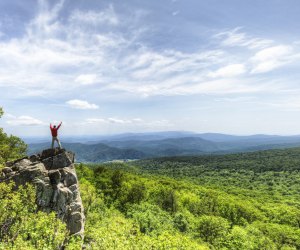 Day Trips Near Washington DC for Summer 2020 Adventures
Ready to get out and see a bit of the world again, or maybe just take a drive? We've rounded up 16 summer day trips near Washington, DC just right for area families ready for a break, all within easy driving distance from the city and surrounding towns.
Given that Virginia, Maryland, and DC are all in various stages of reopening, we've done our best to pick outdoor DC day trips where maintaining some social distance is possible. No matter where you travel, don't forget to bring your masks along, plus plenty of hand sanitizer.
Visit our FamilyTravel Guide for more day trips near DC or even some summer weekend getaways.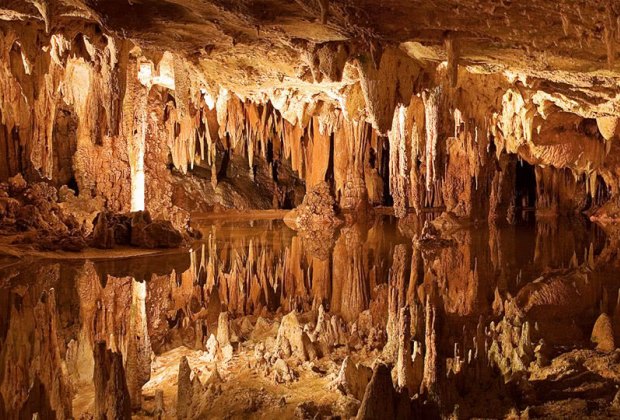 Stay cool underground as you explore Luray Caverns. Photo courtesy Luray Caverns
1. Study Stalagmites at Luray Caverns
Less than two hours from DC, the Luray Caverns in Virginia are almost as magical as Aladdin's cave, although you're not likely to find any lamps or genies. The 1.25 mile gently sloping path is extremely stroller friendly and stunning vistas like Dream Lake, Giant's Hall and Titania's Veil never fail to enchant. Not to mention the natural air conditioning on a hot summer day! The caverns are open and implementing social distancing policies, enhanced cleaning and sanitation, and recommended mask-wearing protocols for both employees and visitors.
2. Enjoy a Dip in the Ocean
On a sweltering day, nothing hits the spot like salt water and an ocean breeze, especially while spray parks remain closed in DC until phase 3. Pack the car with a picnic, towels, an umbrella, and sand toys and head out for a beach day trip near DC. We've rounded up nine great beaches a drive-able distance from DC. Maybe splurge and spend the night!
3. Take a Spin on the Wheel at National Harbor
National Harbor is back, and its proximity to the capital makes it an excellent DC day trip choice. You can ride the Capital Wheel, comfortable in the knowledge that high tech measures are in place to keep the gondolas germ-free, and take a whirl on the Carousel with the same confidence. Masks are required, and tickets for both must be purchased online, in advance.
RELATED: Epic East Coast Road Trips for Summer 2020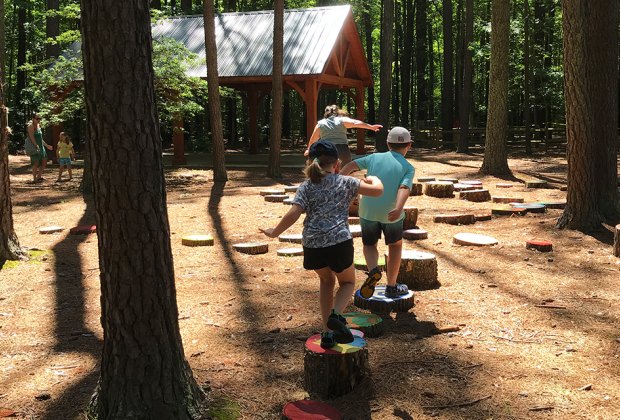 Follow the leader at Annmarie Sculpture Garden. Photo courtesy Annmarie Sculpture Garden
4. Cavort with Fairies and Gnomes
Annmarie Sculpture Garden, a little over an hour away in Solomons, Maryland, has extended its Fairy and Gnome Home Fest from one day to all summer long, with new elements and activities introduced frequently. Kids can hunt for 50 fairy houses hidden in the forest, make their own wands, meet a mermaid, and more during this DC day trip. You might even find a dragon's nest! It's all set up for safe distancing, and on Wednesdays, participate in small group yoga for kids.
5. Catch a Drive-in Movie Near DC
We admit this is more of a "night" trip than a day trip, but it's still a worthy, out-of-the-ordinary excursion during this unusual summer, especially if you own a car. Plus, the drive back will probably rock the kids to sleep! Purchase tickets online for the Family Drive-In Theater in Stephens City, Virginia, before you go—you can even order concession stand popcorn and other goodies in advance, or pay a $10 outside food permit fee if you want to bring munchies from home. And while there are no new movies being released right now (drive-ins are showing old favorites on the big screen), the rollout of 2020 summer films is scheduled to begin July 17.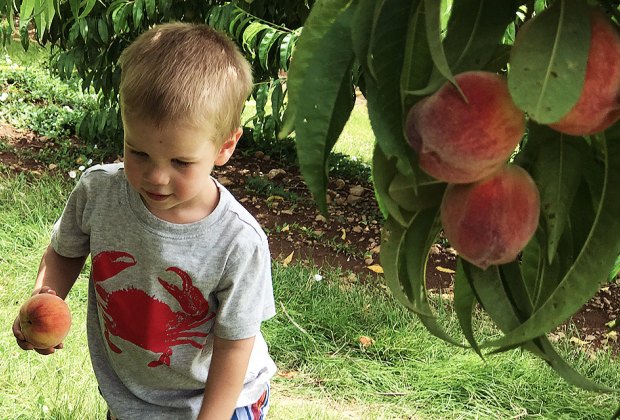 Meet animals or enjoy pick your own fruit at nearby farms that have reopened. Photo by Rose Gordon Sala
6. Spend a Day on the Farm
We're heading into cherry and blueberry season at these farms near DC. And before you know it, the peaches will be ready to pick, too. Schedule a date and time in advance for a frolic through the fruit fields, and try to save some of the bounty for homemade jam!
7. Row a Boat
Though commercial boat rides are still mostly off-limits, low-risk recreational activities, including rowboats, kayaks, and pedal boats, are a great choice for families who like a little exercise along with their fresh air. Make an advance reservation for a lil' boat ride near DC via Key Bridge Boathouse, Thompson Boat Center, the Wharf Boathouse, or Fletcher's Boathouse.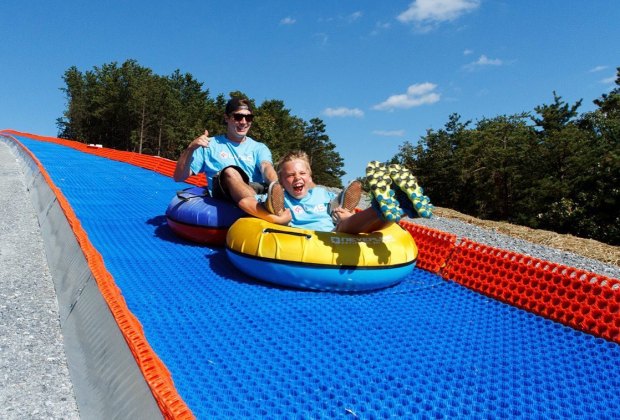 Water-free tubing is a blast at Snowflex. Photo courtesy Liberty Mountain Snowflex Center
8. Take a Water-Free Tube Ride!
The Liberty Mountain Snowflex Centre is a bit of a trek: the drive is a bit over three hours. But once you're there, you can whizz down one of the Neveplast tubing runs (a water-free tubing experience) or ski/snowboard on the faux snow slopes. Kids need to be 36" tall to tube, and the 80-foot run is perfect for littler enthusiasts. Older kids can zoom down runs that span up to 500 feet. Note that the trampoline and lodge are currently closed, in keeping with Phase 2 requirements.
9. Spy Wild Animals While Driving Skyline Drive
Shenandoah National Park is home to deer, black bear, wild turkeys, and a host of other interesting critters, and chances are you can get a look at them without even leaving the car! Skyline Drive spans 105 miles along the crest of the Blue Ridge Mountains, with stunning views in every direction. Camping and hiking are both open now as well. Be sure to pay your park entrance fee online in advance.
10. Or, Go on a Real Safari
Virginia's only drive-through safari adventure is open to the public once again, making for a great day trip from DC. The 180-acre park is home to over a thousand exotic animals, including camels, cheetahs, rhinos, and zebras. You can even feed zebras and camels from your car. The walk-through village is open as well, for a closer look at creatures like reptiles and monkeys, with Phase 2 guidelines strictly enforced. Purchase tickets online.
RELATED: Family Resorts Reopening for Summer 2020 Travel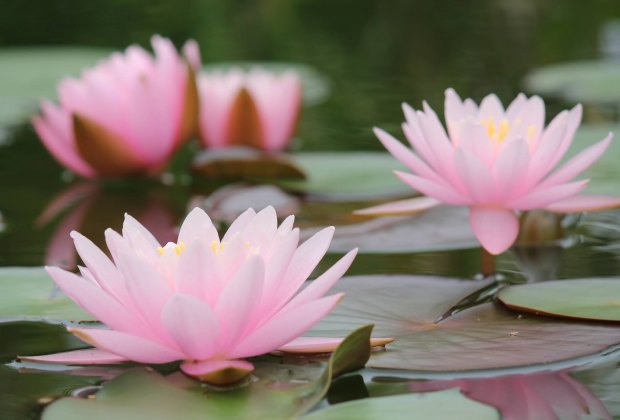 Commune with water lilies at Lilypons in Adamstown, MD. Photo courtesy Lilypons Water Gardens
11. Steal a Moment of Zen at Lilypons Water Gardens
More than a magical water garden center and aquatic nursery, the gorgeous grounds at Lilypons in Adamstown, Maryland, are open to the public Monday through Saturday, from 9am to 5pm. Check the ponds for Koi fish and frogs!
12. Wallow under a Waterfall
Kilgore Falls, in Maryland's Rocks State Park, cascade down 17 feet, the second highest vertical drop waterfall in the state. Reservations are required in summer 2020 to improve social distancing and guarantee a parking spot. Treat the kids to a viewing of Tuck Everlasting before you go, and see if they notice anything familiar. Looking for something a little bigger? Try Cunningham Falls State Park, with a 78-foot waterfall (though, in fairness, it meanders down, rather than falling straight in a curtain).
13. Take a Dip in an Old-Fashioned Swimming Hole
Maryland's Beaver Dam Swimming Club is an easy 1 hour and change drive from DC, but it feels like you've traveled through time to the days when summer days were spent lazing by a lake. Note that masks are required, and if you'll be using a table, bring your own table cloth. Kids ages 4-8 must also wear a life vest. The club offers pools, a freshwater quarry, and a rope swing. So snag a day pass for this swimming day trip near DC.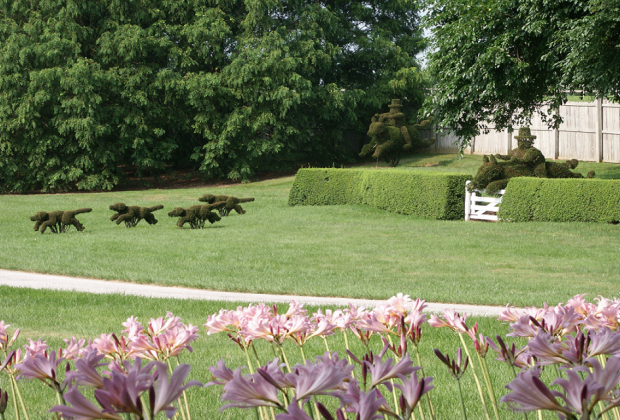 Ladew Gardens' famous hunt scene includes a pack of topiary beagles. Photo courtesy Ladew Gardens
14. Tiptoe through the Topiaries at Ladew Gardens
One of the top five gardens in North America, Ladew offers 22 acres of garden to gambol in, and more than 100 life-sized topiaries (greenery cut to resemble animals and more). The sculpture garden features topiaries that include lyrebirds, a top hat, seahorses, and more. Purchase tickets for timed admission online, in advance.
15. Hike the River Trail in Great Falls Park
For families who enjoy scrambling over rocks and wallowing in watery vistas, Great Falls Park is hard to beat, and it only takes about a half-hour to day trip there from DC. The Visitor Center is temporarily closed, but the hiking trails and overlooks are all open.
16. Get in Touch with Your Wild Side
Maryland's Catoctin Wildlife Preserve is open, including the Safari Ride. Animals include Singing Dogs and Kookaburras (Australia), alligators and wolves (North America), zebras and camels (Africa), and more. Masks are required on the Safari Ride and indoors, and keeping indoor visitors limited in compliance with Phase 2 regs may mean a little wait to see exhibits that are enclosed.
As you can see, there are plenty of kid-friendly day trips near DC! Stroll through a garden, meet wild animals, or hit a swimming hole, to cool off and stay safe for the summer of social distancing.
Places featured in this article: