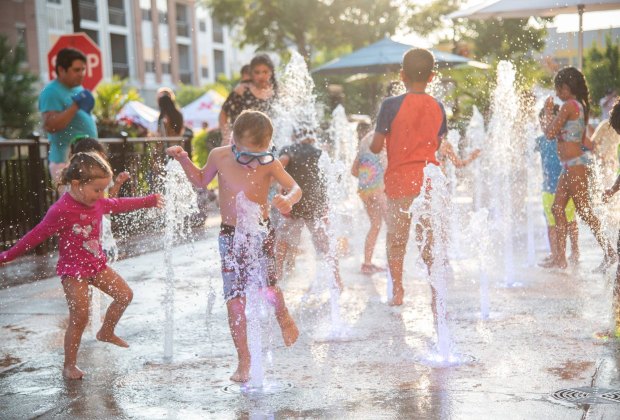 50 Free Things To Do with Kids in DC this Summer
School's out, summer is here, and DC parents know the best way to a happy summer is to keep the kids busy and having fun all season long without breaking the bank. So we've put together a list chock full of free events (both recurring and one-time) plus anytime activit ideas that keep DC kiddos busy. For more great events, check out our full event calendar.
Recurring events:
1. Saturday Mornings at The National Theatre - Washington, DC
Every Saturday morning, children and their parents are invited to play, laugh, and learn at these special shows designed just for kids.
2. Family Day at The US Capitol Visitor Center - Washington, DC
On Saturdays, families can visit The US Capitol Visitor Center and write letters to soldiers serving overseas, as well as participate in history-inspired activities.
3. WondeRoom Create Date - Sandy Spring, MD
Twice a month, on Sundays, children and grownups work together on creative-based activities that challenge their collaboration and problem-solving skills in a fun way.
4. Summer Concerts in the Park - Bowie, MD
Head to Allen Pond Park in Bowie on Sunday evenings throughout the summer for live music that's perfect for the whole family.
5. Museum Jam - Sandy Spring, MD
Each month, families are encouraged to gather round, play and listen to music, and join in with their own instruments. A $5 donation is recommended but not required.
6. Story Time at The National Postal Museum - Washington, DC
Geared towards toddlers and preschoolers, this weekly story time invites children to enjoy books, activities, and songs.
7. Bear Square Kids Club - Riverdale, MD
Every Thursday this summer, kids are invited to Riverdale Park Station for activities, arts, crafts, magic shows, and more.
8. Family Night Thursdays - Bowie, MD
Families can enjoy facepainting and fun every Thursday evening.
9. Concerts in the Park - Falls Church, VA
Families can enjoy local musicians perform in Cherry Hill Park every Thursday.
10. Kids Concerts Fridays at Market Common - Arlington, VA
Each Friday morning, a child-friendly performer takes the stage at Clarendon Market Common.
11. Plaza Party - Leesburg, VA
Every Friday and Saturday evening throughout the summer, families can enjoy live music and fun.
12. STEAM Wednesdays - Arlington, VA
Elementary-aged children can get hands-on with science, technology, engineering, art, and math at the Shirlington Branch of the Arlington Public Library every Wednesday in July.
13. First Studio: Story + Workshop - Washington, DC
Occuring on July 6 and 20, the Kreeger Museum invites children ages 3-5 to explore the museum exhibits along with a story and art activity.
14. Mommy & Me at Congressional Plaza - Rockville, MD
On the second Thursday of each month, little ones and their caretakers can enjoy live entertainment at Congressional Plaza in Rockville.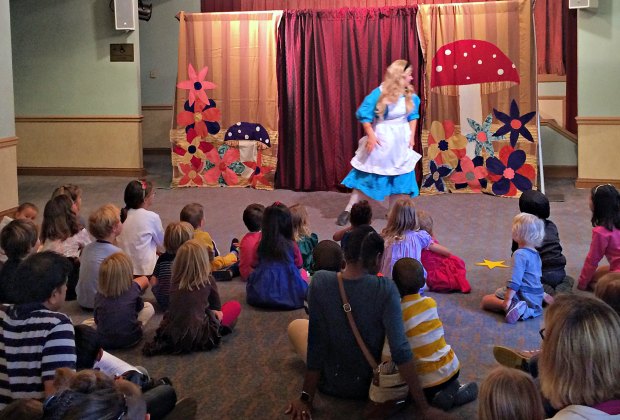 Saturday Morning at The National Theatre's free Saturday morning interactive performance program for kids. Photo courtesy of the National Theatre
June 26, 2019
15. For the Birds - Chantilly, VA
Learn all about birds with visiting feathered friends at the Chantilly Regional Library
June 26 through July 7, 2019 (except July 1 and 2)
16. Smithsonian Folk Life Festival - Washington, DC
An annual festival that brings together food, music, dance, and culture from around the world.
July 1, 2019
17. Science Tellers - Alexandria, VA
Science meets traditional storytelling with an action-packed outer space adventure using science experiments as special effects.
18. Rainbow Puppets - Alexandria, VA
Head to the library for an energetic musical puppet show this morning.
July 2, 2019
19. City of Bowie Fourth of July Fireworks - Bowie, MD
Families can experience live music along with their fireworks a few nights before July 4th, starting at 9:30pm.
Photo courtesy of A Capitol Fourth
July 4, 2019
20. Takoma Park Fourth of July Parade and Evening Celebration - Takoma Park, MD
Takoma Park celebrates its 130th anniversary of July 4th fun with a morning parade and an evening of music.
21. National Independence Day Parade - Washington, DC
Everyone loves a parade! Head into the nation's capitol to celebrate Independence Day with floats, music and more.
22. Fourth of July Celebration - College Park, MD
The University of Maryland and the City of College Park team up for music and fireworks.
23. Rockville's Independence Day Celebration - Rockville, MD
Music and fireworks abound during this 5th annual town celebration
24. A Capitol Fourth - Washington, DC
This annual free concert and fireworks on the West Lawn of the U.S. Capitol draws a crowd of hundreds of thousands.
25. Kensington's 24th Annual Fourth of July Bike Parade - Kensington, MD
Families and their bikes, scooters, wagons, and strollers are all invited to join in the town's morning parade.
26. Fairfax City: A Hometown 4th Celebration - Fairfax, VA
Families can enjoy this all-day Fourth of July celebration, starting with a morning parade and culminating with evening fireworks.
27. Washington, DC July 4th Fireworks - Washington, DC
A summer highlight for many families, watch the fireworks blast off from West Potomac Park at various points in DC and VA.
July 6, 2019
28. Story Time for Little Historians - Alexandria, VA
At Alexandria's Black History Museum, get hands on with a story and a craft. Families can explore the museum's exhibit afterwards as well.
29. Sing Books with Emily - Alexandria, VA
Enjoy a musical story time at Charles E. Beatley Jr. Central Library. Children can learn about instruments, such as the guitar, the kazoo, and others.
July 11, 2019
30. Play In for Climate Change - Washington, DC
Join moms and kids from around the country for a morning of play, activities, and education about climate change.
July 13, 2019
31. USA/Alexandria Birthday Celebration - Alexandria, VA
Celebrate the US's 243rd and Alexandria's 270th birthdays with an evening of music and fireworks.
July 14, 2019
32. Silver Spring Arts & Crafts Summer Fair - Silver Spring, MD
Browse over 60 arts and crafts vendors and experience dance performances from different cultures around the world.
August 1-4, 2019
33. Fairfax County 4H Festival & Carnival - Herndon, VA
Families can interact with livestock and enjoy carnival fun at this 71st annual event.
August 3, 2019
34. Rainbow Rock - Alexandria, VA
Enjoy a kid-friendly rock concert at the James M. Duncan Jr Branch Library. Note: Space is limited to the first 74 participants.
August 11, 2019
35. Latin Heritage Festival - Silver Spring, MD
Celebrate Latin heritage with music, dance, food, and arts and crafts.
August 14-18, 2019
36. Arlington County Fair - Arlington, VA
Enjoy the best of Arlington at this annual fair. Older kids and adults can even participate in goat yoga.
August 17, 2019
37. Scottish History and Dance - Alexandria, VA
Families can learn about Scottish history through dance at James M. Duncan Jr. branch library.
August 24, 2019
38. 17th Street Festival - Washington, DC
This community festival highlights restaurants and shops of the area and features vendors, artists, and a Kids Zone.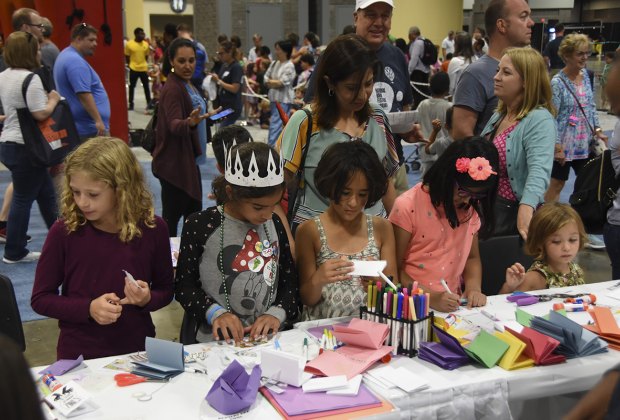 Kids can get crafty on the expo floor at the Library of Congress' National Book Festival. Photo by David Rice.
August 31, 2019
39. Library of Congress National Book Festival - Washington, DC
Bookworms rejoice at this year's National Book Festival which features over 100 authors.
Anytime Activities
39. Cool off at a splash pad or sprayground.
40. Head to one of the many free museums the nation's capitol has to offer.
41. Explore Baltimore for the day.
42. Camp out in the backyard.
43. Go for a picnic.
44. Set up a sprinkler in the backyard.
45. Go for a swim.
46. Volunteer as a family.
47. Climb a tree.
48. Visit the pets at an animal shelter.
49. Explore the natural world right in the heart of the city.
50. Ride bikes around the National Mall.