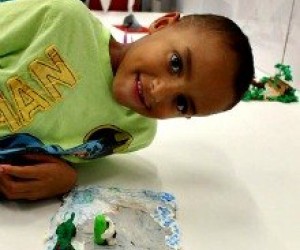 Best New Classes for NYC Kids Fall 2014: 13 Enriching After-school Programs
When it comes to enriching after-school programs, NYC kids are totally spoiled—and their choices seem to get more plentiful and diverse every year. Our Classes Guide is already packed with a wide variety of posts, from coding classes to cheerleading, robotics to circus arts, as well as more traditional sports and arts lessons.

This fall's crop of brand-new classes brings a bunch of fresh options for all ages to the mix, including preschool music lessons developed by kindie rock queen Laurie Berkner, a program for tween entrepreneurs, hardcore computer coding for teens and an in-depth intro to the likes of Shakespeare and Socrates. In all, we rounded up 13 notable new kids' classes that either launch this fall or recently debuted. See which ones pique the interest of your young learner.

You can find out about even more excellent programs in our Classes Guide and our Class Directory, which allows you to sort listings by age, interest and neighborhood.
I Spy New York: Capturing the City Through the Camera – East Harlem
Museum of the City of New York, 1220 Fifth Avenue between 103rd and 104th Streets
Ages 7-11
Aspiring shutterbugs learn basic digital photography skills from pros while using the Big Apple as muse. Kids will snap shots of NYC landmarks, people and places during field trips, and the program culminates in a gallery exhibition at the Museum of the City of New York. Bonus: The museum loans all participants cameras for class so no need to buy expensive equipment.

8 and Up – Midtown West, Flatiron, Financial District & Dumbo
Various locations; visit the website for details.
Ages 8-11
After a trial run in Dumbo last fall, this Princeton, NJ-based program expands to NYC in earnest with a trio of classes challenging tweens to think outside the box and ask "what if"? with an entrepreneurial mindset. Building websites, inventing new products and collaborative problem-solving are all on tap at multiple NYC locations.

Laurie Berkner's The Music in Me – Upper East Side, Upper West Side, East Village & Noho
Various locations, visit the website for details.
Ages 1-4
Before she became a kindie rock goddess, Laurie Berkner was a preschool music educator. Now she's combining her two careers by launching a Parent & Me music and movement program that takes place at various Manhattan locations, including the Art Farm in the City on the Upper East Side. The Music in Me features her beloved tunes and teachers personally trained by Berkner. Students will have a blast using their bodies, voices, props and percussion instruments to make music, and the songstress will visit each class at least once during the semester.

The Flatiron School – Financial District
11 Broadway between Morris Street and Battery Place
Ages 14-18
Opened in 2013, the Flatiron School has already taught thousands of adults how to code and is now opening its doors to high-school students. The curriculum consists of 48 instructional hours taught over a period of 12 weeks, with a choice of one four-hour or a pair of two-hour classes each week. Although the classes are for beginners, The Flatiron School doesn't use visual coding languages like Scratch; instead, students build websites and mobile apps using industry-standard languages. Want more info? Check out the program's open house on Tuesday, September 16.

Tinkergarten – Central Park, Prospect Park & Fort Greene Park
Various locations; visit the website for details.
Ages 18 months-7 years
This Brooklyn-based nature education program expands to Manhattan this fall. Kids can learn about the natural world around us in some of NYC's most gorgeous green spaces during Tinkergarten's alfresco classes. Preschoolers will enjoy making mud-pie faces for trees, searching for robins' nests and other environment-based play designed to increase self-reliance and problem-solving skills. Drop-off classes for school-age children feature more sophisticated outdoor explorations.

Sparrowtree Theater Company's Create-a-Musical – Park Slope
Triskelion Arts, 118 North 11th Street Whythe Avenue and Berry Street
Ages 6-11
Brooklyn theater troupe Sparrowtree has partnered with Broadway Bound Kids for this a month-long intensive for youngsters who crave the spotlight. Participants create their own show from top to bottom, including writing the script and songs with the help of theater pros. The class culminates in a live full-scale production with costumes, props and tech.

Scribble Art Workshop – Inwood
5000 Broadway at 212th Street
Ages 18 months-14 years
Although this veteran arts education program opened its Inwood studio last winter, we haven't gotten a chance to cover it until now. Plus it has expanded its offerings way beyond traditional visual arts. Edible art, jewelry, graffiti, woodworking, silk-screening, photography—these are just a handful of the innovative options on tap. And there are classes for grown-ups, too. Want a taste of its creative projects? Check out this cool WeeWork craft courtesy of Scribble Art Workshop.

Jalopy Theater School of Music – Carroll Gardens
315 Columbia Street between Rapelye and Woodhull Street
Ages 6-12
At the performing arts space and music school, kids can learn how to play folk and bluegrass instruments like the ukulele, fiddle, banjo and guitar in a small group setting. Instrument rentals are available, too.

Planet Han: Han Builders – Upper West Side
401 West End Avenue between 79th and 80th Streets
Ages 4-8
While this popular Mandarin language program has been around for a number of years, this fall it's introducing a new program: Han Builders, a hybrid language/design class. In an immersive Mandarin setting, kids will learn basic architectural concepts and study famous NYC buildings while creating their own structures from Legos, pipe cleaners, toothpicks and pasta.

Let's Gogh Art: Passport to Creativity – Tribeca, East Village & Chelsea
Various locations; visit the website for details.
Ages 3-5
This established art program for tots is adding a globally inspired class to its roster. In Passport to Creativity, kids will go on a virtual world tour and create works inspired by their "travels."

Intellectual Kids Club – Tribeca & Chelsea
Various locations; visit the website for details.
Ages 5-12
The engaging lessons at the Intellectual Kids Club focus on the humanities and supplement what children are already learning in school. Participants study classic literature including Oscar Wilde and Shakespeare, the works of Plato and Socrates, and are exposed to famous music, ballets and operas.

Children's Museum of Arts – Hudson Square
103 Charlton Street between Hudson and Greenwich Streets
Ages 6-15
The beloved Children's Museum of Arts debuts a slew of new classes for elementary- and middle-schoolers. There is a small group claymation and sculpture class at the clay bar, a graphic novel class in which young artists hone their sequential-art skills, a print and textile making program and a portfolio development class for teens preparing to apply to specialized art high schools.

The School at Steps: Baby Steps – Upper West Side
2121 Broadway between 74th and 75th Streets
Ages 3 months-2 years
The well known dance school is debuting two new classes for young dancers. Baby Steps I is a Mommy & Me class for infants ages 3 to 9 months designed to help new moms get back in shape while bonding with their babes. In Baby Steps 2, young walkers can explore movement, exercise, coordination and dance with live music accompaniment.

Find out about other enriching programs in our Classes Guide.