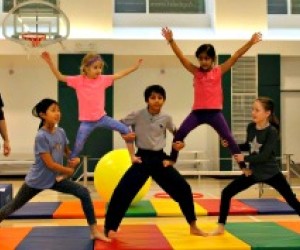 Circus Arts Classes for NYC Kids: Learn Acrobatics, Juggling
My daughter was just 18-months old when she saw her first circus show (Big Apple Circus, of course). We've gone back every year and by the time she was in preschool, she was begging me to show her how to hula hoop, juggle and clown around. Except for the acting like a clown part, I am seriously circus-skill challenged. But there are lots of cool circus programs in NYC that are happy to teach aspiring acrobats and budding Bozos the tricks of the trade.

While we already have a post on trapeze classes for kids, the programs spotlighted here train children in a wide variety of circus skills, not just the aerial arts. Similar to theater courses, circus arts classes can help kids build their confidence, spark their creativity and get a great physical workout. Not sure how your kid would take to a circus class? A lot of these programs offer drop-in sessions so you don't have to make a long-term commitment. On the acrobatic flip side, if your kid is obsessed with circus, many of them offer semester-long courses and awesome summer camps, too. Here are 11 circus classes for kids in New York City.
You can find more NYC classes in our Classes Guide and Directory Listings.
Circus Arts at the 92nd Street Y – Upper East Side
1395 Lexington Avenue at 92nd Street
Ages 5 and up
The Y offers an array of circus classes for all ages and skills, even teens, in its state-of-the-art gymnastics studio. Students learn floor skills like juggling, rolling globe and plate spinning, and also spend time up in the air on the static trapeze and silks. Safety is a top priority and skills are taught in a non-competitive environment by working circus performers.
Gymstars – Brooklyn Heights
Plymouth Church, 57 Orange Street between Henry and Hicks Streets
Ages 2-8
Kids can enjoy circus-centered gymnastics that also incorporate skills like juggling, clowning, stilts, diablo (aka the Chinese yo-yo), human pyramids and more. While Gymstars runs multiple after-school programs that are only available to students in that particular institution, there are public classes at Brooklyn Heights' Plymouth Church.
OUR LATEST VIDEOS
Circus Warehouse – Long Island City
53-21 Vernon Boulevard near 54th Avenue
Ages 7 and up
This awesome studio in Queens has a kids' circus sampler that allows participants to try wire walking, juggling, balancing, tumbling, trampoline, clowning, and aerial arts like silks and the static trapeze. For children ages 11 to 15, there's the teen aerial program, which includes training on silks, lyra and trapeze. Drop-in sessions are available but there are discounts if you buy multiple classes. Visit the website for the complete schedule. Circus Warehouse also hosts the American Youth Circus Organization's annual New York Regional Festival every fall, a day-long series of circus workshops for children under age 21. My daughter has gone and it's exhausting but a total blast.
The Muse Brooklyn – Bushwick
350 Moffat Street between Irving and Knickerbocker Avenues
Ages 18 months-13 years
This longtime Brooklyn circus school moved into a new, 7,000-square-foot, state-of-the-art studio and performance space in spring 2015, and began offering a wide variety of kids' classes. Sessions are organized by age and students learn ground skills like tumbling and acrobatics along with trapeze. There is even drop-in time for families to enjoy the facility.
Kid Fly at STREB the School – Williamsburg
S.L.A.M. (Streb Laboratory for Action Mechanics), 51 North First Street near Kent Avenue
Ages 5 and up
The studio of well-known choreographer Elizabeth Streb offers lots of fast-paced and unique movement classes for kids that incorporate circus elements. Kid Action combines dance, athletics, boxing, rodeo, the circus and stunt work! Meanwhile, Kid Fly is focused on the flying trapeze. Participants are encouraged to commit to a semester of classes, but if space is available, drop-ins are allowed. Visit the website for full details on class options and pricing.
LAVA Studio – Prospect Heights
524 Bergen Street between Carlton and Sixth Avenues
Ages 5 and up
This dance troupe pushes the boundaries of the genre by incorporating acrobatics and even trapeze into its work. These kids' classes include training in turning, tumbling, trampoline and trapeze. Visit the website for a full list of classes including details on the FREE Community Class for ages 5 to 12.
The New Victory Theater Circus Weeks – Midtown West
209 West 42nd Street between Seventh and Eighth Avenues
Ages 5 & older
NYC's premier family theater always offers a spring break circus camp in conjunction with a circus show, plus a one-week circus summer camp and a series of one-off, big-top-themed workshops. My daughter has done the spring break camp and had a fabulous time—she especially liked the final performance in which she showed off her juggling, clowning and acrobatic skills.
Brooklyn Beanstalk – Brooklyn
Visit the website for locations.
Ages 5-11
Run out of various Brooklyn locations, this circus arts program offers Saturday morning sessions as well as camps during school breaks and summer. Participants are introduced to age-appropriate acrobatics, juggling, balancing and physical comedy.
Cirque du Monde – the Bronx
The Point, 940 Garrison Avenue between Barretto and Manida Streets
Ages 10-18
One of many enriching programs offered at Bronx nonprofit The Point, this social circus class was created by the famed Cirque du Soleil in 1995 to help foster teamwork and nurture talent in low-income communities. There are 80 Cirque de Monde programs throughout the world and The Point is the only facility in New York City to host this workshop. The FREE weekly drop-in class takes place on Thursday evenings for middle and high school students. Call 718-542-4139 for more info.
Cirque d'Été at Park Slope Day Camp – Carroll Gardens
Hannah Senesh Community Day School, 342 Smith Street between 1st and 2nd Places
Ages 4-10
Held in two-week sessions, this summer camp offers acrobatics, clown-comedy and other circus skills. Special guests and an end-of-session performance round out the fun.
The UPCA Performing Arts Academy – Washington Heights
United Palace, 4140 Broadway at 175th Street
Ages 11-13
This FREE program comes courtesy of the generous folks at the community nonprofit United Palace of Cultural Arts. On select weekdays after school, middle-school students can learn circus skills at no cost. Participants must commit to attending all classes, and will perform in various showcases. Email Keith Fasciani at keithf@unitedpalace.org for more info.
Bonus: While Circus Minimus and the Bindlestiff Family Cirkus don't offer regular public classes, both performing troupes run after-school programs at a bunch of NYC institutions. Contact them directly if you'd like to inquire about bringing either of their circus programs to your child's school. Also, some general day camps like ACT and the McBurney YMCA offer special circus weeks.
Find lots of other cool programs for kids, including trapeze, in our Classes Guide.
This post originally published in September 2008.