The Point: Free Kids' Art Classes, Programs and Special Events in the South Bronx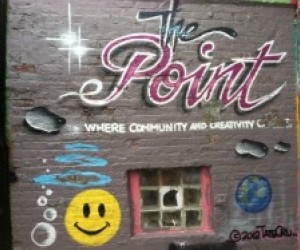 The Bronx has a rich and vibrant arts scene that, sadly, doesn't always get the attention it deserves. As a proud Bronx resident, I'm all about inspiring New Yorkers from other parts of the city to visit my home borough. So today I'm going to tell you about one of my family's favorite Bronx art spaces: The Point Community Development Corporation.

Located in the Hunts Point section of the South Bronx, The Point is a multifaceted center that's been instrumental in revitalizing the neighborhood through youth empowerment and arts education. In fact, a lot of the reason that Hunts Point is now considered a cultural and artistic hub is because of the organization's amazing work. While the center offers classes, camps and workshops that require a long-term commitment, The Point also sponsors many wonderful drop-in family programs, events and performances that are open to the public, many of which are FREE.
Public Events

The Point's best known event is its annual Fish Parade and Summer Festival. which is coming up on Saturday, June 16. Initially organized to protest the Fulton Street Fish Market moving into the area, it has since become a celebration of the waterfront community. The Point helped refurbish two lovely neighborhood parks, Hunts Point Riverside Park and Barretto Point Park where the Floating Pool Lady docks every summer, and the festivities take place in both of them. The main event is at Barretto where the parade ends in a neighborhood party featuring a talent show, raffles, performances by local artists, and arts and crafts.

The Point hosts many annual community celebrations, including a Halloween Parade, Thanksgiving potluck, various holiday celebrations in December and a Black History Month Musical Showcase. One of my favorite annual events is the spring Passion Fair, where tables are set up in the atrium by community members to highlight their various hobbies. In the past, I've seen a pilot table with info about flying lessons and aerial memorabilia, and even a Justin Bieber table, with all the fan fare you'd expect. These events encourage kids to pursue their passions and use their energy in a positive way. With various events happening every month, it's best to check the calendar to see what's going on.

The Point also runs the Hunts Point Riverside Campus for Arts and the Environment, which houses Urban Farming, a nonprofit that helps communities create gardens in unused spaces, and Rocking the Boat, an organization that teaches high school kids how to build boats. This program has become so popular, the kids have been commissioned to build a 29-foot whaleboat for the Mystic Seaport Museum in Mystic, Connecticut. Rocking the Boat also offers FREE public rowing sessions every Saturday afternoon from Memorial Day weekend through Labor Day weekend. Families can take free guided tours of the Bronx River starting at Hunts Point Riverside Park. There's also a catch-and-release fishing program (all supplies are provided) and no appointment is necessary.
Classes
The Point offers many programs and classes, but a few are particularly good for kids. In collaboration with The Point, the International Center of Photography has created ICP at The Point, where children ages 9 and up can learn the fundamentals of black-and-white photography. This FREE program includes after-school and summer classes, and the students' pictures are displayed in The Point's Vantage Point Gallery and are even available for purchase online. A few of my family members have taken this course, and my 8-year-old son is looking forward to starting classes this fall. Registration is required and spots are filled on a first-come, first-served basis.

There's also Cirque du Monde, a social circus program created by the famed Cirque du Soleil in 1995 where participants can learn teamwork and possibly uncover hidden talents. There are 80 Cirque de Monde programs throughout the world and The Point is the only facility in New York City to host this workshop. This FREE weekly drop-in class takes place on Thursday evenings for middle and high school students.

The Point is located at 940 Garrison Avenue between Barretto and Manida Streets. It's easily accessible via the 6 train to Hunts Point Avenue. See the map for the locations of Hunts Point Riverside Park, Barretto Point Park and the Hunts Point Riverside Campus for Arts and the Environment.