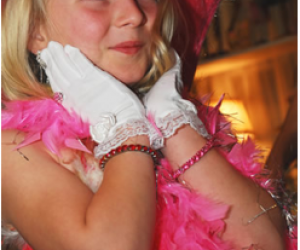 Have the Ultimate Princess Weekend in NYC
And we're not talking about Paris Hilton. We're talking about the real kind of princesses??"the little ones. Yes, I know some parents frown on encouraging little girls to overload on tulle and Disney, but in my experience this is a phase that should be enjoyed while it lasts, because around first or second grade the dressing up stops and there'll be no more pictures of those chubby little faces peeking out from crooked tiaras and sequined tutus. Whether your little princess hails from New York or you are visiting royalty, here's a list of activities for creating the Ultimate Princess Weekend in New York City for your little girl. (Warning this post could be dangerous to your wallet. Extreme caution is advised when planning on indulging your little girl's every fantasy. Do not attempt all of the following in one weekend. Mommy Poppins takes no responsibility for damages incurred by hysterically happy little girls or exhausted, broke parents.)
Start out with brunch at Alice's Tea Cup where fairy wings line the walls and little princesses can fill up on the signature fresh fruit crepe with vanilla creme anglaise and other sumptuous treats.
Visit the Madame Alexander Doll Company's Heritage Collection in Harlem Unfortunately, this historic venue closed in 2012


New York Theater Ballet specializes in creating and performing sophisticated ballet performances just for kids.
Pinkies up! Big news for perfectly poised princesses: The Palm Court at the Plaza Hotel just reopened this week after 3 years of extensive renovations. Children can enjoy the Eloise Tea for $30 (price for children under 12 yrs, adults, prices $50) which includes finger sandwiches, scones, dessert, and tea, of course. Offered from 2-5pm. Reservations recommended. Call (212) 546-5300. Dress code: Smart Casual (tiaras are permitted.) We also have a great post, Best High Tea in NYC: 10 Restaurants Serving Afternoon Tea for other wonderful, princess friendly tea spots.
Every princess needs to be delivered to the ball in a horse-drawn carriage. Find your coach across the street from the Plaza (59th Street between 5th and 6th Avenues) before it turns back into a pumpkin. (It's perfectly acceptable to choose one because the driver is wearing a top hat.)
Well you are right there...maybe just a quick hop into FAO.
Treat your tired little divas to a mani-pedi. Many salons, like Dashing Divas, offer special services for children. Now that the girls' nails are so pretty. it seems a shame not to go all the way.
Let's Dress Up supplies everything any little girl needs to completely satisfy her wildest frilly fantasies. Call ahead to find out when you can drop in between scheduled birthday parties for some dress-up fun. 212-879-0956.
Give your wallet a break and continue the fantasy with some imaginative play at Belvedere Castle in Central Park. Girls can reign supreme from their balconied perches inside.
Birthday Party Tip: Almost all of these venues offer special birthday party packages for the ultimate princess birthday party.
Find more NYC birthday party ideas in our Party Guide.