Best Kids' Classes in Williamsburg: Places to Play and Learn Indoors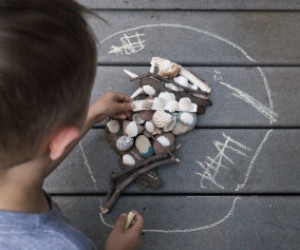 We finish up our month-long focus on Williamsburg with a look at our favorite play spaces and kids' classes in the area.

As families have multiplied in the neighborhood, so have kid-friendly restaurants, children's shops, and play and learning spots for tots, from artsy indoor gyms like Klub4Kidz to a wide variety of dance, music, sports and arts programs. And this being funky Williamsburg, there are also more offbeat offerings like circus arts, textile crafts and music classes taught by real kindie rock stars.
Streb the School
51 North 1st Street between Kent and Wythe Avenues
If your kids want to run away and join the circus, they need to stop here first. Founded by choreographer Elizabeth Streb, who's known as the "Evel Knievel of dance," Streb offers classes for adults and kids in movement, acrobatics and aerial arts. In the Kid Action program, students are encouraged to test their limits by exploring impact, velocity and the defiance of gravity by trying cool stunts and dabbling in acrobatics. In Kid Fly, participants learn how to swing on the flying trapeze. There are also more specialized offerings aimed at specific ages like Baby Action and Teen Action, as well as Trampoline, German Wheel and Kid Action Combat, where kids become mini stuntmen. To register, call 718-384-6491 to find out availability and then download the online registration form.

Ms. J's Gymnastics & Dance
289 Kent Avenue between South 1st and South 2nd Streets
As the name implies, this center offers traditional gymnastics and dance classes for children ages 18 months to 11 years. Founded by Wei Jiang, a former alternate on the Chinese Olympic Team, the spot also runs a day camp, after school and the monthly Kids Night Out, when parents can drop off their kids for an evening of jumping, running, playing and pizza. To register, check out the schedule online and then call 718-218-7065.

Williamsburg Movement and Arts Center
347 Grand Street between Havemeyer Street and Marcy Avenue
If your kid's got happy feet, there will be something to please at this studio, from Mommy & Me classes where the whole family can move and groove to ballet, modern, jazz and tap lessons. The center also offers voice, keyboard, theater and circus arts classes, plus beautiful Brazilian martial art capoeira. Creative new courses are being added every year, like this fall's brand-new Young Hip Hoppers and the Best of Michael Jackson classes. Find the schedule on the website.

The Painted Cloud
168 Marcy Avenue near South 5th Street
This colorful and well-stocked studio offers art classes taught by pros for kids as young as 18 months. Students are encouraged to experiment with a variety of materials and mediums. Visit the website for the complete schedule.

Klub4Kidz
159 North 4th Street
When it first opened in 2010, we were wowed by this state-of-the-art kiddie gym, which offers drop-in play as well as memberships for regulars. Now, K4K has launched a series of pop-in art, science and athletics classes for little kids on select weekdays. Drop-off play is also offered.

Twinkle Playspace
144 Frost Street between Graham and Manhattan Avenues
We also raved about this drop-in play space for ages 0 to 6 when it opened in 2013. Owned and operated by a longtime local Brooklyn family, this one-of-a-kind, 4,500-square-foot tot spot features creative custom-designed hands-on activity stations, including a water table, a firehouse, a salon, a general store and a barnyard. A great option for preschoolers who love to pretend. Party packages and classes are also offered. Find prices on the website.

Frolic!
Sadly this venue closed in September 2014.
Another stunning indoor play space, Frolic! unfortunately doesn't offer open play in its rock-and-roll-themed gym. However, memberships are available and there are a wide variety of classes for preschoolers, including art, soccer, dance, cooking, Spanish by Bilingual Birdies, and its signature offering, Little Rock-its, a music class created by Tim Kubart of the upbeat kids' band Tim and the Space Cadets.
Baked in Brooklyn
242 Wythe Avenue near North 3rd Street
Despite the name, you won't find any cookies or cakes here. Instead, this paint-your-own-pottery studio invites families to decorate ceramic mugs, frames and small statues. Drop-ins are welcome throughout the day, and the studio also offers birthday party packages.
Mini Hands
361 Manhattan Avenue between Withers and Jackson Streets
Aimed at preschoolers, Mini Hands offers a small selection of classes for children ages 18 months to 5 years in music, art and Mandarin.

Lemon Sky
330 Wythe Avenue Suite 2C at South 1st Street
At this textile spot, kids can learn to sew (with or without a machine), weave, knit, embroider and crochet, so you know grandma will be proud. Kids can drop in to a one-hour session or buy a ten-class pack. First-time visitors can download a coupon for a free trial class on the website.
Music for Aardvarks
Mini Jake, 178 North 9th Street
Mini Jake, the hip Williamsburg children's boutique, hosts Music for Aardvarks classes taught by popular kids' crooner AudraRox. The Aardvarks program is a personal favorite of mine: My daughter loves David Weinstone's interactive original songs and I'm happy to hear tunes besides the usual nursery rhymes. For more info, email info@audrarox.com.

Read all of our posts about Williamsburg, Brooklyn.