Klub 4 Kidz: Williamsburg's New Indoor Play Gym Keeps Kids Big and Little Moving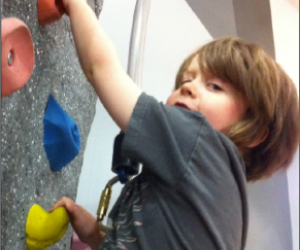 Northern Brooklyn has hit the play space jackpot lately with not one or two, but three brand new play gyms opening up. Talk about going from zero to 60. Williamsburg's Klub 4 Kidz is the newest addition and offers a different type of experience than most of the play spaces in Manhattan and Brooklyn with a giant play structure, climbing wall, plus spaces for classes and birthday parties. The unique thing about Klub 4 Kidz is that it's as good for 10 year olds as it is for 3 year olds, whereas most play spaces are really designed for the preschool and younger set.
Even if you don't live in Brooklyn, you'll be surprised how easy it is to get to Klub 4 Kids by train from Manhattan or car from Queens and there are lots of great restaurants and boutiques in Williamsburg to make it a fun day trip. So read on:
The main attraction at Klub 4 Kidz is the enormous climbing structure. It's an ingenious way to create a lot of play time for a large number of kids in a small footprint. You wouldn't guess it, but the gym can handle dozens of kids at a time without feeling crowded (although I don't know where dozens of parents would go) and it provides hours of fun. We visited with a large group of kids aged 6 to 11 and I was surprised that they all had a good time, even the 11 year old, who had to be dragged along grudgingly, loved it.
After what seemed like hours climbing, sliding, crawling through tunnels, flying across a zip line, and who knows what else they do in there, my kids transferred their zeal to the 18 foot climbing wall where they took several turns working their way to the top and then rappelling down again. I have to say, I love an outing that leaves my kids sweaty and tired at the end of it and the fact that this place is indoors makes it perfect for burning off some serious energy on a cold or rainy day.
The climbing structure is only for kids aged 3 and up. Younger kids can play in a toddler zone that is sectioned off for them when school is in session and the big kids don't need the climbing wall. Klub 4 Kidz also offers classes like Art Klub, Creation Station Dance, Songs for Seeds and other creative dance, language, art and music classes. Birthday parties start at $495.
There is a cute little snack bar area and tiny boutique. The prices were a little scary for just a water, so try to remember to bring your own. A few other tips: the playground is down a set of steps, but stroller parking is at the top. There's not much to see while your kids are inside the climbing structure so you might want to bring something to entertain yourself while they play, preferably a friend.
Play passes for the playground are $20 per kid. The rock climbing wall is extra or you can buy a combo pass for $30. Monthly Memberships are available as are bulk play pass packs.
Klub 4 Kidz
159 North 4th St. Williamsburg, Brooklyn
877.543.9558
Info@klub4kidz.com
From Manhattan just take any train to 14th Street, transfer to the L and take it one stop into Brooklyn.
For more indoor activities, check out our Indoor Fun Guide.