Williamsburg Shopping for Kids: Children's Boutiques, Toy Stores and Bookshops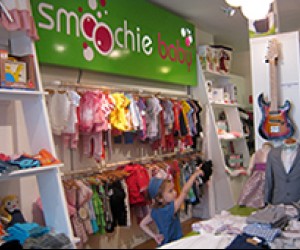 [UPDATED: December 1, 2012]
Williamsburg is one of NYC's funkiest and fun neighborhoods, so it's no surprise that its stores are fun and funky, too. Today, we continue our month-long focus on Williamsburg with a look at the area's colorful children's boutiques filled with trendy clothes, toys, gear and furniture, plus a few eclectic adult shops with kids' items.

From high-end boutiques selling luxury brands to a fabulous discount store, independent bookstores to a beloved resale shop that organizes the nabe's iconic Witches Walk each Halloween, here are our top places to shop with kids in Williamsburg, Brooklyn.
Smoochie Baby
110 Berry Street between North 7th and North 8th Streets
Kids can watch flicks on a flat-screen TV (set at a child's-eye view, of course) while you peruse quality children's clothes by the likes of Appaman, Egg, and Cupcakes and Pastries; Native Kids and Salt Water Sandal footwear; plus adorable hats and toys, such as a tepee, which fascinated my preschool-age daughter. The well-designed space is sleek and cute, and the knowledgeable staff makes great gift suggestions.

Peachfrog
Unfortunately Peachfrog closed in November 2012.
136 North 10th Street between Bedford Avenue and Berry Street
If you're looking to save a bundle on new clothes for your kids and yourself, then step into this lovely and organized discount store. All merchandise, which includes housewares, is sold at up to 90% off retail and there's a nice children's section (and now that Daffy's is closing, you'll need a new place to snag designer kids' duds on the cheap). Or just play dress up: My daughter certainly enjoyed modeling outfits for the afternoon.

Flying Squirrel
This store moved to nearby Greenpoint in October 2013
One of our favorite resale shops for kids in NYC, here you'll find gently-used clothing, shoes, toys and gear (plus a selection of brand-new merchandise). Buying secondhand isn't just eco-friendly, it's budget-friendly, too, and lots of items like baby carriers, trikes and bouncers show little wear and tear—sometimes you wonder if the original owners used them at all. If you're looking to purge junior's closet, you can make an appointment to bring in what you have to offer. Flying Squirrel also helps organize various community family events, notably the annual Witches Walk Halloween parade, which traditionally kicks off at the shop.

Sweet William
112 North 6th Street between Wythe Avenue and Berry Street
At this beautiful children's boutique you'll find a carefully curated selection of high-end organic baby and toddler clothes by independent designers like Ada Ada, anaïs&I, Bobo Choses and Littl by Lilit, plus accessories and toys. Of course "environmentally and ethically responsible" products come at a price, but it's always free to look!

Mini Jake
178 North 9th Street between Bedford Avenue and Driggs Avenue
We love this hip children's furniture and gear store so much, we wrote a dedicated post about it. You'll find everything you need for your nursery or kid's room, from the bed to the bouncy seat, the high chair to health items, plus strollers, toys and a small selection of clothes.

Wee Babe
131 North 4th Street between Bedford Avenue and Berry Street
A recent addition to Williamsburg, this store sells strollers, car seats and other gear, plus toys and gadgets. The owner spent more than a decade in the baby industry and that experience is reflected in the well-edited selection.

Desert Island
540 Metropolitan Avenue between Lorimer Street and Union Avenue
This playful independent bookstore stocks offbeat comics, graphic novels and children's books. Desert Island also helps organize many literary events, like the free annual Brooklyn Comics and Graphics Festival and last year's Desert Island Comic Zine Party for kids at the Whitney Museum.

PopFuzz
123 Wythe Avenue between North 8th and North 9th Streets
Introduce your kids to your childhood obsessions at this shop, chock-full of inexpensive, old-school CDs, DVDs, comics, toys, trading cards and records (yes, you can show your children a real LP!) Organization is not a priority here, so you'll have to hunt, but that's half the fun. We especially enjoyed perusing bubble gum cards from decades ago, like Back to the Future, The Goonies and even Garbage Pail Kids. (Just don't chew the gum.) PopFuzz also sells collectible Pullip fashion dolls, better for display than play.

Brooklyn Industries
162 Bedford Avenue at North 8th Street
184 Broadway at Driggs Avenue
As we pointed out in our Dumbo post, this adult clothing chain also has an artsy collection of kids' wear. Shop for T-shirts, onesies and sweatshirts emblazoned with sad rainbows, "feed me" monsters and phrases like "Viva La Brooklyn" at the North Williamsburg location, or hit the Southburg Outlet for discounted duds.

Brook Farm General Store
75 South 6th Street between Wythe Avenue and Berry Street
This small shop located right under the Williamsburg Bridge sells a huge variety of beautiful, well-made housewares and wooden toys from around the globe. Definitely a fun place to browse.

Rose Red & Lavender
653 Metropolitan Avenue between Leonard Street and Manhattan Avenue
Got a green thumb or just like flowers? Then you'll love this shop, which creates modern floral arrangements and sells planting tools, seeds, soil, pots and everything you need for your backyard or apartment garden. Staff can help you plan your urban mini-farm so your family can grow veggies and herbs on your balcony, rooftop or windowsill. If you're just looking, make sure your kids see the shop's real bug-eating plants and air plants, which can be pinned to hats or bags.

Area Kids
218 Bedford Avenue between North 4th and North 5th Streets
This local toy chain is expanding at a fast rate, and recently spawned a kids' hair salon/shoe store. The Williamsburg outpost is located in the Bedford Avenue mini mall alongside other small independent businesses, like Verb Cafe, where you can grab a mid-shopping snack. Area Kids is well liked for its selection cool, quality toys and cute but casual clothing.

Spoonbill & Sugartown Booksellers
218 Bedford Avenue between North 4th and North 5th Streets
Also located in the mini mall, this bookstore has a small but well-edited children's section. The "heart and soul" of this cozy shop is used books so while you may not find the latest Fancy Nancy title, you'll have a fun time discovering obscure, offbeat tales. Be aware that books with mature content and art are often in full view.

Flea Markets
Artists & Fleas
70 North 7th Street between Kent and Wythe Avenues
Williamsburg Flea
East River Waterfront between North 6th and 7th Streets
For older kids who have the patience to hunt for hidden treasures, flea markets can inspire hours of fun searching. Williamsburg is home to two fleas: the super-popular Artists & Fleas, an year-round indoor marketplace where vendors sell a combination of new independently produced wares and antique items, and the seasonal Williamsburg Flea, featuring a mix of old-school tchotchkes, handmade doodads and food.

Read more of our posts about Williamsburg.