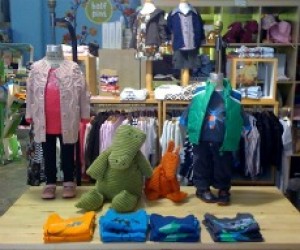 Brooklyn Kids' Stores: Toy Shops and Children's Boutiques in Dumbo
For our final Dumbo post this month, we're sharing our favorite stores for kids in the area. Considering Dumbo's reputation as an artsy neighborhood, it's no surprise that its shops sell unique, often handmade items.

While lots of Dumbo businesses are aimed at adults, like funky art galleries, furniture shops and high-end boutiques, the small nabe boasts a fair number of kids' stores. From clothing to candy, books to baby necessities, here are 10 great places for families to shop in Dumbo, Brooklyn.
Brooklyn Industries
70 Front Street near Main Street
Although this local eco-friendly clothing chain isn't a kids' store, it carries plenty of hipster duds for children like T-shirts, onesies and sweatshirts emblazoned with bikes, dinosaurs, animals or simply the word "Brooklyn."

Half Pint Citizens
41 Washington Street at Water Street
As the name suggests, this shop caters solely to kids. There's a large and nicely curated selection of high-end gear, toys and clothes by the likes of Imoga, Appaman, Baby Soy, aden + anais, and the house brand. Books, media, maternity wear, feeding and nursing items, and even furniture is available making this one-stop shopping for kids of all ages in your family.

Egg by Susan Lazar
72 Jay Street between Water and Front Streets
Browse cute and comfy designer (often organic) clothes for children ages zero to six. There is also a small maternity section for expectant mothers.

Stewart/Stand Design Store
141A Front Street at Pearl Street
My family and I love looking at the gorgeous housewares, accessories and playthings in this sleek store. While parents peruse babushka glasses, gorgeous mugs, teapots, wallets and flasks, kids can delight in Dog Popper toys (which shoot foam balls), build your own kaleidoscopes kids, Ugly Dolls, jump ropes and puzzles.

Dumbelle
This shop closed in 2013
We love the concept behind designer Elaine Pedlar's artsy store, where little girls decorate and style paper dolls who come with their own fashions and back stories (think of it American Girl Paper Doll). Unfortunately, the store has had a rough go of it of late, and had to reduce its hours to weekend afternoons. It's still best to call ahead as it's sometimes booked for parties. A very cute and cool interactive shopping experience.

The powerHouse Arena
37 Main Street at Water Street
Although this bright, loft-like bookstore has moved most of its kids' events to its Park Slope location, the Dumbo outpost still boasts a wonderful selection of children's books, including lots of titles about NYC as well as classics by Dr. Seuss, Shel Silverstein and their ilk. You'll also find a small collection of playthings like Green Toys, Mudpuppy's At the Stables magnetic figures and Jellycat plushes.

P.S. Bookshop
76 Front Street at Washington Street
This second-hand bookstore has a great selection of children's titles and even buys used kids' books. It also hosts an inexpensive weekly story-playtime on Thursdays for preschoolers, which includes a sing-along.

Pomme
This shop closed in 2013
Opened by a pair of European moms, this kids' store sells carefully curated clothing, toys, accessories and housewares. No video games or trendy duds here. Instead you'll find wooden playthings, art kits, stacking toys and tasteful outfits that would go over well on a preschool interview. Pomme also hosts children's classes and offers haircuts on Sundays.

Zakka
This shop closed in August 2014
If your kid's into all things Anime and Manga, this is a must-see store. Marvel at eye-popping graphic novels, zines, T-shirts, figurines, statues and toys from Japan, or inspired by Japanese work.

Dewey's Candy Store
141 Front Street at Pearl Street
From the week it opened we've been fans of this colorful candy paradise. Stock up on retro treats like Nerds, Smarties and gobstoppers are on the menu and you can also pick your own mix like gummy octopi, dinosaurs and Pucker Up Supersour Lips. Who knew there could be more than a dozen different types of sours and licorice? For the collector, there are Pez, arranged by theme, including all the Muppets.

Read all of our posts about Dumbo, Brooklyn.