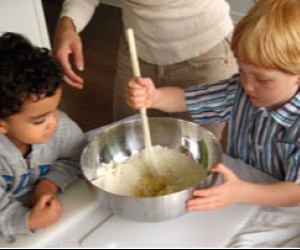 Kids' Classes in Dumbo: Places to Play and Learn Indoors
We continue our month-long focus on Dumbo with a look at indoor places for kids to play and learn in the neighborhood. Although many families are moving to the area for its amazing views, cool culture and great things to do, Dumbo is still a work in progress when it comes to kids' play spaces—there's nary a kiddie gym franchise in sight. But in addition to a handful of athletic spots like Dumbo Gymnastics and Brooklyn Bridge Fencing, we've found some more offbeat spots where kids can take cool classes or just run around a bit.
Dumbo Gymnastics
68 Jay Street near Water Street, Suite 509
Kids ages 1 to 14 can stretch, jump and tumble at this neighborhood spot, which offers gymnastics classes for all skill levels. For $5 per session, enrolled students can enjoy open gym hours on the equipment, which includes a high beam, a 20-foot trampoline and low beams. For non-students, the open gym drop-in rate is $20 per hour. Dumbo Gymnastics also has a fantastic Fun Night drop-off program for children ages 3 to 12. The four-hour package includes supervised open gym time, pizza and juice, and a movie for $35 for the first child, and $20 for additional kids. Annual registration fee also applies. Call for dates: 718-222-1012.

Brooklyn Bridge Fencing
68 Jay Street near Water Street, Suite 508
Located right next door to Dumbo Gymnastics, this fencing school was founded by Dan Kellner, who was a member of the 2004 Olympic team. He personally teaches all of the classes, and safety is a priority. In addition to group classes, there are also private lessons and open bouting sessions for children 6 and up. Rates vary depending on the package you choose, but all students need to pay membership fees, which is standard for fencing clubs.

Abundant Learning
68 Jay Street near Water Street, Suite 513
Kids (and adults) can take a variety of classes at this multidiscipline spot, including yoga courtesy of Karma Kids Yoga, chess and art. There's even an early education program.

Creatively Wild Art Studio
33 Washington Street near Water Street
Considering Dumbo's reputation as a funky artistic community, it's no surprise that it's home to this studio featuring multimedia art classes for children 2 and up, as well as adults. Founded and run by artist DM Wilding, Creatively Wild offers graffiti and found object classes, as well as more traditional drawing and painting programs.

Dough Re Me Kids Cooking Classes
Mom and Dumbo resident Romy Horn teaches right out of her own kitchen! Children ages 3 to 14 learn how to cook seasonal dishes with a focus on fresh produce. Students also learn good table manners, math and measuring skills, how to feel confident in the kitchen and all about the farm-to-table movement. Email romy@doughremekids.com for more information, including exact location.

Pomme
This venue is now closed.
Talk about one stop shopping: This stylish children's boutique also offers classes in its well-designed space, including French and Spanish lessons and playgroups for children ages 18 months to 8, and a New York Mandarin Club taught by native speakers. Pomme also hosts cooking classes and a Music Together program.

White Wave
25 Jay Street at John Street, Suite 100
Home to the lauded Young Soon Kim Dance Company, this studio also offers a variety of children's dance classes for toddlers through tweens. If your kids like to move, they can chose from ballet, hip-hop, modern and even an aerial dance class, where they learn to hang, spin and fly gracefully through the air on silks. Kids can sign up for a semester, or drop in for $25 per session.

Music for Aardvarks and Other Mammals with AudraRox
Baco Dumbo Event Gallery, 71 Water Street near Main Street
The kiddie rock songstress teaches interactive music classes for tots. The catchy, city-centric tunes expose young children to a variety of genres like rock, jazz and pop, and students get to play instruments, dance and sing along.

Jon Carlin & the Kids Music Underground
PS Bookshop, 76 Front Street at Cadman Plaza East
Another kindie rock scenester runs Parents & Me music classes out of the awesome P.S. Bookshop. Young kids sing, dance, bang on instruments and run around in these 45-minute sessions. Carlin's often brings along some of his puppet friends, too.

Jam on Dumbo
Superfine, 126 Front Street near Pearl Street
OK, so this is a concert series, not a class. Still, if your kids want to dance until they drop, Jam on Dumbo's concerts are a good place to do that! Although its summer shows take place outdoors, during the winter the org takes the party inside to this swanky Dumbo restaurant. Families can rock out to kid-friendly groups like the Rockdoves and Still Saffire, and also enjoy face painting, balloons and a special kids' menu.

Read all of our posts about Dumbo.