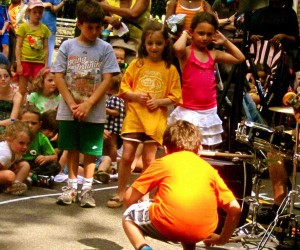 Free Dumbo Arts Festival: Children's Museum of the Arts Debuts Cool Hands-on Activities for NYC Kids
Sadly, the Dumbo Arts Fest was discontinued in 2014 after 18 years. Brooklyn's Dumbo neighborhood is full of funky, family-friendly art experiences all year-round. But every September, the area's creative spirit explodes onto the streets as part of the three-day Dumbo Arts Festival. Although this free fest isn't specifically aimed at families, most of it is kid-friendly, and over the past few years the organizers have added a bunch of hands-on activities for children to the lineup, making it even more enticing.

This year, the fest takes place Friday, September 28 to Sunday, September 30 (yes, the same weekend as the equally awesome World Maker Faire. Terrible timing!) and there are a lot of new attractions for families. We're particularly excited to check out the brand-new Art Village, a section of interactive projects being curated by the Children's Museum of the Arts. We've got the scoop on this new attraction and all of the other cool things to do with kids at this year's Dumbo Arts Festival.
The Dumbo Arts Festival features more than 500 local and international artists, plus lots of free interactive activities throughout the waterfront neighborhood.

The fest is so packed with things to do, see and experience, you may want to plan out your visit in advance, especially since some activities don't take place every day. The official website lets you find art by category (don't bother searching by keyword, it doesn't work well) or browse the schedule by date. You can also see a map of all the art spots, print out a full fest guide to bring with you or download a free iPhone app. You should still leave time to just wander. Art is literally everywhere you look: on street corners, in parks, under and on bridges, and in galleries, storefronts, performance venues and studios.

We went through the lineup and picked out the best bets for families.

Children's Museum of the Arts Presents the Art Village
Tobacco Warehouse, 26 New Dock Street near Water Street
Saturday, September 29 and Sunday, September 30 noon-5pm
FREE
One of our favorite anytime art spots, CMA, is running the Art Village, which will definitely be the hot spot for families. There are going to be a ton of activities here, but the ones that sound the most promising are:
Cityscape Animation – Collaborate on a waterfront-themed stop-motion animated film. We tried this activity a few months back at CMA and were really impressed with the results.
Sewing Sea Monsters – Craft kooky aquatic creatures. Younger children can fashion finger puppets.
Bike Decorating Station – Dumbo's Brooklyn Bridge Park is a great place for cycling. Bring your bikes to give them a makeover with beads, tissue paper, colorful string, bells and recycled material, and then enjoy a family ride.
Skyline String Installation – Add a building to this collaborative project inspired by our city's skyline.
Theater by the Sea – Kids can create their own shows on this small play stage. There are seats so parents can watch and relax, too.
Cardboard Bridge Installation & Carousel Mobiles – Help build a cardboard replica of the Brooklyn Bridge, and then make a stick-puppet horse, carriage or other Jane's Carousel-inspired figure to take home.
Check-Out Art Kits – If your kids prefer less structured activities, they can borrow an art kit, which includes paper, colored pencils, watercolors and charcoal, and go off and create their own masterpieces.
CMA will also offer other projects similar to what you usually find at the museum itself, like clay modeling, communal murals and collages, etc. Check the website for a comprehensive list.
Author Reading of A Trip to the Bottom of the World with Mouse
The powerHouse Arena, 37 Main Street near Water Street
Sunday, September 30 at 4pm
FREE
Head to one of our favorite independent bookshops for families to hear author Frank Viva read his charming tale about a young explorer and his rodent pal who set sail on an adventure. The book is based on Viva's real-life experience on a Russian research ship!

Of course you don't have to stick to the kid-specific activities. Many of the "adult" offerings at the Dumbo Arts Festival will engage kids, especially if they're into offbeat stuff. A quick glance at the schedule reveals lots of cool options. Families can try origami; lounge and play on huge beanbag-like sculptures; groove to the indie folk group Wyatt, trace paths of glowing dots on the wall; get transformed into superheroes and so much more. Make sure you leave time to pop into the neighborhood's many galleries and open studios. Plus there are lots of attractions in Brooklyn Bridge Park, including awesome playgrounds, public art and the stunning Jane's Carousel.

The Dumbo Arts Festival takes place Friday, September 28 6-9pm, Saturday, September 29 noon-9pm and Sunday, September 30 noon-6pm.


Read about other awesome things to do in Dumbo or more exceptional fall activities.