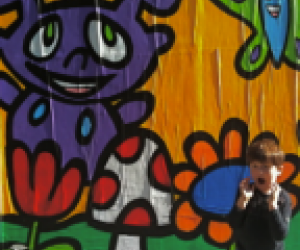 New York City Kids Weekend Events December 11-13: Cheap Babysitting, Caroling, Hanukkah & Christmas Parties, Santa Rescue, More
It's beginning to look a lot like Christmas--and Hanukkah and Kwanzaa--here in NYC and there's tons of stuff to do this weekend. But before we get into the events here are some last minute news bits:
Tonight, (Friday) you can get pay-what-you-wish babysitting at Kids for a Cause. Kids for a Cause hosts monthly date night drop-off evening childcare events run by NYU and Columbia University students to raise money for Baby's First Home, a charity that helps provide shelter for NYC homeless teen mothers. See our original post about Kids for A Cause for more information about this great organization.
Also, we're wrapping up our week of giveaways. Tonight is your last chance to to win tickets to Sesame Street Live, The Flaming Idiots and Dear Edwina and we're posting a Wintuk giveaway later today. So watch out for it.
Now on to caroling, a Swedish Christmas, a Santa rescue, an 80s style boom-box un-silent night celebration (talk about only in NYC), Menorah-making, a sweet way to watch Sunday's meteor shower and much more.
Friday, December 11

Caroling at the Morgan
--
Midtown East, Manhattan
Hear traditional and popular holiday music performed throughout the Morgan Library & Museum by singers from Mannes College. Tickets are not required. FREE
See more sweet caroling activities
Saturday, December 12
Unsilent Night
--
Union Square, Manhattan
This Saturday, 25 cities around the world will celebrate Unsilent Night. In New York, Phil Kline will lead a massive chorus of boomboxes from the West to East Village, which he calls a "sound sculpture." Bring your own boombox, cassettes, cds, and music and join in on this very only-in-NY holiday parade (or just watch--either way, it will be awesome). FREE
Like these unique events? See more offbeat holiday activities here
Three Bears Holiday Bash
--UWS, Manhattan
The Swedish Cottage Marionette Theater has a new show in town--and it's an old school variety show that celebrates the holiday season with song, dance and puppetry. The production is a comedy of errors--Baby Bear invites Santa to star in Mama and Papa Bear's annual holiday show. The shows takes from stories from Christmas, Hanukkah and Kwanzaa, and is sure to be cultural and entertaining experience. $5/kids, $8/adults
A Swedish Children's Christmas Workshop-
-
Midtown East, Manhattan
Learn how Swedes prepare for CHristmas in this customary
julpysseldag
(Christmas craft day). Kids make their own decorations, and learn how to make traditional woven hearts, yarn
tomtar
and paper angels. $6
The Christmas Revels
--
UWS, Manhattan
Like the event above, this event is a unique take on celebrating Christmas. Set aboard a ship of Irish immigrants on route to America, experience the music and step-dancing, and tales in the tradition of Celtic Bards. $15/kids, $25/adults
Sunday, December 13
Annual Santa Rescue
--SoHo, Manhattan
Oh no! Santa is perched atop of the New York CIty FIre Museum and can't get down! Luckily a ladder truck is nearby to get him to safety. Once all is calm Santa takes gift requests and poses for photos. Hot dogs and hot chocolate will be available for purchase, too. And Carols from the John Clacher band will complete the setting. $5/adults, $1/kids
For more fun with Santa, check out these other places to get a glimpse of the Man in Red
Menorah-Making
--
UES, Manhattan
This isn't your everyday Menorah making--these are edible! Bring your holiday spirit and appetite to this holiday event. You can drop by anytime between noon and 2:30pm and advance registration is not required. FREE
See more Hanukkah events here
Geminids Meteor Shower
-
-
Fort Totten Park, Queens
Some consider this meteor shower to be the best of the year, since it produces up to 60 multicolored meteors per hour. The weather Sunday could be questionable so call ahead to make sure this is still going on. FREE
Holiday Candlelight Tree Lighting & Caroling Celebration
--
UES, Manhattan
Everything you need for a perfect holiday celebration is provided--cookies, candy canes, candlelight, hot chocolate and even song books. The 50-voice Young People's Chorus of NYC, along with the Orbital Brass Quintet, will lead this musical celebration. FREE
See more tree lightings and activities here

More Events
--At the Brooklyn Lyceum this weekend, A Charlie Brown Christmas comes to life during their super-popular holiday show, complete with jazz trio ($10/ticket; Sat & Sun 2pm and 7pm).

--Another great event happening in Brooklyn is the Sesame Street tribute going on all weekend at BAM. Events include screenings of rarely seen footage, Emmy-award winning episodes, holiday specials and a ton more.

--Everyone's favorite family-friendly Grammy winners, They Might Be Giants, are playing two shows at the NY Hall of Science on Sunday.

Even More Ideas
--If you're planning to visit the Tim Burton exhibit this weekend, check out our family visitor's guide to this great exhibit at the MoMA.

--There's still time to see a special Nutcracker performance--at Lincoln Center or otherwise. Our Nutcracker post has 10 kid-friendly options.

--Still doing holiday shopping? See our guide
2009 guide to Holiday Markets
and our
Holiday Craft Fair Markets guide
.
--Don't miss out on any of the cool events going down this weekend, by visiting our
calendar
and seeing what's happening in
New Jersey
and
Long Island
.
Did you know you can get this round-up in your inbox every week? Sign up for our free newsletters.
Photo Op(above): We found this colorful wall on the Lower East Side and the kids had fun posing in front of it.