Holiday Craft Fairs in New York City 2012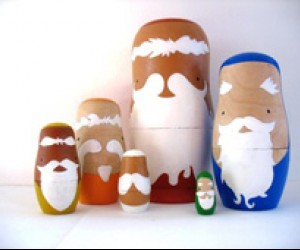 [UPDATED: NOVEMBER 12, 2012]
We're big fans of shopping local, which is why we gave our Holiday Gift Guide a local focus. Shopping at New York City's wonderful holiday craft fairs and bazaars is a great way to find one-of-a-kind gifts for everyone on your list while supporting resident artisans. You can pick up all kinds of treasures like handmade jewelry, accessories, toys, clothing and other original goods created by craftspeople. Read on for our round-up of six spectacular holiday craft fairs in NYC this season. Several of the events even offer entertainment for the kids so you can shop without the little ones tugging at your sleeve.
BUST Holiday Craftacular & Food Fair – SoHo
82 Mercer Street between Broome and Spring Streets
Saturday, December 1, 11am-8pm and Sunday, December 2, 11am-7pm
More than 200 cool crafters and food artisans will participate in BUST magazine's annual holiday extravaganza. If you love funky handmade items, this is the place to go! The only downside: It costs three bucks to get in, so arrive early and get your money's worth by snagging one of the 300 free jam-packed goodie bags given out each day.
P.S. 321 Holiday Shop – Park Slope
P.S. 321, 180 Seventh Avenue between 1st and 2nd Streets
Saturday, December 8, 10am-5pm
This one-day pop-up shop spotlights amazing local artisans selling jewelry, knits, kids' clothes, pottery, toys, art, soap and more. It's a very family-friendly event, with stroller parking, snacks for sale, face painting and other kids' art and craft activities.
South Slope Holiday Craft Fair – Park Slope
P.S. 10, 511 Seventh Avenue between Prospect Avenue and 17th Street
Saturday, December 15, 11am-5pm
Check out the wares of a bunch of cool Brooklyn artists, artisans and craftspeople, including unique jewelry, apparel and more. The fair also features tasty snacks from local restaurants. And don't miss activities just for the kids, such as live music, face painting and art workshops with Brooklyn Craft Workshop. Proceeds from the fair benefit P.S. 10, located in the heart of South Slope.
3rd Ward Handmade Holiday Craft Fair – Williamsburg
195 Morgan Avenue between Meadow and Stagg Streets
Saturday, December 15, noon-6pm
The sixth annual edition of this community fair features jewelry, bags, housewares, paper goods, toys, clothing, winter essentials, culinary treats and more. There will also be live music and "cheap seasonal cocktails." Just don't let the kids accidentally take a sip of your spiked eggnog!

We're still waiting to hear details about the following events. We'll update this post once we receive new information.
NY Creates Holiday Crafts Fair – Brooklyn Heights
Brooklyn Historical Society, 128 Pierrepont Street near Clinton Street
Dates to be determined
Find high-quality handcrafted ceramics, jewelry, apparel, plush toys, organic cosmetics, glass works, photo art and home goods, all made locally and reasonably priced.
Yelp's Giftacular Holiday Market – SoHo
82 Mercer Street between Broome and Spring Streets
Dates to be determined
Yup, Yelp is getting into the local crafts game. This handpicked holiday market features more than 80 retailers, local designers and crafty folk selling swanky wares. There will also be some free treats, like hot cocoa, coffee and cider, a live DJ, photo booths and Wii stations.
Find other great gift spots in our NYC Shopping Local Gift Guide and lots of other seasonal fun in our Holiday Guide.