Join Christmas Carolers for Holiday Songs and Cheer in NYC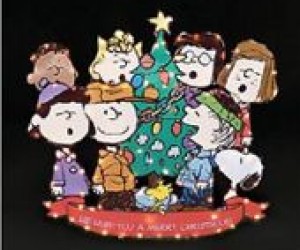 11/1/14
- By
charlotte
You don't have to be Christian to love Christmas carols. Crooning these classic songs on a brisk evening amongst neighbors, pals or friendly strangers is a wonderful way to celebrate the holiday season.

Carolers of all levels mingle at these events—wannabe Broadway stars and shyer singers blend together to serenade the city with a message of peace and joy. While caroling is often thought of as a rural or British tradition, there are actually many Christmas caroling events right here in New York City, and everyone is welcome to chime in.

Here are a dozen gatherings where you can literally sing in the holidays. Also consider attending a Christmas tree lighting. Many illuminations end with impromptu caroling.
Click through to our listings for all the details, including address, time and recommended ages.

Brooklyn Heights Promenade – Brooklyn Heights
Friday, December 5
FREE
Grace Chorale of Brooklyn will lead the carols at the Promenade along Montague Street, and the whole neighborhood is getting into the spirit with store specials and complimentary gift wrapping all evening long.

Carl Schurz Park Holiday Tree Lighting – Upper East Side
Sunday, December 7
FREE
Neighbors of the beloved park come together to sing Christmas carols with the Cantori choir and Orbital Brass; enjoy candy canes and hot chocolate; and watch the tree light up.

Washington Square Tree Lighting and Christmas Eve Caroling – West Village
Wednesday, December 10 and Wednesday, December 24
FREE
You have two chances to sing under the glorious arch in Washington Square Park. Head to the Christmas tree lighting on December 10 to join the Rob Susman Brass Quartet for sing-along carols and holiday songs (complimentary song books will be provided). Return on Christmas Eve for more old-school wassailing with Susman, when a motley crew of students, locals and families dispenses a dose of holiday cheer.

Unsilent Night – West Village
Saturday, December 13
FREE
A musical mob meets at the Arch at Washington Square Park and parades to Tompkins Square Park carrying boomboxes to create a "sound sculpture." It's a really cool alternative to traditional Christmas caroling. Download the music online, download the free app or show up early to snag a free CD or cassette tape (assuming you still have one of those players). All participants should arrive at least 15 minutes before the kickoff.

Caroling on the Steps – Midtown East
Monday, December 15
FREE
Join the congregants on the steps of St. Bart's Church for a joyful Christmas sing-a-long followed by cookies and hot cider.

Santa's Corner – Midtown
Friday, December 19-Wednesday, December 24
FREE
Santa holds court daily and leads children on a parade through the Winter Village at Bryant Park with caroling all along the way. Afterward, stick around to nab a free photo with the big red guy in Santa's Corner.

The West Village Chorale's Greenwich Village Caroling Walk – West Village
Saturday, December 20
FREE
A group of about 150 adults and children gathers at Judson Memorial Church then wends its way through the West Village's historic, lamp-lit streets singing Christmas favorites like "Frosty the Snowman" and "Silent Night." If any of your family members are tone-deaf, don't worry: Chorale members will be there to set the pitch—and drown out the offenders, if necessary. The Dickensian stroll concludes back at the church, where refreshments will be served.

Jackson Heights Winter Holiday Sing-Along – Jackson Heights
Saturday, December 20
FREE
For the sixth year in a row, locals will gather in front of Cassidy's Ale House and sing carols by candlelight (or flashlight) throughout the neighborhood. In addition to classic Christmas tunes, revelers will croon holiday songs that represent various faiths, languages and cultures, a lovely reflection of the area's diversity. Acoustic instruments and Santa hats are encouraged.

The Festival of Lessons & Carols – Midtown East
Saturday, December 20
FREE
Get into the spirit by singing Christmas carols on the steps of the main altar of St. Patrick's Cathedral. Song books will be provided. Participants are asked to dress conservatively. RSVP required: email info@cspya.org.

Caroling with Torly Kid – Tribeca
Sunday, December 21
FREE
The popular kids' boutique is keeping its annual caroling tradition alive and invites participating families to meet at the Torly Kid storefront. The procession kicks off at 5pm and hits lots of local tot spots. Afterward, there will be refreshments at the shop. Please RSVP to participate.

Candlelight Caroling: Christmas Eve – East Village
Wednesday, December 24
FREE
All are welcome to meet at the Peter Stuyvesant statue in the West Stuyvesant Square Park and join the Christmas Eve caroling festivities. Hot refreshments will be provided by the Gramercy Cafe.

Christmas Eve Caroling in Gramercy Park – Gramercy
Wednesday, December 24
FREE
The famous gated park traditionally opens its doors to the public on Christmas Eve for caroling under its tree, providing a great way to explore this beautiful green space, which is normally reserved only for area residents. Though the event is never listed in advance on its website, it's taken place as long as we can remember, and usually starts around 5pm.
Just want to listen to the pros caroling? You can catch the wonderful Mistletones at the South Street Seaport and singers from the Mannes College the New School for Music at the Morgan Library throughout the season.