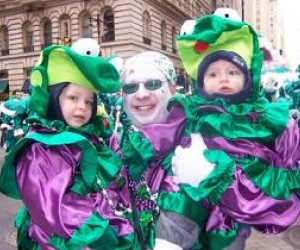 Day Trips Near NYC: 10 Holiday Break Destinations for Families
While there are plenty of things to do in New York City over holiday break, school recess is a great time for families to explore the world beyond the five boroughs.

Over the years, our readers have shared their favorite family-friendly day trips. Now we've got 10 more mini-itineraries to add to the list. These getaways are all within two hours of NYC, and many are even accessible without a car. Best of all, some of them have special activities and attractions in honor of the holiday season.
1. New Haven, Connecticut
The home of Yale University is an easy jaunt from NYC, approximately 100 minutes on Metro-North's New Haven line. The city also has many wonderful art spots, like the Knights of Columbus Museum. Over the holidays, you can check out its annual exhibit of crèches. This year's edition spotlights Nativity scenes from Africa, but there are also more traditional Western-style crèches with figurines of shepherds, angels and kings.

Afterward, head to the family-friendly Yale University Art Gallery, which has a wonderful education department that includes a slew of hands-on activities for kids. The permanent collection spans from ancient to modern, and there is no admission fee.

Grab a story and a snack before you head home at Atticus Bookstore, an independently owned shop with a large kids' section and a cute cafe. Or if you're hankering for a full meal, hit one of New Haven's famous brick-oven pizzerias, Sally's Apizza, Frank Pepe or Modern Apizza, for thin-crust slices.
2. Princeton, New Jersey
About an hour from Penn Station via New Jersey Transit, this is another Ivy League town featuring fun for families. Princeton University Art Museum's large collection spans a wide range of time periods. My family loves the colorful Roman mosaic pavements located on the lower level. Other highlights include Monet's water lilies and a wealth of pop art by the likes of Andy Warhol and Roy Lichtenstein. Admission is free, although donations are welcome.

Princeton also has a number of quaint, independently owned shops, like Princeton Record Exchange. My teens can spend hours here, as they find vinyl LPs enticingly retro. We also enjoy browsing the bargain-priced titles at Labyrinth Books, which has well-stocked children's and young adult sections.

Before heading home, grab a treat at The Bent Spoon, a fabulous ice-cream shop that sells fresh gelato, sorbet and other frozen delights. There's usually a long line here, even during blizzards, but it's worth the wait.
3. Philadelphia's Mummers Parade, Pennsylvania
Earlier this year, I wrote a post about all of the wonderful things you can do in the City of Brotherly Love year-round. But Philly's iconic Mummers Parade only happens once a year on New Year's Day. The procession features 10,000 revelers (all members of the social clubs that comprise the Mummers) dressed in colorful and lavish costumes who twirl, sashay, pirouette and strut through the streets. The parade and subsequent performances are all wild but family-friendly, and visitors come from around the globe to experience it. No wonder, just look at that cute photo above. The parade begins at 10am in South Philadelphia on Washington and Broad Streets and travels to City Hall. Arrive early to snag a spot or you can try purchasing bleacher seats. Philadelphia is just two hours from NYC via Amtrak, Megabus or BoltBus.
4. Bear Mountain State Park, New York
This beautiful upstate green space is just an hour from Midtown Manhattan by car, and offers all kinds of fun like an outdoor ice-skating rink, an indoor merry-go-round and the Trailside Museums & Zoo, where you can meet cute bears, beavers and other animals native to New York State. If it's really cold, you can watch folks ice-fishing on Hessian Lake. Since there are limited food options in the park, my family usually packs a winter picnic.
5. New Hope & Ivyland Railroad's North Pole Express, Pennsylvania
A few weeks ago, we told you about a pair of New Jersey train rides with Santa. But there's also one down in New Hope, PA, which is located just across a charming footbridge from Lambertville, NJ, about two hours from NYC. Families can hop on the North Pole Express, a vintage steam train that also happens to be carrying Santa and Mrs. Claus. Kris Kringle gives each kid a small gift while singers croon Christmas carols, and everyone enjoys hot cocoa and treats. The ride lasts for about 90 minutes, and runs through New Year's Day. Best of all: The ticket prices go down after December 25. Schedule and fees vary. Visit the website for all the info.
6. Silver Ball Museum Arcade in Asbury Park, New Jersey
My family loves this retro play spot so much, I wrote a whole post about it earlier this year. Yes, the boardwalk is brisk in winter, but it's warm inside Silver Ball with all those pinball machines clanking. It's the place to introduce your Wii- and Xbox-addicted kids to the magic of metal balls and flippers. Plus, there are all kinds of winter admission deals, so check the website for specials. It's about a one-hour drive from Midtown Manhattan.
7. The Neuberger Museum of Art in Purchase, New York
The Neuberger has a casual atmosphere, is rarely crowded and boasts paintings by Georgia O'Keeffe, Edward Hopper and Jackson Pollock, and Alexander Calder's whimsical The Red Ear mobile. If the kids get stir crazy, the SUNY Purchase campus is great for running around. For lunch, head to The Atrium at the Doral Arrowwood hotel down the road. Its elaborate dessert displays should wow the kids. Saturday night is its weekly Dinner Dance, with a live band that will inspire the whole family to hit the dance floor, grooving to old-time songs like "Tie a Yellow Ribbon Round the Ole Oak Tree" and "Sweet Caroline." It feels like a wedding or bar mitzvah. Purchase is about a 40-minute drive from Midtown Manhattan.
8. Bruce Museum in Greenwich, Connecticut
The Bruce showcases art, science and anthropology. The permanent science exhibit includes a touchable meteorite, a wigwam, and a collection of minerals and fossils. Other attractions include a host of special events and workshops, and the Bruce Park Boundless Playground, which offers scenic views of the Long Island Sound. The play spot's Native American "camp," "Enchanted Forest" and climbing structures are designed for all children, including those with developmental, cognitive and sensory challenges. To get there, take the Metro-North New Haven line to Greenwich. The museum is about a three-minute walk away. Metro-North even offers a one-day getaway package to the Bruce, which includes discounted admission and rail fare.
9. The Maritime Aquarium in Norwalk, Connecticut
The holidays are an especially good time to visit this aquarium, which is about a one-hour drive from Midtown Manhattan. The annual Festival of Lighthouses Display is a big seasonal draw. Kids will love walking an illuminated trail flanked by 24 funky lighthouses, all between three- and six-feet tall. This year's edition includes lighthouses made from toilet paper rolls, cookies and gingerbread, and two Harry Potter entries. If you don't have a car, check out Metro-North's one-day getaway, which includes discounted admission and rail fare.
10. The Connecticut Science Center in Hartford, Connecticut
Opened just two years ago, this sparkling museum is still somewhat under the radar. You could spend days exploring its hands-on exhibits that encourage experimentation. Highlights include the Sports Lab, Exploring Space and a KidSpace for children under age 7. There is an awesome Animation exhibit on view over the break, where school-aged kids can find out how their favorite cartoon shows are made. Megabus can get you here in two hours.


Find out about other great day and weekend trips in our Family Travel Guide.