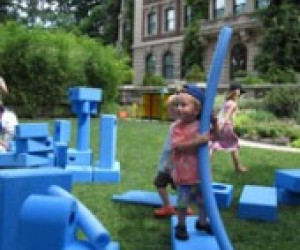 Fall Culture 2010: The Best Family Programs and Free Events at NYC Museums
If the kids are experiencing "museum burnout" from too many weekends dragging (or strollering) around one of NYC's famed museums, don't worry, you don't have to write off these trips just yet. Instead, plan your visits to take advantage of the many educator led programs our museums have to offer. These programs can provide a deeper understanding of the subject matter and an enriching experience for kids (and adults) or just help make the same old museum look new again. Last week we wrote about all the cool ancillary programs for families and kids at New York City's art museums and today we are bringing you the "rest" of them: science, nature, design and history. Read on to find out more:

Skyscraper Museum:
The museum that pays homage to urban architecture and the towering steel structures offers Saturday morning programming for families. Choose from thematic offerings for younger kids like make a skyscraper costume for Halloween and build your own skyscraper through drawing and blocks, or the popular archikids for 9 to 13 year olds where kids get to work with an architect to create their own take home skyscraper.


New York Hall of Science:
This hands-on learning center offers enriching after school science clubs for kids as young as kindergarten plus family programs for preschoolers. Girls may want to check the no-boys-allowed, three session, bilingual, family workshop just for them.

After School Science Clubs:
Depending on their grade level, junior scientists can spend three hours per week investigating fossils, scientific inventions, the natural world or testing the air quality in their neighborhood. Each session also includes home work help, snack time and appropriate museum exploration.

Family Science Adventures:
Together with their adults preschoolers can learn all about the science of music - vibrations, rhythms and how instruments work. They will get to create their own instruments and record their own music, too. When they are done they can visit the amazing preschool place exhibit.

SciGirls en Familia:
This fall, science loving girls and their families can learn together through hands on activities and museum exploration in three recurring Saturday or Sunday sessions. The workshops are presented in both English and Spanish.


The Center for Architecture Foundation:
The hands on gallery space of The Center for Architecture offers semester long after school programs in architecture and design for elementary through middle school students. There are also regularly scheduled family days for younger kids with hands on activities relating to a particular theme.

After School:
Third through fifth graders can explore architecture and design through hands on building and drawing along with discussion that will lead to an understanding of the important elements of design and architecture in everyday objects. Middle Schoolers can register for a computer design class using Google SketchUp and learn how to use 3D digital design to create all the elements of their own structure.


American Museum of Natural History:
The granddaddy of all science museums (and my sons favorite) offers some affordable after school workshops for grade school aged kids, after school science classes for high schoolers. They also offer some tremendously popular Science and Nature programs for preschoolers and after school programs for kids (you need to jump on those months in advance – they are all full now.)

Adventures in Science:
Four multi session workshop programs for kids as young as preschool with cool subjects like astronomy (that uses both classroom and planetarium activities) the Polar Regions and space.

The Discovery Room:
A fantastic hands on education center for families replicating most of the museum in an easy and fun way for children with regularly scheduled story time. Older kids can go upstairs to the earthquake lab.


Cooper-Hewitt National Design Museum:
The only museum in the country on the subject of design is an inspiring place for creative kids and adults. Through the generosity of Target the museum offers wonderful programming for families.

Through the end of October little kids can drop in to the Target Design Kids: Imagination Playground for some free play time with the opened ended loose components of this breakthrough play space.

Families can create with real designers on the 2nd and 4th Saturdays of the month during the thematic Target Design Kids Workshops.


The New York Transit Museum:
The underground museum in Brooklyn Heights is a real hit with kids. Mock busses and vintage train cars to climb aboard and explore are all on display in an old subway station.

Most weekends at 1:30 school aged kids are treated to something extra during their visit. Offerings include: story times, games, engineering activities and arts and crafts, all relating to the many elements of the MTA.

Transit Tots:
Train and bus fans five years and under can join in on Friday's special story time with hands on activities and arts and crafts.




Seaport Museum:
Toddlers between eighteen months and three years old can join MiniMates the regularly scheduled weekly playgroup in the museum. Enjoy seafaring stories, arts and crafts, music and free play for the kids.
Recent Posts on NYC Museums:
Toys of Yesteryear, Batteries Not Included
Wizard of Oz Lands at Children's Museum of Manhattan
And check out our Culture Guide.