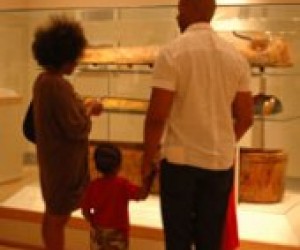 Things to Do in The Art Museums of New York City: Special family programming, story times, free events and more
[UPDATED: September 8, 2012]
Visiting one of New York City's famous museums is always an enriching experience for families, but it's even more engaging if you go when there's special programming for kids. NYC's art institutions are bursting at the seams with great extras for every age, including classes, art workshops, film screenings, storytime, concerts and more.

We've rounded up some of our favorite ongoing programs for kids at NYC's museums. There is so much going on, let's just get right to it!
This fantastic creative space for kids offers a huge variety of programming during open hours. To make the most of your visit, check the online calendar to see if there are any special arts programs you need to register for in advance. Other programs include:
Wee-Arts is an awesome program for kids under age 5. Kids move through various art stations, clay, chalk, paint and other open-ended creative projects, and also enjoy storytelling and music time. I was upset when my son outgrew this program! It's available both as a drop-in or registration program.
The after-school programs for older children (ages 5-12) are equally impressive, and of course, they sell out fast. Kids work with teaching artists in a variety of media. Lots of different hands-on classes are offered including Animation, Drawing and Painting, Sculpture, and Puppets and Robots.
For teenagers, the @5 program (ages 13-15) offers in-depth courses, such as advanced filmmaking and portfolio building.
There is a variety of programming for nearly every age from toddlers to teens at MoMA. Many of the advance registration programs sell out quickly, but there are plenty of weekend drop-in programs when you can snag tickets on the day of the event.
Tours for Fours is a nice way to engage your children in art. The gallery tours are specifically designed for four-year-olds with movement, drawing and discussion.
A Closer Look for Kids, museum educators lead families with children ages 5 to 10 on a themed exploration of the art through discussion and activities.
Tours for Tweens offers more of the same, but for children ages 11 to 14.
Family Film Programs. One Saturday a month, MoMA screens short films for children of varying ages. Afterward, museum educators lead families in a short discussion and then kids are free to visit the galleries.
Family Programs - Families will tour and engage in activities (music, drawing, painting and collage) that will provide a deeper connection to the kid friendly exhibits.
The home for contemporary American Art has fantastic programming for children and families. The educators here really know how to explain and engage kids to get them talking about art.
Whitney Wees- One hour private tours on select Saturdays for families with kids aged 4 to 5 that include hands on activities like drawing and pattern making. The program is designed for the entire family, not just for kids, and provides parents with tools for discussing art with children.

Family Fun Art Workshop- For children aged 6 to 10 years old and their families. The two hour program includes discussion, exploration and creation of art. Select Saturdays and Sundays.

Art School- Budding artists aged 8 to 12 years old can work in the art studio and focus on their artwork while developing new skills. Two hours on select Saturdays.

Stroller Tours- Teaching Fellows lead adults with strollers in tow on a private tour before the museum opens on select Fridays. Check website for cost.
Nearly every day there is some special programming for kids and families at the museum.
Start with Art at the Met – for families with kids aged 3 to 7, explore art through sketching, stories and gallery walks.

Storytime in the Nolen Library- for families with kids 18 months to 7 years old. All are welcome to listen to stories related to the museum's collection in the library. Then kids 3 to 7 will head to the galleries on a treasure hunt. Regularly scheduled at different times throughout the week.

Art Trek- On select Saturdays and Sundays use the museum as a guide to let kids aged 5 through 12 travel to exotic locales through art. Once a month, check out Art Trek Plus which usually includes a live performance or some other goodie.

How Did They Do That- On a monthly basis museum visitors get to check out tools and materials and learn how various art forms were produced.

Teenagers may want to check out their more serious art class offerings where they can create work to add to their portfolio, sketch, and discuss their art as well the art at the museum for free. Registration required.

Up north in The Cloisters, kids aged 4 to 12 can partake in hour-long workshops at the museum and gardens on various aspects of medieval life on select Saturdays and Sundays.
Kid's love spiraling around this fantastic museum, so anytime is a good time to visit. If you aren't visiting during a special family tour make sure to pick up a Family Activity Pack with pencils and paper and other items to make the museum more enriching for your little one.
Second Sundays – Special family gallery tours that will bring the art to life in a new way for your kids, through conversation (designed to engage children 5 to 10 years old) and hands-on gallery activities.

Tour/Workshops – The museum also offers special tours for families with children ages 5 to 12 that have an added component: families get to create their own art in the studio art lab.

The museum also offers after school art classes for the creative 8 to 11 year olds. After exploring the collections they can work in paint, printmaking, collage and photography for their own collection which will be part of a mini exhibit at the end of the 8 week session. Tweens can take more serious portfolio building classes after school.
Arty Facts- the popular program is back for the season starting in October. On Sundays, families with kids aged 4 to 7 can drop in to work on family art projects and explore the museums galleries. Themes change monthly. Note: they request that you do not bring siblings younger or older than the given age range.

The museum also offers 10 week Saturday and Sunday art classes for kids, tweens, teens and even adults. Depending on your artists age they can sign up for drawing, painting, sculpture and even comic book art.
For a museum that isn't specifically tailored to children, this museum is over the top with activities, concerts and programming just for families.
Drop in Art Workshops-Every Sunday afternoon, kids aged 3 years old and up can paint, sculpt and draw (along with their adult) to their hearts content. Sometimes special projects are on offer, too. They also have Sunday Art Discoveries now for ages 4 to 5, the morning of every third Sunday of certain months, focusing on new themes.

Gallery Tour/Art Workshops- Register in advance for these special two hour workshops, usually held on select Sundays, that include a thematic gallery tour along with the opportunity to create works of art based on the tour.

Family Day – Occasionally through the year, the museum hosts special days for the family to investigate a special exhibit. These fun events also include performances and live music, art projects and more.

Family Concert Series – every band your kid has ever heard of plays a concert here, so check out their schedule.
Read about other great programs for families in our Museum Guide.