Chelsea Shopping for NYC Kids: Toy Stores, Children's Boutiques and Bookshops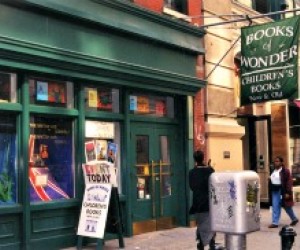 [UPDATED: December 1, 2012]
For our final post about visiting Chelsea with kids, we're taking a look at family shopping in the area. While there are a lot of popular chain stores on Sixth and Seventh Avenues like T.J. Maxx, Marshalls and infant emporium Buy Buy Baby, you'll find homey children's toy and clothing boutiques on the side streets filled with eclectic wears and playthings, and in one case a perpetually busy train table. Chelsea is also home to one of New York City's best bookstores for kids, Books of Wonder, which hosts free storytimes and author readings every single week. Here are our top stores for families in Chelsea, NYC.
Kidding Around
60 West 15th Street near Sixth Avenue
No Barbies here. This carefully curated ma and pa toy shop is well stocked with cloth dolls, colorful puzzles, board games, craft kits, quirky puppets, dress-up clothes, cars, trucks and planes, and the ever-popular Haba wooden block sets. The customer service also seems like a throwback to another time, with personable and knowledgeable staff that can recommend gifts for any age or occasion. The biggest attraction for kids (beyond the hope of a new acquisition)? The interactive train table, where they can play while you shop—inevitably for some other child's birthday.

Books of Wonder
18 West 18th Street between Fifth and Sixth Avenues
NYC's best known children's bookstore is sure to inspire a lifetime of reading. This kid-lit Mecca has an incredible selection of classic and contemporary books arranged by age and genre. There are even titles for hard-to-please tweens and teens. And unlike Barnes & Noble, you can also find foreign language and out-of-print tomes, even reference books for children like dictionaries and atlases. Added attractions include an entire bookcase filled with the many books of Oz, an exhibition area with original kid-lit illustrations and the store's frequent free events, including weekly storytimes on Fridays at 4pm and Sundays at noon, and high-profile author readings every weekend.

My Little Sunshine
177 Ninth Avenue at 21st Street
Opened in 2010, this cozy children's boutique is jam-packed with high-end wears by the likes of Splendid, Oeuf, and Imps&Elfs. There are also cute accessories and brand-name toys, all of the analog variety, like plush animals, craft kits and scooters. Haircuts are also offered on select days, and kids get to sit in a cool red airplane while they get their locks chopped.

L.O.L. Kids
22 West 21st Street between Fifth and Sixth Avenues
If Fancy Nancy stepped into this boutique, she'd never leave. L.O.L. exclusively carries European luxury brands for children up to age 16, so expect lots of pink, lace and fabulousness. A great spot to pick up a very special outfit for a very special occasion when budget isn't an issue, which is why I end up just window-shopping here most of the time.

Abracadabra Superstore
19 West 21st Street between Fifth and Sixth Avenues
Right across the street you'll find this costume and novelty emporium. Whatever your kids want to be, they can find everything they need to realize their dreams here, from the outfit to the accessories, makeup to props. The warehouse-like shop is so huge, you can easily spend an hour or two gawking. Its selection of novelty items is particularly impressive (and at times, obscene). Little kids will definitely get a kick out of things like the fake poop pretzel and rubber worms. Do not visit during the weeks leading up to Halloween or the Mermaid Parade unless you enjoy waiting on very long lines.

Schneider's
41 West 25th Street between Sixth Avenue and Broadway
This children's furniture store has been around since 1950. It's where I bought my daughter's first big-kid bed: a mini loft with shelves and drawers underneath. Those kinds of fancy but functional units are a lot of what you'll find at this two-story shop, along with cribs, car seats, kid-size tables and chairs (we bought a set of those, too), highchairs, playpens and rocking chairs. The staff is no nonsense and knowledgeable, and you'll appreciate their expertise when it comes to making a major purchase.

192 Books
192 Tenth Avenue between 21st and 22nd Streets
Located steps from Chelsea's popular Seal Park, this general bookstore has a notable children's section. There's always a nice display of new and classic kids' titles in the large windows, encouraging families to come in and browse. Don't get too comfy though: It's not a place where you're encouraged to linger. Better to grab a tome or two and move on.

Posman Books
Chelsea Market, 75 Ninth Avenue between 15th and 16th Streets
And yet another bookstore, this one located in family-friendly Chelsea Market. Like 192, Posman isn't aimed at kids, but a 2011 renovation allowed the shop to expand its children's section. If you're exploring the market, it's worth a stop: Just grab a book and relax on the beanbags on the floor.

West 25th Street Flea Market
25th Street between Broadway and Sixth Avenue
Before I had my daughter, I visited this flea on a regular basis to pick up (usually unnecessary) tchotchkes. Now my daughter loves browsing with me. Old buttons, vintage rhinestone jewelry (often missing stones), old '80s fashion and hat boxes are just a few of the fun things we've picked up here. Sadly, the fabulous Antiques Garage flea up the block, closed in 2014.

A post about shopping in Chelsea wouldn't be complete without mentioning at least a few of the big chain stores that have locations in the neighborhood. If you're pregnant or recently had a child, Buy Buy Baby on Seventh Avenue has toys, gear, cribs, rocking chairs, bedding, monitors, clothing, in short, everything you'd ever want to put on your registry. For families with older children, Marshalls and T.J.Maxx in the same building on Sixth Avenue sell discounted brand-name kids' and adult clothing. T.J.Maxx also has a great selection of inexpensive children's toys, in case you're looking to pick something up on the cheap.

See all of our posts about things to do with kids in Chelsea.