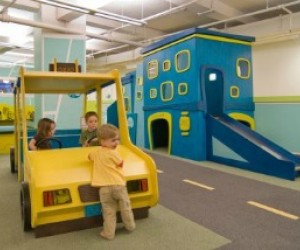 Indoor Play in Chelsea NYC: Play Spaces and Kids' Classes
We continue our month-long focus on Chelsea with a look at the neighborhood's best places to play indoors and take kids' classes.

Although Chelsea is filled with wonderful parks and playground like the elevated High Line and community hub Seal Park, it's also home to large number of indoor romping spots. From drop-in play spaces to members-only kid gyms, the Rubin Museum of Art's Education Center to theater, art and cooking programs, here are 17 places for kids to play and learn in Chelsea.
Drop-in Play Spots
City Treehouse
129A West 20th Street between Sixth and Seventh Avenue
This nature-themed indoor playground features a two-story treehouse, complete with a slide, and a large water table where kids can build dams, turn wheels and aim water jets at floating toys. Although the play space is open to children up to age 8, it's really best for the preschool set. In addition to offering a variety of classes, including movement, music, martial arts and cooking, and annual memberships, City Treehouse offers drop-in play sessions but you must call ahead to reserve your spot. First-time visitors can play for $10 for the hour; afterward it's $20 per hour. Save money by buying multi-visit passes.
OUR LATEST VIDEOS
Chelsea Piers
23rd Street and the Hudson River
At this massive athletics complex, kids can enroll in myriad sports classes or camps, including gymnastics, baseball, basketball, soccer, golf, ice-skating, hockey, rock climbing, even sailing! However, if you're just looking to drop in, Chelsea Piers offers a number of options:
Little Athletes Exploration Center – children ages six months to four years and their caregivers can crawl, roll, jump and play in this awesome open play space featuring the ever-popular ball pit. $12 for one session, and multi-pass packages are available. Visit the website for schedule.
Sky Rink – This indoor rink offers open ice-skating hours year-round. $10 for all ages, $5 for skate rental. Visit the website for schedule.
Bowlmor Chelsea Piers – Formerly known as 300 New York, this swanky bowling alley welcomes families during the day. Visit the website for schedule and pricing.
The Field House – There are various drop-in programs at this facility, including basketball, baseball, gymnastics, rock climbing, soccer and batting cages. Visit the website for schedule and pricing.
Kids at Work
242 West 27th Street Suite 4A between Seventh and Eighth Avenues
We posted about this Chelsea enrichment center a few years back, and it's still going strong with drop-in art, science, music and movement classes, as well as playgroups and open play opportunities for newborns to five-year-olds. Teachers follow the kids' lead, providing materials for play and letting them create, experiment and learn with minimal guidance. Although most sessions are drop-in, reservations are required. Visit the website for schedule and rates.
Karma Kids Yoga
25 West 23rd Street between Fifth and Sixth Avenues
One of the few NYC yoga studios catering exclusively to families, Karma Kids incorporates music, circus, art and stories into its classes. Offerings include prenatal yoga and a variety of sessions for kids from babies through teens. The drop-in rate for most lessons is $30 per session, however community yoga is just $10 per class, and storytime yoga for children under 6 is free.
Rubin Museum of Art
150 West 17th Street between Sixth and Seventh Avenues
The only museum in the Western Hemisphere dedicated to the art of the Himalayas, the Rubin opened a state-of-the-art Education Center in 2011. The center regularly hosts drop-in family workshops like Yak Packers with stories, art activities and gallery tours, or Drum Beats & Little Feet, which incorporates movement and sound. Weekend Family Art Labs allow youngsters to explore art in more detail and create their own works. All workshop fees include admission to the museum.
Books of Wonder
18 West 18th Street between Fifth and Sixth Avenues
This magical children's bookstore hosts free storytime on Sundays at noon and Fridays at 4pm, and regularly welcomes top kid-lit authors (we're talking Caldecott Medal winners) who read and sign their work, and answer their young fans' questions. The store also occasionally hosts live theater performances and classes, and has an art gallery featuring beautiful original works from illustrated children's books. A complete schedule is available on the website and all events are FREE.
Muhlenberg Library
209 West 23rd Street near Seventh Avenue
The NYPL's Chelsea branch hosts a handful of weekly activities for kids like baby, toddler and preschool storytimes. There are also special one-off events for school-age kids. Visit the website for schedule. All events are FREE.
Kidding Around
60 West 15th Street near Sixth Avenue
In addition to a carefully curated selection of playthings, you'll find a popular train table at this beloved toy store. Good luck getting your kids out of here without spending money though.

Classes and Members-only Play Spaces
Apple Seeds
10 West 25th Street between Broadway and Sixth Avenue
This members-only play space has an incredible 2,500-square-foot indoor playground with a NYC theme. Kids can play with deli food, explore a yoga block skyscraper and climb around a toy taxi cab. There are multiple membership packages with different perks, including discounts on classes and camps like its popular Songs for Seeds program.
McBurney YMCA
125 West 14th Street between Sixth and Seventh Avenues
This lovely ultra-modern Y boasts a pool, gym and lots of classes and camps for kids. An annual family membership is $160, which includes two adults and all kids under 18. You can check out the facilities for free by downloading a free guest pass.
TADA! Youth Theater
15 West 28th Street between Broadway and Fifth Avenue, Third Floor
Aspiring Broadway babies can enroll in after-school classes or camps where they'll learn how to put on a musical. TADA! also offers FREE professional training to members of its Resident Youth Ensemble, who perform in the company's main stage productions. Open auditions are held in the fall.
Chelsea Recreation Center
430 West 25 Street between Ninth and Tenth Avenues
One of the biggest rec centers in NYC, this spot offers all kinds of classes for kids, including sports, arts and educational programming. There's a six-lane, 25-yard indoor pool where kids can sign up for free swimming lessons, a gymnasium with basketball and volleyball courts, fitness rooms, a dance studio, a game room, an arts and crafts room, and a Computer Resource Center. Membership is FREE for children under age 18. Visit the website for schedule.
Taste Buds Kitchen
109 West 27th Street 10th Floor between Sixth and Seventh Avenues
Kids can learn to prepare all kinds of yummy seasonal dishes at this cooking spot. Camps and one-off classes are also available. Visit the website for schedule.
Kids 'N Comedy
Gotham Comedy Club, 208 West 23rd Street between Seventh and Eighth Avenues
We recently wrote a whole post on the hilarious offerings at this kids' comedy program, including classes, camp and monthly family stand-up shows. If your tween or teen is a cutup, this is where to send 'em.
Hi Art!
227 West 29 Street between Seventh and Eight Avenues
Kids do a lot more than finger paint at this studio. In addition to super-creative offerings like manga and anime, mixed media and found object art, Hi Art!'s programs touch on music, movement and culture. Take the Opera 'N Art classes, in which students visit galleries and museums, and then work on art, music and movement projects. Visit the website for schedule and rates.
Atlantic for Kids
76 Ninth Avenue near 16th Street
In addition to mounting some of the best children's theater in New York City, the prestigious Atlantic Acting School also offers a variety of after-school classes and summer programs for children ages 5 and up.

See all of our posts about exploring Chelsea with kids.