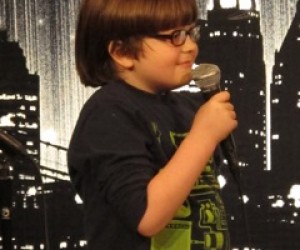 Family Comedy Shows and Improv Classes for NYC Kids and Teenagers
Some babies are early talkers, some are early walkers. My second child was a precocious jokester. He told his first (nonverbal) joke at about six months. Since he's my second child I don't recall the actual joke, but I remember making a mental note that I had a little comedian on my hands. Years later the comedy continues... to the chagrin of his teachers, I'm sure.

Of course, exposing him to age-appropriate funny business hasn't been easy. Let's face it, if you tried to take kids to your average comedy show, you'd spend most of the evening covering their ears (and possibly their eyes) with your hands. But there are a handful of family-friendly comedy shows and great kids' comedy classes in New York City, so you can see your own wisenheimer on the stage.

My son and I attended a couple of these shows, and he also took a few improv and comedy classes. Read on to find out what they're like, and find out details about a series of free kids' comedy classes that start next week.
The Classes
Kids 'N Comedy teaches traditional stand-up, so the classes are really for older kids who are able to formulate smooth routines. That's why these comedy classes are for children ages 10 and up, and mostly made up of teenagers. Students learn how to write, workshop and perform their own stand-up comedy set. At the end of the nine-week session, they do their acts at Chelsea's Gotham Comedy Club. Some alumni have gone on to showbiz success, including Josh Peck, star of Nickelodeon's Drake & Josh.

Sessions take place on Saturdays in fall, winter and spring for kids ages 10-18. (There are separate classes for older and younger students). Two-week summer day camp programs are also offered in July and August. Find out more about Kids 'N Comedy classes and camps.

The Shows
Once a month, Kids 'N Comedy students perform a live stand-up set at Gotham Comedy Club. Each show has a theme (this Sunday's is "The Did You Know Show") and the comedy is very clean, pee and poop jokes aren't even allowed. While I'm guessing a large number of people in the audience are friends and family of the teenage comedians, most of the laughter is not faked—these young comics are impressively self-assured on stage, and have well-crafted jokes and their own unique styles. In the middle of the show, kids in the audience are invited on stage to tell a joke of their own. See the schedule for upcoming Kids 'N Comedy shows. All classes, camps and shows are held at Gotham Comedy Club, 208 West 23rd Street between Seventh and Eighth Avenues.
The Classes
Kids as young as 8 can participate in the fun improv games at Improv 4 Kids classes. Led by professional comedians, Improv 4 Kids sessions are fun, fast-paced and teach students to hone their funny while building excellent stage skills. Participants work on stand-up comedy routines, but younger kids don't need to write scripts: They simply perform and get feedback afterward.

Improv 4 Kids offers classes in various NYC locations, including after-school programs, the JCC in Manhattan and the Broadway Comedy Club, which is where the troupe puts on its shows. The moderately priced classes are drop in, allowing students to try it out before they commit, and you get a discount if you sign up for four sessions. As a bonus, all students receive free admission to the improv show after the class. See the Improv 4 Kids class schedule.

The Shows
The Improv 4 Kids shows take place at 3pm on most Saturdays, and there are usually additional performances during school breaks. The improv shows feature a lot of audience participation so every kid has a chance to get up on stage. The performance we saw was definitely silly, as good improv should be, and had me laughing out loud several times. Everybody walks out of Improv 4 Kids with a big smile on their face. See the schedule for upcoming shows. All classes and shows are held at Broadway Comedy Club, 318 West 53rd Street between Eighth and Ninth Avenues.
One More Mention
In the past, we've also written about The Story Pirates, a terrific comedy troupe that develops mini-musicals from stories written by children. The Story Pirates perform Saturdays at 2pm at the Drama Book Shop, 250 West 40th Street between Seventh and Eighth Avenues.

For more great kids' classes, check out our Classes Guide.