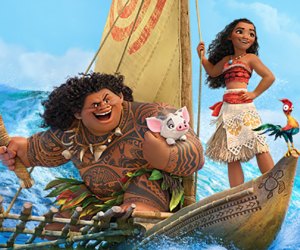 Moana: A New Disney Princess for Our Multicultural World
The heroine of Disney's new animated feature Moana may be the daughter of her Polynesian tribe's chief, but don't go calling her a princess. When her partner in adventure, the demigod Maui, snarkily insists that, "If you wear a dress and have an animal sidekick, you're a princess," Moana challenges his preconceived notion—as she does throughout the movie. Yes, from a marketing point of view, she's the latest in a long line of Disney royalty. Yet her character defies and redefines that role. She's a powerful, self-possessed young woman of color who battles climate change and doesn't need a man to save her. In fact, there's zero romance in this film; it's not even mentioned. Instead, she spends most of the flick bickering and bonding with Maui, who acts as a kind of goofy, surrogate big brother on their mission to save Moana's imperiled island homeland.
But while the film's feminist and multicultural elements make Moana feel decidedly 21st century, story-wise it follows the studio's tried-and-true formula of a princess—make that future chieftain—on a dangerous (but inevitably successful) quest. Just how scary is it? We've got the scoop, plus whether it's worth splurging to see her escapades in 3D.
At first Moana seems like an inversion of The Little Mermaid, with a landlocked adolescent yearning to experience life on the water against her father's wishes. But, unlike Ariel, Moana (beautifully voiced by 16-year-old Native Hawaiian newcomer Auli'i Cravalho) is inspired not by a cute guy but by impending disaster, as her community struggles with environmental changes that are impacting their food supply. Though Moana takes her responsibilities as a leader of her tribe very seriously, she's been drawn to the water her entire life, much to her overprotective father's displeasure. Her dreams of setting sail are constantly stoked by her lovably kooky grandmother, who shares tales about a shape-shifting demigod named Maui (voiced by Dwayne "The Rock" Johnson), who long ago stole a gem called the Heart of Te Fiti, unbalancing nature. Once famine hits, Moana discovers her tribe's secret seafaring past and sets out to find Maui, return the artifact, and bring order to her world. If only global warming could be solved so easily!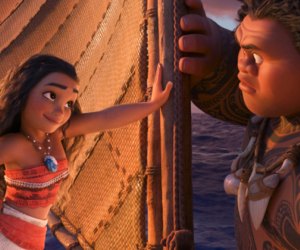 OUR LATEST VIDEOS
With his (literally) animated tribal tattoos and overbearing, egotistical personality, Maui is an awesome character. Think Gaston, if a hero's journey transformed him into a good guy. From his wonderfully catchy and clever introductory song, "You're Welcome" (the tunes were co-written by Lin-Manuel Miranda of Hamilton fame), to his constant sarcastic remarks, Maui is definitely the film's comic relief, along with Moana's hilariously dumb rooster pal, Heihei. At times the leading lady comes off as almost too solemn. Sometimes strong women just wanna have fun, too! But the creators have taken great care to make sure Moana is politically sensitive without being preachy.
RELATED: Parent Movie Review Guide
Along their episodic buddy journey, Moana and Maui encounter various obstacles and enemies, some adorable—anthropomorphic pirate coconuts, a crooning killer crab—and others more frightening, especially for tots. The climactic fight with a lava monster could be scary, as might a near-drowning sequence and the death of a major character, albeit off-screen. That, plus a fairly complicated plot, make Moana best for ages 5 and older; though to be fair, the preschoolers at our screening never cried or whined and seemed to enjoy themselves.
Whether or not one finds the plot thrilling, this movie is stunning to look at. Moana's lush island home, her visions of her ancestors navigating the ocean, and other South Pacific locales are all meticulously rendered. And while none of the songs reaches "Let It Go" earworm heights, there are quite a few memorable numbers, notably Moana's power-anthem "How Far I'll Go," which has already gotten the pop-star treatment. As for whether to pay to catch it in 3D, we actually saw the 2D version and felt satisfied. I'm sure the visuals pop more in 3D, but they were plenty impressive the traditional way, too.
While children of all genders are likely to enjoy Moana, as the mother of a daughter I really appreciated its message of female empowerment, which turns out to be especially timely. My 11-year old and her friend were thrilled that Moana didn't have a love interest, and remarked that, with her realistically proportioned body, she looked more like they do than other Disney princesses. Even if the somewhat predictable film didn't brings tears to my eyes, that statement sure did.
Moana opens nationwide on Wednesday, November 23 and is rated PG. See the trailer below.
Photos courtesy of Disney.