Best Theater for Kids: 12 Shows in NYC for Families in Summer 2022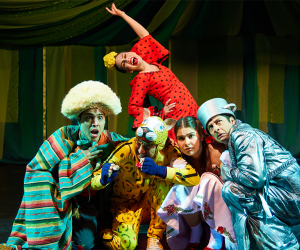 6/30/22
- By
Raven Snook
Think the dog days of summer are a cultural wasteland? That's not the case when it comes to the theater for kids—New York City's family theater scene is hotter than an unshaded sandbox during the summer, and this year is no exception.
There are shows for kids of all ages, interests, and budgets throughout the summer season, including FREE theater for kids options such as outdoor Shakespeare, a bilingual take on The Wizard of Oz, and a puppet show touring to parks throughout the five boroughs. And the theater for kids shows that do cost money are typically less than $25 per person.
Subscribe to our newsletters to get stories like this delivered directly to your inbox.
While we have included COVID-19 rules for each show, protocols vary and are subject to change. Before purchasing tickets, be sure to verify the production's COVID-19 rules on the show's official site so you arrive prepared.
Click through to our listings for all the details, including prices, schedules, and locations.

El Otro Oz by TheaterWorksUSA is an updated production of its 2011 show. Photos by Jeremy Daniel.
Through Friday, July 8
Ages 9 and older
FREE but tickets required.
Masks are mandatory. No proof of vaccination required.
For decades, the acclaimed TheaterWorksUSA has presented an annual FREE summer musical, usually at the Lucille Lortel Theatre. But for 2022, the company is bringing El Otro Oz to various Manhattan venues. A bilingual, Latino take on The Wizard of Oz (and an update of the troupe's 2011 show The Yellow Brick Road), El Otro Oz centers on 15-year-old Dora, a modern-day Latina struggling with her identity as her quinceañera approaches. But once she's whisked away to a magical land, she learns to embrace her heritage and her family. With a catchy salsa-, merengue-, and Mexican folk music-infused score and a timely message about self-acceptance, this musical will have you clicking your heels. Reserve your FREE tickets in advance here.
RELATED: Lincoln Center's Summer for the City Brings Free Concerts, Giant Dance Floor to NYC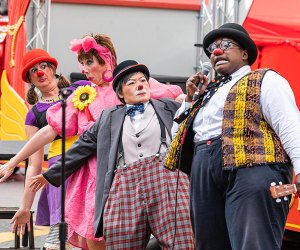 The Bindlestiff Family Cirkus takes its show on the road with Flatbed Follies touring the five boroughs with pop-up performances all summer long. Photo by Maike Schulz
Through Saturday, July 30
All Ages
FREE and outdoors
No masks or proof of vaccination required.
The homegrown Bindlestiff Family Cirkus has been delighting audiences of all ages since 1995. This summer, this merry band takes the show on the road with Flatbed Follies: a series of FREE street performances in underserved neighborhoods. A calliope wagon provides authentic circus music as these clowns, jugglers, wire walkers, acrobats, and aerialists wow the crowd atop a parade float stage. The tour includes stops in Manhattan, Brooklyn, Queens, and the Bronx so be sure to check the schedule to find a location near you. It's a fresh take on old-fashioned fun.
Through Sunday, August 21
Ages 10 and older
Masks are optional but encouraged. No proof of vaccination required.
One of Stephen Sondheim's most beloved shows, Into the Woods transfers to Broadway for a summer run after a smash two-week engagement at City Center Encores! this past spring. I have seen many mountings of this magical and moving musical about what happens after happily ever after, and this was by far my favorite. Director Lear deBessonet leans into the humor of this fairy tale mash-up without sacrificing the heart as a Baker (Tony-nominated Shrek star Brian d'Arcy James) and his wife (pop star Sara Bareilles) attempt to break a curse that's left them barren by appeasing an angry Witch (Pippin Tony winner Patina Miller). Their quest intersects with the journeys of many familiar characters, including Cinderella (Hamilton's Phillipa Soo), Little Red Riding Hood (Julia Lester), Jack (Cole Thompson) and his cow Milk White (Kennedy Kanagawa manipulating an amazing puppet by James Ortiz), and Rapunzel (Alysia Velez). While this may be Sondheim's most family-friendly musical, make no mistake, this is a fable for grown-ups that includes violence, death, and disappointment. So it's best for middle schoolers and up.
RELATED: Best Children's Theaters in the US: Why Bringing Young Kids to the Theater Is So Important

CityParks Puppetmobile presents its greatest hits in Puppet Time. Photos courtesy of CityParks
Through Thursday, August 25
Ages 3 to 10
FREE and outdoors
No masks or proof of vaccination required.
Since 1939, CityParks PuppetMobile has been presenting FREE performances in NYC green spaces and rec centers throughout the five boroughs. These are the same talented designers and puppeteers behind Central Park's Swedish Cottage Marionette Theatre, only they bring the magic to the people. This summer's touring show is Puppet Time, a 45-minute revue of songs from past productions including Pippi; Peter Pan; The Princess, the Emperor, and the Duck; Hansel & Gretel's Halloween Adventure, and Bessie's Big Shot. A perfect first-time theatergoing experience. Check the schedule to find a location near you.
Through Sunday, October 2
Ages 12 and older
Masks are mandatory. No proof of vaccination required.
Based on the best-selling young-adult novel of the same name by Jodi Picoult and her daughter Samantha Van Leer, Between the Lines is a musical fable for bookworms. Seventeen-year-old Delilah (played by Arielle Jacobs from Broadway's Aladdin) is a bookish outcast whose fixation on a fairy tale impacts her life in fantastical ways as she grapples with loneliness and her overbearing single mom. Tony-nominated Newsies director Jeff Calhoun oversees a cast of Broadway veterans in this tuneful coming-of-age tale. Save money on tickets with this BroadwayBox discount code.
Wednesday, July 6-Friday, July 29
Ages 10 and older
FREE and outdoors
No masks or proof of vaccination required.
Classical Theatre of Harlem's FREE summer shows in Marcus Garvey Park's amphitheater are always a blast for the whole family, full of contemporary humor, fabulous costumes, and African drumming and dance. This year's offering is a 90-minute, Afrofuturistic take on Shakespeare's magical romantic comedy Twelfth Night, with twins Viola and Sebastian torn apart by a shipwreck only to find true love in Illyria... after lots of cross-dressing complications of course. Carl Cofield directs a cast led by Tony nominee Kara Young. You can reserve no-cost tickets in advance or just show up—there's usually room.
RELATED: Best Off-Broadway Shows for Kids: Affordable Children's Theater in NYC

Moses Pendleton's acrobatic dance company creates eye-popping visuals in its presentation of ALICE. Photo by Equilibre Monaco
Wednesday, July 6-Sunday, July 24
Ages 3 and older
Proof of vaccination and masks required.
Is it magic or is it MOMIX? Moses Pendleton's acrobatic dance company creates eye-popping visuals that will have you wondering, how did they do that?! For its summer run at the Joyce, the troupe presents ALICE, a 90-minute dance-theater piece inspired by Lewis Carroll's classic Alice in Wonderland books. Fall down the rabbit hole with the inquisitive title character as she meets an undulating Caterpillar, anxious White Rabbits, a mad Queen of Hearts, and other iconic characters. Note: Saturday, July 9 at 2pm is designated as a family matinee, but it's almost sold out. Thankfully, kids are welcome at any performance.
Thursday, July 14-Saturday, July 30
Ages 2 and older
Masks are mandatory. No proof of vaccination required.
TADA! Youth Theater is bringing back a pair of mini-musicals inspired by two lesser-known Ezra Jack Keats picture books. Set in a big apartment building, Apt. 3 is the simple tale of two young brothers who hear harmonica music coming from one of their neighbors. While searching for the source, they go on an aural journey, hearing diverse voices and sounds behind every door. Maggie and the Pirate centers on a quirky girl who lives in a school bus and dotes on her pet cricket. When the insect is stolen by a pirate, Maggie and her friends go on a quest to retrieve him. Winnie Holzman of Wicked on Broadway fame adapted the tale for the stage. As with all TADA! productions, these shows star talented NYC-area tykes ages 8 to 18, and feature relatable themes, catchy tunes, and positive, non-preachy storylines. Bonus: TADA! is offering a limited pay-what-you-can ticket option.
RELATED: Best Broadway Shows for Kids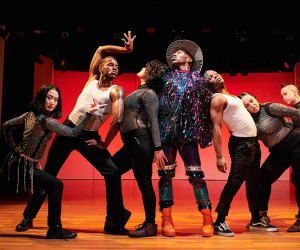 The New Victory Theater's Victory Dance is a great introduction to dance for kids. Photo by Robert Altman
Thursday, July 14-Thursday, August 4
Ages 8 and older
Proof of vaccination for ages 12 and older required; younger children must present a negative COVID-19 test or proof of vaccination. Masks required.
On four consecutive Thursday evenings, The New Victory Theater presents dance performances aimed at young audiences. The two programs feature four troupes each, a mix of classical, contemporary, and cultural companies, followed by post-show artist talks. Performances run 90 minutes and are a fabulous way to introduce school-age kids to the magic of dance on the cheap: Tickets are only $10!
RELATED: Best Outdoor Summer Concerts in NYC for Kids in 2022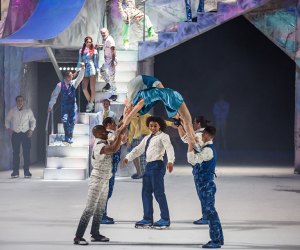 Cirque de Soleil: Crystal brings the toupe's world-class acrobatics to the ice. Photo by Matt Beard
Thursday, July 21-Sunday, July 24
Ages 8 and older
Masks are optional but encouraged. No proof of vaccination required.
Talk about an amazing feat! After almost going bankrupt during the pandemic, the iconic Canadian troupe Cirque du Soleil is back on stage with Crystal, its first ice spectacular! Head to Long Island's UBS Arena (located right on the border with Queens) to see world-class ice skaters and acrobats challenge the laws of gravity in a slew of incredible routines. The story centers on a woman named Crystal, who goes on a journey of self-discovery in her imagination. But, as with most Cirque extravaganzas, the jaw-dropping design and acts are the main attractions, not the plot.
Thursday, July 28-Wednesday, August 17
Ages 8 and older
FREE and outdoors
No masks or proof of vaccination required
This Queens-based troupe's mission is to mount FREE, family-friendly classics in NYC public spaces, mostly in its home borough. Its Shakespeare productions are cut down to 90 minutes and performed by professional actors on portable sets. This summer, the company is presenting two plays in repertory: the Bard's rarely seen (and disputed) The Adventures of Pericles, which won't be of much interest to kids. But young audiences will appreciate Hip to Hip's mounting of Shakespeare's beloved romantic comedy Much Ado About Nothing, in which the pals of two frenemies manipulate them into revealing their true feelings. When checking the schedule, make sure you show up for the right play!
RELATED: Where to See Free Summer Movies in NYC for an Outdoor Movie Night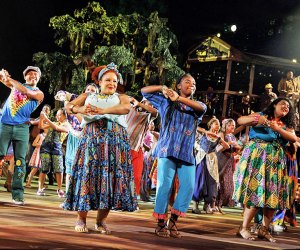 The Public Theater's Shakespeare in the Park mounts two summer shows, but its iteration of As You Like It is best for kids. Photo by Joan Marcus
Wednesday, August 10-Sunday, September 11
Ages 8 and older
FREE but tickets are required. Outdoors
Proof of full vaccination is required, masks are optional.
The Public Theater's legendary Shakespeare in the Park is presenting two FREE productions this summer, but the bloody tragedy Richard III is probably best for date night. This delightful musicalization of As You Like It is a much better bet for families. Originally seen at Central Park's Delacorte Theater in 2017, this tuneful adaptation of Shakespeare's romantic comedy features a streamlined script, enchanting songs by Shaina Taub, and spirited direction by Laurie Woolery. Professional actors perform alongside hundreds of community members from across the five boroughs, who portray the diverse denizens of the Forest of Arden, as characters cross-dress and connect. The cast has yet to be determined, but we anticipate some big names. As for snagging no-cost tickets, there are many ways to try, including in-person lines, online lotteries, and outer-borough distribution sites. All the details are on The Public's website.