The Very Hungry Caterpillar Show
DR2 Theatre

NYC Easter Brunch Cruise 2023
Event Cruises NYC

Easter Fun Cruise with Egg Hunt 2023
Event Cruises NYC
Sign up for our free newsletters.
Lincoln Center's Summer for the City Brings Free Concerts and Giant Dance Floor to the Campus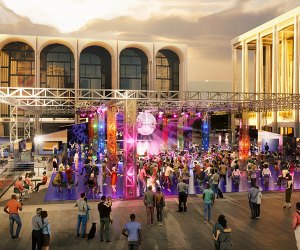 4/22/22
- By
Vanessa Leigh
Strike up the choirs, dancers, and artists, and let the celebration commence! Lincoln Center is gearing up for a summer of FREE family-friendly programming with its season-long performance festival, Summer for the City.
For three full months—running from Saturday, May 14-Sunday, August 14—Lincoln Center comes alive with more than 300 FREE events at 10 outdoor stages, including The Oasis, which transforms Josie Robertson Plaza into the city's largest outdoor dance floor complete with a 10-foot disco ball.
Read on for more details on this family-friendly performance festival, and find more fun anytime on our list of the best things to do at Lincoln Center with kids.
Other Lincoln Center venues hosting Summer for the City performances include Damrosch Park, the David Rubenstein Atrium, Hearst Plaza, The Deck, and The Speakeasy on Jaffe Drive. Alice Tully Hall and the Rose Theater are set to host some indoor programming on a pay-what-you-wish basis.
RELATED: Upper West Side with Kids: 30 Things To Do for NYC Families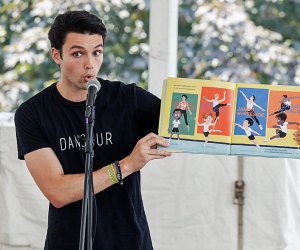 Enjoy a free story time at Lincoln Center's Summer for the City festival of FREE family-friendly programming. Photo courtesy of Lincoln Center
All outdoor events at Summer for the City are FREE. Families and kids of all ages can enjoy outdoor spaces with scheduled story times, family-friendly concerts and workshops, and specific family dance days. So, channel your best John Travolta, and take a family selfie under that disco ball!
Fancy a film? The Outdoor Cinema is perfect for you. While the Big Apple has lots of options for FREE movies for kids, Summer for the City has curated its own movie theater under the stars projected onto the facade of the under-renovation David Geffen Hall. Enjoy popcorn and beverages in the comfort of the great outdoors.
Themes for Summer for the City include Rejoice, Reclaim, and Remember, all meant to reunite New Yorkers to recognize the changes of the past while looking toward the future. The events bring together artists from the New York City Ballet, Mostly Mozart Festival Orchestra, Alvin Ailey American Dance Theater, Jazz at Lincoln Center, and many more solo and group performers.
Entrance to the outdoor stages is offered on a first-come, first-serve basis, though you can gain priority access to some events by booking FREE reservations ahead online. Some performances taking place at the indoor theaters offer a choose-what-you-pay option for admission.
To stay up to date on upcoming performances, bookmark the Summer for the City website, and let the countdown begin!