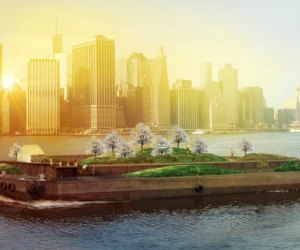 Swale: The Floating Food Forest Is Coming Back to NYC
Swale is back, or rather it will be this spring. NYC's first and only floating food forest and garden barge is set to return April 29 when it will set up near Pier 6 in Brooklyn Bridge Park.
We visited Swale with the kids in Brooklyn last year when it first arrived and had a blast. It's one more example of New Yorkers getting creative about where they can squeeze in a little more green space.
The floating garden, supported by its new partner Strongbow, is totally FREE to visit. No reservations or tickets are necessary either. It was created by NYC artist Mary Mattingly with the aim of better connecting urbanites to nature and shining a spotlight on healthy fresh food, as well as NYC waterways.
RELATED: Governors Island to Open One Month Early in 2017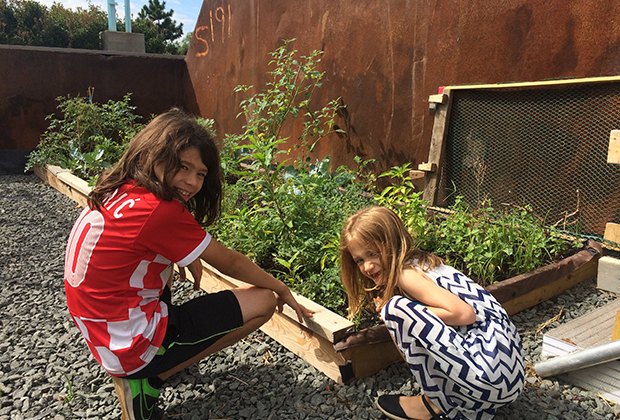 Visiting last year's Swale with the kids. Photo by Mariko Zapf/Mommy Poppins.
The completely madeover barge will include a small apple orchard (eight trees) this year! There will also be hundreds of edible perennial plants, including herbs and vegetables, along with the existing fruit trees. Forty tons of extra soil, 10 tons of gravel, and 15 tons of new lava rocks were also added.
Swale is expected to rotate among three boroughs from April through October, including Hudson River Park Pier 25, Brooklyn Bridge Park's Pier 6, and then the Concrete Plant Park in the Bronx where it will stay through the fall (November 15) before entering winter hibernation (all dates tentative at this time).
Stay tuned for information on events and family programming at Swale.
Top photo: A rendering of the new Swale. Image courtesy of Strongbow/Swale.

Updated April 26, 2017 with Swale's new schedule.