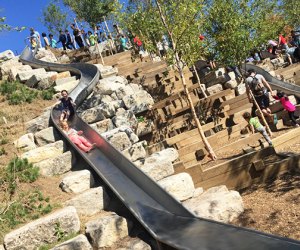 Governors Island Will Open a Month Early in 2017
Governors Island, long one of our favorite summer spots, will open to the public on Monday, May 1 this year, nearly a full month ahead of its usual schedule. Typically it opens for the season on Memorial Day weekend.
The earlier opening isn't just for weekends, either. Ferries will shuttle New Yorkers to the massive park seven days a week, from May 1 through October 1, offering access to the brand-new playgrounds it debuted last year, art, and cool festivals like Figment. Suddenly we know what we're doing for Mother's Day 2017!
The early opening adds an extra 26 days to the operating calendar giving natives and tourists alike a 146-day season to explore all Governors Island has to offer. It also means that, for the first time, the sights and scents of spring are just a ferry ride away.
"An extra month on Governor's Island means more arts, culture and outdoor time for New York families," said Mayor Bill de Blasio in a statement announcing the extended season. "We are proud of the focused progress that got us to a spring opening this year, and will note that a May Day opening stands as a symbol of changes as we create a more livable and affordable city."
New Yorkers should have no problem filling all those days with fun things to do. The 2016 season saw the debut of 10 acres of parkland with the long-awaited opening of The Hills. The most kid-friendly addition was undoubtedly Slide Hill, which features four slides for kids young and old to whiz down. We're also fans of play:groundNYC, the city's first official adventure playground, which organizers are hoping to return for the 2017 season.
In addition to a longer season, the new year will bring with it a new food purveyor for the isle. Island Oyster takes over the one-acre site adjacent to Soissons Landing, the Manhattan ferry dock. Elevating the usual food truck fare, it will offer sustainably-sourced seafood, seasonal eats, craft beer, and wine. Need we say more?
More than 600,000 visitors flocked to the island last year and a typical weekend sees about 10,000 visitors, with more than 75 percent of those hailing from within the five boroughs, according to the Trust for Governors Island.
Governors Island is open from 10am-6pm weekdays and 10am-7pm weekends and holidays. Ferries run daily from Lower Manhattan and on weekends from Brooklyn Bridge Park. As in season's past, there is no cost for ferries on weekend mornings, but afternoon ferries and all weekday ferries cost $2 round trip. Children 12 and younger ride for free, as do bikes.
Top photo of Slide Hill by Mommy Poppins.