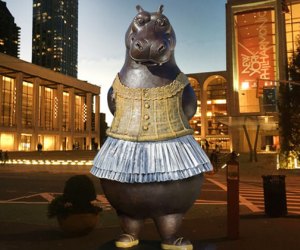 Must-See Art for NYC Kids This Winter
Schlepping through the long, cold months of winter in our fair city can feel daunting. While there are loads of indoor things to do to keep the kiddos occupied, winter in my family means museums (many of them free!). Not surprisingly, we found a number of terrific current or upcoming exhibits this season that are absolutely worth a look. Journey to Cuba and Japan without hopping a flight, experience an immersive camping adventure—indoors(!), learn all there is to know about the artistry of Taylor Swift, and so much more.

Read on for highlights of our top picks for museum outings with kids of all ages during the city's coldest months.
¡Cuba! — Upper West Side
The American Museum of Natural History, Central Park West and 79th Street
On view through Monday, August 14
Suggested general admission plus one: $27 for adults, $16 for children ages 2-12
¡Cuba! celebrates the country's rich history, traditions, and incredible biodiversity—forests, caves, wetlands, reefs—in an engaging experience available in both Spanish and English. The hands-on exhibit highlights the island's people, music, cuisine, and even wildlife, including the endangered Cuban crocodile. Animal-loving kids will delight in examining fossil remains and seeing the live lizards, snakes, and frogs in recreated habitats. Luckily, there is also plenty to keep the grown-ups entertained and learning.
Don't forget: The annual Butterfly Conservatory, AMNH's gorgeous annual exhibit, is also available through Sunday, May 28. The butterflies are free-flying, so when you enter the warmed up indoor atrium, they might just land on you!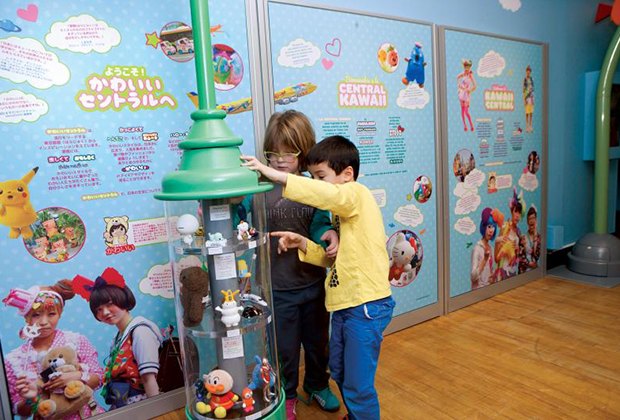 Learn all about Japanese culture at the Children's Museum of Manhattan's Hello from Japan exhibit, when it returns.
Hello from Japan! — Upper West Side
Children's Museum of Manhattan, 212 West 83rd Street between Amsterdam Avenue and Broadway
Saturday, January 21-Sunday, May 14
Included with admission: $12, free for children under 12 months
We're thrilled that CMOM has brought back Hello from Japan! as it was a favorite in our household last winter. This exhibit a wonderful opportunity to expose children to Japanese culture. Kids will learn about life in present day Japan—trendy and colorful, as well as the country's rich historic traditions—mystical and serene. The interactive exhibit invites children to sing karaoke, taste local cuisine, encounter kami spirits, make wishes at a wishing tree, and more. Next to hopping on a flight to Tokyo, Hello From Japan! does a terrific job of bringing the country to us.

Healthyville — Chinatown
Museum of Chinese In America, 215 Centre Street
On view through Sunday, March 26
Included with admission: $10 for adults, $5 children 2 and up
The Healthyville mini-exhibit aims to explore the importance of healthy living through food, exercise, and lifestyle choices. The Museum of Chinese in America presents fun, engaging lessons in nutrition, safety, fitness, and hygiene. My children had a lot of fun exploring more than 15 hands-on activities that reinforced what they have been learning as part of the city's elementary school curriculum. Any experience making my children feel like experts in the subject of green and healthy living is one this mom can't pass up.
RELATED: Best Winter Theater for NYC Kids: Dinos, Puppets, Tween Shows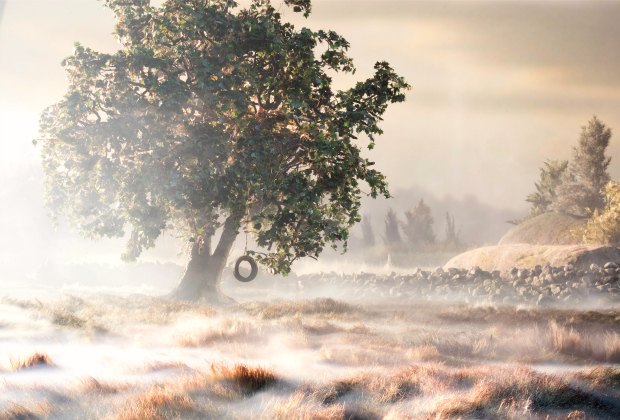 This lovely piece is part of the Weather exhibit at CMA: The Tree in My Backyard - Weathering The Storm Sunrise, by Matthew Albanese. Image courtesy the artist and Benrubi Gallery, NYC.
Weather or Not, That is the Question — Soho
Children's Museum of the Arts, 103 Charlton Street, between Hudson and Greenwich Streets
On view Thursday, February 2-Sunday, May 21
Included with admission: $12; free for kids 12 months and under
If anyone in your household is obsessed with the elements, Weather or Not, That is the Question—an exhibition about the power and mystery of weather, and its impact on our environment—might be a must-see. For as long as humans have been alive, extreme and even typical weather patterns have been of profound interest. Record-breaking snowfalls, earthquakes, and violent storms of all kinds have been hot topics of conversation at both the water cooler and playground. There is also an activist component to this timely exhibit as global warming and climate change move closer to mainstream consciousness.

Tattooed New York — Upper West Side
New-York Historical Society, 170 Central Par West at Richard Gilder Way (77th Street)
On view Friday, February 3-Sunday, April 30
Included with admission: $20 for adults, $6 for children ages 5-13, children under 4 are free
This exhibit examines 300 years of tattoo innovations developed in New York City (who knew!) and will feature more than 250 works from as early as the 1700s. Visitors will learn about Native American body art, sideshow culture, and the 1961 ban on tattooing that forced the art form underground for nearly thirty years. If you can time your visit right, you will get to hear a Sunday Story Time reading of Why Does Mommy Have Tattoos? by Marilyn Rondón on Sunday, February 5. See you there!

Science Fiction, Science Future — Corona, Queens
New York Hall of Science, 47-01 111th Street
On view Saturday, February 4-Saturday, May 6
Included with admission: $16 for adults, $13 for children ages 3-17, free under age 3
This temporary exhibition gives visitors a deeper understanding of how science fiction ideas and concepts might become the science reality of tomorrow. Hands-on exhibits incorporate robots, holograms, and augmented reality. Also, during President's Week, be sure to check out Engineering Week, a week devoted to covering different engineering concepts.

Wilderness Camp — Crown Heights, Brooklyn
Brooklyn Children's Museum, 145 Brooklyn Avenue at St. Marks Avenue
On view Saturday, January 21-Sunday, June 4
Included with admission: $11
This hands-on exhibit is all about learning how to camp in the dead of winter. Children visiting this Brooklyn Children's Museum exhibit will don backpacks stocked with survival tools, including a compass, canteen, mess kit, magnifying glass, net, and blanket. They then peruse a map of hiking trails and head into the faux wilderness to discover how to build a shelter, transform natural materials into necessary items, and tell tales around the campfire.
Note: The museum's downtown offshoot is also hosting a series of drop-in art-making sessions this winter for little ones.

The City and the Young Imagination — Upper West Side
The Museum of New York City, 1220 Fifth Avenue at 103rd Street
On view Saturday, January 14-Sunday, May 21
Included with suggested admission: $14 for adults; free for those under 20
Celebrating Studio in a School, a nationally recognized initiative in arts education in public schools, this exhibit details its 40-year history of bringing arts programming to NYC children and features student work in various media—watercolors, drawings, collages, and sculpture—sure to inspire budding artists.
RELATED: Worth It? Family Memberships to NYC Institutions That Might Just Be Worth Buying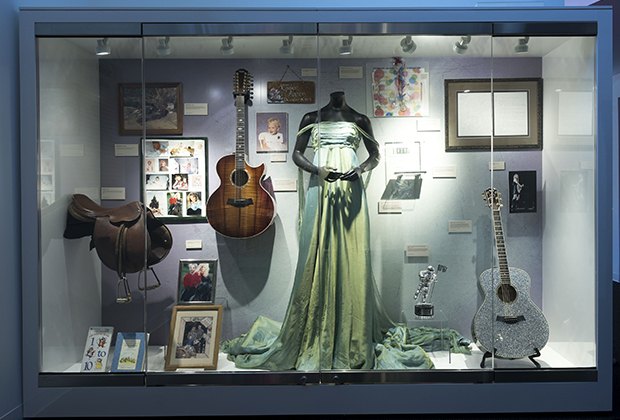 The Taylor Swift Experience celebrates the artist popular with preschoolers to Mom.
The Taylor Swift Experience — South Street Seaport
South Street Seaport, 19 Fulton Street
On view through Sunday, February 19
$9
If you have children under the age of 18, chances are you are in the midst of a Taylor Swift fan. The Taylor Swift Experience gives visitors and fans an in-depth look at the multi-platinum-selling artist. Check out personal photos, handwritten lyrics, and iconic costumes before it closes.

Hippo Ballerina — Upper West Side
Dante Park, 64th Street and Broadway
On view Tuesday, February 7-Monday, July 31
FREE
Head to Dante Park across from Lincoln Center to get a glimpse of this oversize hippo. The Hippo Ballerina is a more than 2 ton bronze sculpture dressed in a copper tutu created by Danish artist Bjørn Okholm Skaarup. This piece will stand more than 15 feet tall! It's all part of the Parks Department's Art in the Parks program. Visitors who use the hashtag #Dancewithhippoballerina when posing next to the sculpture have a chance at winning tickets to a Lincoln Center ballet. The hippo will also have her own Instagram account: @Dancewithhippoballerina.
Top photo: Kids will dig the giant hippo near Lincoln Center. All photos courtesy of the museums/organizers.