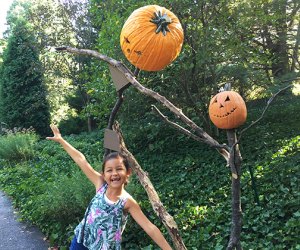 Pumpkins and Scarecrows Invade New York Botanical Garden
Come autumn even urbanites seem to crave seasonal harvest displays more often found at the pick-your-own farms just outside NYC's borders. Lucky for us, there are amazing fall fests right here in the city and even a corn maze for those who really want that farm experience. Now we can add the just-opened fall and Halloween-themed outdoor displays at New York Botanical Garden to our list of the best seasonal happening around NYC.

My family always heads to the Botanical Garden in the Bronx for its annual exhibit of pumpkins and gourds, so we were excited to see this year's brand-new programming. Titled Pumpkins: Playful & Plentiful, there are gourds galore, plus seasonal activities and events for kids in the Everett Children's Adventure Garden, a guaranteed hit for families with small children. And though my now-teenage(!) son has outgrown the Children's Garden, he did perk up a bit when I mentioned NYBG's other new exhibit, Scarecrows: From the Heartland to Horror, a trail of spooky and original sculptures that is not recommended for young kids.

We just visited and have the scoop on what to expect at this year's fall festivities at the New York Botanical Garden, so read on for more details.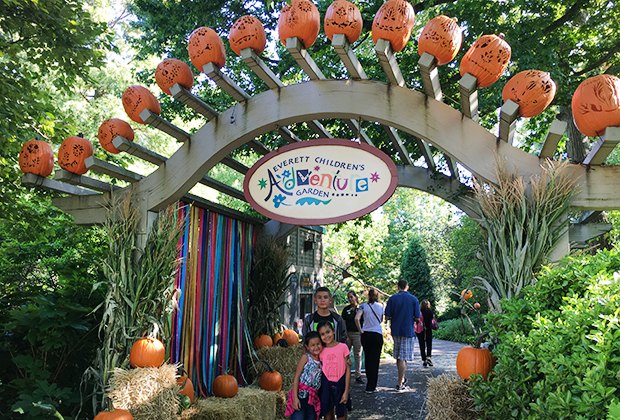 You'll feel like you've left NYC for the country with this seasonal harvest-themed display!

We started our trip at the Everett Children's Adventure Garden to check out Pumpkins: Playful & Plentiful. My son was gracious and humorous throughout while my girls, especially my youngest, took in each and every jack-o-lantern and scarecrow on display, pausing often to examine its carvings, then giggling and copying its pose before bounding off to the next. They always enjoy scrambling up the Boulder Maze, which is now decorated with playful gourds of all sizes.
RELATED: Fall Fun Guide for NYC Kids: Festivals, Farms, Art and Theater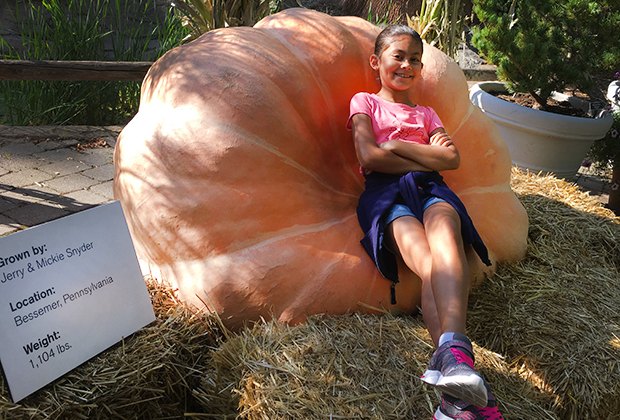 Have a seat on a pumpkin that weighs over a thousand pounds!

We meandered along the main path stopping to look at the scarecrows and over-sized gourds along the way (some weighing over a thousand pounds!) and eventually made our way to the garden's Discovery Center. As always, lots of hands-on activities were available. My youngest was particularly interested in learning about different kinds of seeds and how they travel (hitchhikers attach to animals' fur, while others are spread by the wind or by being buried by animals) and feeling how the slimy, cool inside of a pumpkin differs from the tough, smooth exterior. Both girls were delighted to prep and pot their own plants to take home.
We were finally ready for Scarecrows: From the Heartland to Horror located along the Mitsubishi Wild Wetland Trail, adjacent to the Children's Garden. This exhibit is recommended for ages 10 and up and with good reason. The animatronic scarecrows are much scarier than their playful counterparts in the Children's Garden and are coupled with eerie sound effects that can be heard from pretty far away.
My son and I thoroughly enjoyed this exhibit. Each sculpture—crafted using natural materials such as feathers, pumpkins, corn, branches, and burlap, along with moving limbs and eyes, by famed sculptor Ray Villafane—is truly a work of art, down to the finest detail. Plus, the PG-13 horror aspect adds a bit of seasonal fun for bigger kids and campy horror junkies (like me). With three beautiful and creepy sculptures, our only disappointment was that there weren't more on display. If your kids are patient, be sure to read the plaques along the route, which tell the fascinating history of how modern-day scarecrows, jack-o-lanterns, and even the Grim Reaper came to be.
RELATED: Pumpkin Picking Farms Near NYC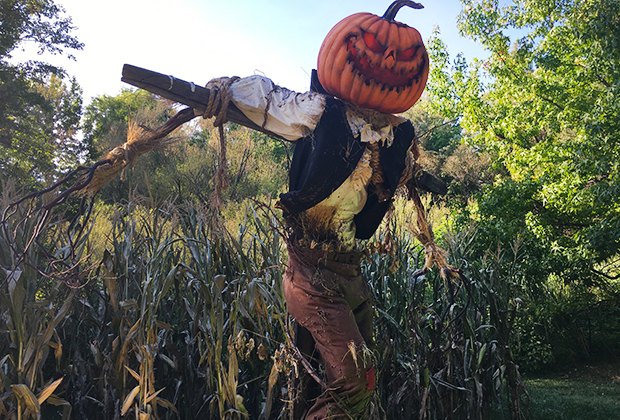 Walk the spooky scarecrow trail...if you dare.
A word of caution: It really isn't for little kids. Without another adult in our group, my girls had to brave the trail with my son and me. My 9-year-old was fine, delighting in the spookier aspects of the exhibit. My 7-year-old, on the other hand, not so much. She much preferred the whimsical scarecrows in the Children's Garden. She tried to be brave but the sound effects from one display actually brought her to tears without even seeing it. As for other kids on the trail, some toddlers zipped by, seemingly without even noticing the displays, while other preschoolers stopped in their tracks, wide-eyed or crying, while parents quickly soothed and explained they weren't real. It makes for a great option for those tweens and teens too cool for other staples of the season like pony rides.

Overall, we had a great time and definitely plan on visiting again this season, as more seasonal fun is in store with Creepy Creatures of Halloween, Giant Pumpkin Weekend, and Scarecrow Nights for Families. Scarecrows: From the Heartland to Horror and Pumpkins: Playful & Plentiful are on display daily through Sunday,October 30, and are included with the All-Garden Pass.

The New York Botanical Garden is located at 2900 Southern Boulevard at the southern end of Bronx Park, and is easily accessible via public transit. There are two different admission packages. The Grounds-Only Pass (which is free to all on Wednesdays and 9-10am on Saturdays) does not include any special exhibits, gardens, or the Tram. the All-Garden Pass grants access to everything excluded in the Ground-Only Pass, making it your best bet—especially with kids in tow. Annual membership packages are also available. The Pumpkins & Scarecrows fun runs through October 30.
All photos by the author.